{{ timeAgo('2021-04-06 22:23:03 -0500') }}
football
Edit
Mack focused on finer details with inexperienced backfield this spring
It's been a spring camp of emphasizing the finer details for first-year Tennessee running backs coach Jerry Mack.
Mack inherits a room that lost its top-two rushers in 2020 to transfer. Eric Gray, who led the team in rushing with 772 rushing yards, transferred to Oklahoma shortly after Jeremy Pruitt was fired. Ty Chandler, who was second on the team with 456 rushing yards, transferred to North Carolina as a grad transfer, respectively.
With a group entering 2021 that has just 29 career carries to its credit, Mack recognizes that the details are going to wind up being the little things that may or may not help the Vols win football games.
"We talk about 'See a little, see a lot. See a lot, see nothing at all,'" Mack explained to the media Tuesday evening following practice. "You can't get that 70-yard touchdown if you can't get the snap, take the right footwork, get the handoff. Those little things are really what's important to me at the position.
"We've got talent in our room, we've got ability in our room. If those guys do the little things the correct way, there's going to be explosive plays, there's going to be situations where we get those hard, dirty yards that we need to get in the trenches. But the biggest thing is those finer details of playing the running back position… There's a lot of youth in the room in terms of the understanding of the way we do things at the University of Tennessee in this offense, and more specifically in the running back room. There's just certain things we try to emphasize."
Whether it's ball security, pass protection, understanding where their eyes fit, taking the correct first step or not bouncing a run, Mack isn't willing to overlook those finer details even if it results in an explosive run. At the end of the day, the former head coach knows that if those little things aren't taken care of, his group of backs won't contribute to winning football.
Mack has spent 17 years coaching collegiate football. He's a three-time HBCU Coach of the Year dating back to his days at North Carolina Central and he's coached every position on the offensive side of the ball except the offensive line. Mack also played the sport. He would like to think that his extensive experience will help his youthful group of backs pick up Tennessee's new offense.
"When you come into a situation and you understand how everything fits together, you kind of have that 'aha' moment from your players," Mack said. "Then they understand why it's important to press the heals of the offensive line, why it's important to run this track, why it's important to keep these certain runs skinny as opposed to bouncing to free hitters. Little things like that from a global perspective with the entire offense, it puts them in perspective that once they hit the field, they're able to put those things to use and think about those things before the ball is snapped."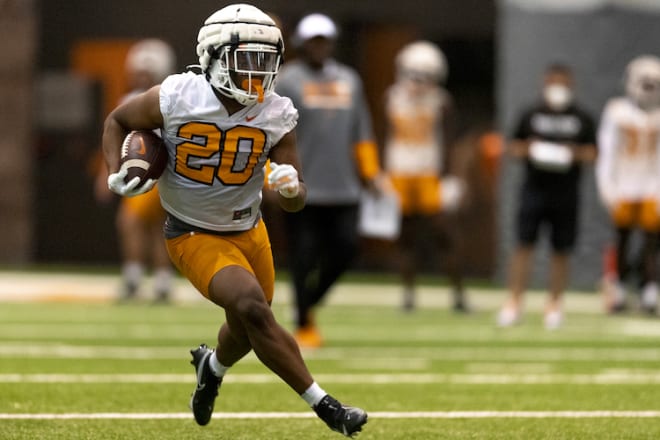 Carries are up for grabs following the departures of Gray and Chandler. The Vols' leading-returning rusher is Jabari Small, who rushed for 117 yards on 16 carries last season. Small has impressed Mack early on with how he has approached every day like a professional.
"You can tell that Jabari was one of those guys who was born to play running back," Mack said. "He has a really natural feel and great instincts for the position. You can tell he's been really well-coached in high school and also with the previous staff. He has a great feel for that position right now. Every day we go out there, he is disciplined, he is focused.
"He understands protections right now which is really intriguing and really impressive for a guy of his youth. But right now he has been extremely impressive to everybody who has been on the field. The way he handles his business, the way he goes about his business, he takes care of his business like a pro. We talk about that in the room all the time — making sure you handle yourself. Write notes, takes notes and then go out there and apply it to the field. That's what I've been really impressed about with him this entire spring. These first six practices, he's showed his true colors and he's really going to help us this year."
Fellow sophomore Dee Beckwith is the only other back in the room who has carried the football at Tennessee. He recorded three carries toward the end of last fall and that momentum has carried over into spring practice under the new staff.
"Dee's doing a really incredible job just continuing to learn the finer details of the position every single day," Mack said. "We talk a lot about playing with low pad level because he is a taller, bigger back. So just getting his pad level down and learning the intricacies of the position. He played so many different things in high school and last year I think they moved him around a little bit. He's finally in a situation where he's settling into a position. You talk about extremely intelligent — answering questions in the meetings. With the quarterback background that he has, you can tell that he just has a sense of the entire game and situational football and how everything fits together."
Outside of Small and Beckwith, the Vols are left with four backs who haven't appeared in a game. They signed Tiyon Evans out of junior college and Jaylen Wright out of high school over the offseason, and welcome back Len'Neth Whitehead and Tee Hodge for their sophomore seasons.
Evans and Whitehead have been limited to this point in spring due to injuries. Wright and Hodge have impressed, however. Particularly Wright, a three-star speedster from Durham, North Carolina.
"He's had some ups, he's had some downs, but he sure has had a lot of flashes as well when you talk about the ability to separate from people," Mack said of Wright. "When he gets to the second-level, the speed is what jumps out at you about him. He's so dynamic when he gets to the second-level. It's really hard to catch him.
"The protections are blowing his mind a little bit. But he is getting better and that's what we ask of those guys more than anything. Just come in every day and get one percent better each day. You can just tell right now even though he's struggling here, he's struggling there, his flashes are big. He flashes. You can ask anybody on the field, when he gets to that next level and he gets in space, he can make people miss."
As for Hodge, Mack has been impressed by the Maryville native's effort, though he wants to see more consistency out of him.
"I need to see more consistency in his game," Mack said. "He's quite like Jaylen (Wright) at times. He flashes, and then he'll make some mistakes that he probably shouldn't make. But I think that's his biggest key to getting on the field consistently for this year, is making sure he does a really good job of being consistent. And that's what spring is about. Everyday just trying to grow and get better, taking one day at a time. Once again, he's young as well. He hasn't had a lot of opportunities to play college football, so he's still trying to catch up and learn about the speed of the game. But so far, been really pleased with the energy, the effort, and the attention to detail he tries to come out with."