{{ timeAgo('2021-04-07 13:28:13 -0500') }}
football
Edit
Martinez pleased with secondary, learning strengths of personnel
Willie Martinez is back on Rocky Top for his second stint as Tennessee's defensive backs coach.
Martinez served on Butch Jones' staff from 2013-16 and now returns to face the same situation he faced before: a rebuild. Six practices in to spring, he's been impressed with how the players have adjusted to not only himself, but the coaching staff as a whole.
"Anything we've given them, they haven't really pushed back," Martinez told the media on Tuesday evening following practice. "They've been all in. It's important to them. They haven't been perfect, but their energy, their enthusiasm, their attention to detail has been spot on. The best you can actually ask for with all they've went through. All the changes, it's not easy."
The early buy-in from the players has made it much easier on the coaching staff to evaluate what it has to work with in terms of personnel, particularly on the defensive side of the ball where they're trying to determine what base defense best fits the current skillsets of players.
Though Tennessee's defensive staff is trying to reach a point of determining which base defense will best suit its personnel, it doesn't mean they'll be locked into one scheme once it comes up with an answer. The Vols will still be very multiple on defense regardless of what their base scheme ends up being.
"Ideas that we come up with, we're trying to put all together and figure out the strengths and weaknesses of the personnel that we have and where can we go with it," Martinez said. "We really don't know what we're going to do from a standpoint of what we're going to lean on, what we're going to do more of, but we will be multiple. We've done that so far, whether we're playing split-safety defenses, single-high defenses, pressure, whether we play three-down, whether we play four-down — we're doing it all just trying to figure out what we have."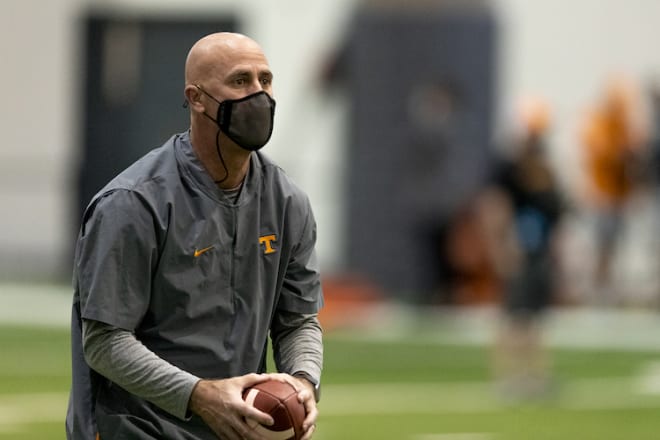 In addition to trying to figure out the strengths and weaknesses of the personnel, Martinez is also moving around his defensive backs in order to make up for the lack up depth in the secondary.
So many offenses in today's world of college football deplore schemes looking for mismatches. That's forced the recruitment of defensive backs to change. Not only do you need more bodies in the secondary, they must be versatile, they have to be able to run and they have to be athletic.
"You just can't be a one-position guy," Martinez said. "You can't be just a nickel. You can't just be a corner and have a weakness to your game. You can't line up at corner and say I'll take this guy because he can cover, but can't tackle very well because you'll be exposed.
"You have to be able to play when you want to, six defensive backs, six guys that can actually cover and play man. Ideally, it's more like five. It depends on what you're playing too, because we're so multiple. We're playing a 3-4, we're playing a 4-3. The more multiple you are on defense now, where you can have the same personnel on the field, but give you all different kinds of looks — I think that's an advantage. That's something we're looking at and evaluating every day. Guys that we can keep on the field, but be multiple in positions."
One position that has become critical to defensive success as the secondary has tried to adjust to the new offensive schemes is the STAR position. Traditionally known as the Nickle in the defensive backfield. Playing on the inside of the defense is the ultimate test of versatility.
The STAR in the defense has to be able to be physical in the slot, a good tackler, a good blitzer and be able to defend likely the fastest receiver on the other team. Tennessee has been repping several players at the position, including Theo Jackson, Doneiko Slaughter, Jaylen McCollough and Tamarion McDonald.
"Because of the lack of our depth, we've moved guys around," Martinez said. "Their attitude has been really good. I think I have a good group. Got some experience, got some really good attitudes and that's really helped."