{{ timeAgo('2020-06-17 15:05:52 -0500') }}
football
Edit
SCOUTING THE OPPONENT: Arkansas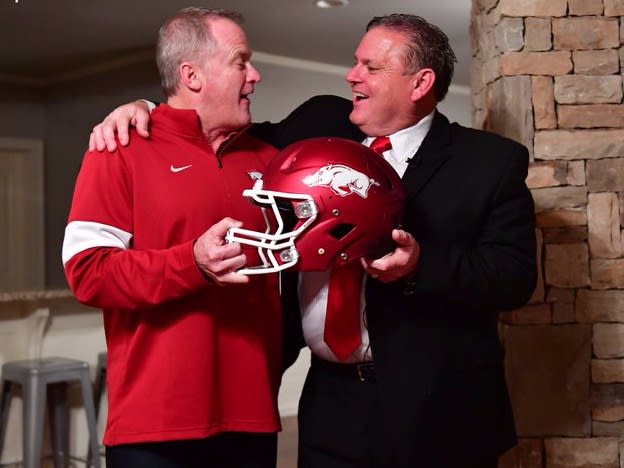 It's been a particularly unusual college football offseason, but with the recent news that Tennessee players will return to campus this month and start voluntary workouts on June 8, there's real optimism that a season will still happen despite the COVID-19 pandemic.
As we do each year, here's a brief snapshot of Tennessee's 12 opponents for the fall. We continue the preseason preview series with a look at the Arkansas Razorbacks.
Arkansas — Oct. 31
2019 Record: 2-10
Head Coach: Sam Pittman
2020 OUTLOOK
For the first time since 2015, Tennessee will tangle with Arkansas and the Razorbacks are a particularly interesting team heading into the 2020 campaign.
Mr. Yesssssssirrrr himself Sam Pittman is the face of a new era in Fayetteville, taking over for Chad Morris, who had back-to-back winless seasons in the SEC. The former SMU head coach was just 4-18 at Arkansas and losses to programs like Colorado State and San Jose State were so bad that the administration forked over a reported $10 million for Morris to go away.
So in steps Pittman, the former Georgia OL coach and associate head coach, who quickly built a strong staff with SEC ties, adding Barry Odom as his defensive coordinator and former UGA and UK assistants Scott Fountain and Derrick LeBlanc. Pittman also tabbed Kendal Briles to be his offensive coordinator.
There's a lot of enthusiasm about Pittman's direction for the program, especially after cobbling together a Top 40 class in hardly any time, but roster is bereft of depth and top-tier SEC talent. If losing 19 straight conference games isn't the nadir, I'm not sure Hog fans could stomach what the bottom would look like.
Pittman did hit the transfer portal hard for some quick insurance in Year 1, adding former UF quarterback Feleipe Franks, who suffered a brutal leg injury early in the 2019 season, former Clemson defensive end Xavier Kelly, Oklahoma linebacker Levi Drapers, Duke kicker AJ Reed and Arkansas State corner Jerry Jacobs.
The Razorbacks were forced to play five different quarterback last season, but Franks is the odds-on favorite to win the job this fall, so long as he's healthy. Accuracy has not been a strong-suit of Franks' game, but the athletic 6-6, 240-pound quarterback is just a year removed from a 31 touchdown season. Arkansas is young at wideout, but underclassmen Trey Knox, Treylon Burks and Mike Woods all averaged over 13 yards a catch a year ago. They combined for seven touchdowns, too. Burks also flashed dynamic return ability, earning all-conference honors as a specialist as a freshman.
We didn't get to see what Pittman's offensive vision looks like with no spring practice, but in all likelihood, the Razorbacks will run a power-spread, leaning on senior tailback Rakeem Boyd. In 2019, the Texas native had over 1,100 yards and averaged 6.16 yards per carry with eight touchdowns. Arkansas lost several of Boyd's backups, but former Arizona State transfer Trelon Smith is now eligible after sitting out last season.
Defensively, the Razorbacks face all sorts of challenges once again. Last season, they were ranked last or next to last in most every defensive category — outside of pass defense. They were gouged on the ground (221 yards per game, 5.47 yards per rush — both worst in the SEC), couldn't get off the field on third downs (45% allowed, last in the SEC) and hemorrhaged big plays (most 30+ yards per plays allowed in league).
Four seniors off the defensive line are gone, but Kelly, the former Clemson product and blue-chip recruit, is expected to step in and play right away, while linebacker Bumper Pool returns as the team's leading tackler after 96 stops in his sophomore season. The secondary returns several starters including safety Joe Foucha, corner Jarques McClellion and corner Mantric Brown.
2020 SCHEDULE
| SEPT. 5 | KENT STATE |
| --- | --- |
| SEPT. 12 | @ NOTRE DAME |
| SEPT. 19 | @ MISSISSIPPI STATE |
| SEPT. 26 | TEXAS A&M (DALLAS) |
| OCT. 3 | CHARLESTON SOUTHERN |
| OCT. 10 | ALABAMA |
| OCT. 17 | LSU |
| OCT. 24 | OPEN |
| OCT. 31 | TENNESSEE |
| NOV. 7 | @ AUBURN |
| NOV. 14 | OLE MISS |
| NOV. 21 | ULM |
| NOV. 28 | @ MISSOURI |
NOTABLE NEW ADDITIONS
FIVE THINGS TO KNOW
1. While the defensive struggles were noted above, Briles must fix some major offensive issues as well. With the turnstile at quarterback, Arkansas couldn't stop turning the ball over in 2019, leading the SEC with 15 interceptions. The team's 21 total giveaways ranked second-worst, only head of Mississippi State. The Razorback also averaged just 5.21 yards per play — better than just South Carolina and Vandy.
2. After Pittman was hired, the Razorbacks had a rash of decommitments, sending their class down into the 100s nationally. The week before the Early Signing Period, they had just three commits. But Pittman closed strong late, especially in February, holding onto to Blane Toll and adding 4-stars Myles Slusher, a DB, and offensive lineman Jalen St. John. They also beat out several schools for quarterback Malik Hornsby and outmuscled Ole Miss in its own backyard for Memphis prospects Marcus Henderson and Ray Curry.
3. Longtime Tennessee wideout target Trey Knox is poised to be one of Arkansas' top two wideouts this fall. As a freshman, the former Blackman (Tenn.) standout recorded 28 passes for 385 yards and three touchdowns in 10 games. Knox battled some health issues midway through the season, tanking his production, but if he's good to go this fall, the 6-5, 205-pound receiver should see a sophomore surge.
4. While most UT fans have already penciled in a dub over Arkansas on Halloween, ESPN's FPI actually gives the Razorbacks just over a coin-flip percentage (54%) to beat the Vols. I'm skeptical of that, especially since I tend to think the COVID-19 pandemic will have a significant impact on first-year head coaches (even moreso on first-time head coaches), but Arkansas does have an open date before the UT game, while the Vols will have just played Alabama at home.
5. As for season prognostications, experts are on the fence as to whether Pittman will snap the Hogs' conference winless streak this season. Their win total is set right at 3.5. They play three patsies they should beat, but also have a road tilt at Notre Dame and the typical SEC West gauntlet. Perhaps their best bet is a home date against Ole Miss or the season-finale at Mizzou.