Serranos vision: Coach talks program growth in exclusive Q-A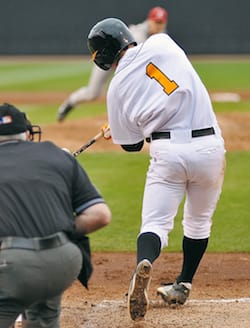 Sun beaming across Lindsey Nelson Stadium and into the offices of Tennessee's baseball program, head coach Dave Serrano is surrounded by tangible reminders of his past successes --- College World Series posters; USA Baseball mementos --- as well as family photos and his reconnection with the Vols' baseball family.
Like the R.A. Dickey Mets jersey hanging from Serrano's door. But Serrano, who already has cultivated a friendship with new football coach Butch Jones, can hold his own in any discussion about the Vols' football recruiting efforts and tracks the seasons of the basketball programs as well, isn't shy about his desire or expectation to add to those memories on the wall.
The most proven and decorated head coach on the UT campus, Serrano is setting the bar high for his second year atop the Volunteers' baseball program, with the understanding among his players and coaches that the bar should be raised each year.
The Vols' season opens in less than two weeks, and there are plenty of unknowns. Unquestioned, however, is Serrano's passion to return Tennessee baseball among the Southeastern Conference's and thereby nation's elite programs.
VOLQUEST: If we could, let's begin with your transition from Year 1 to Year 2. How has that process been? Where is the program more comfortable and perhaps further along than a year ago?
DAVE SERRANO: Well, first of all start with the staff, and I think the comfort level , we're a lot more comfortable in our surroundings. Obviously with the personnel. The guys that are back, we know really well.
It's all of our recruits that we do have in; we got to build relationships over the past year with them. It just feels more like home now. That each and every day we come in here, we feel like we have more of a grasp on which direction we're headed and that's a good feeling.
VQ: You talk about it feeling more like home, and you've sold that home feeling, it seems, from Day 1 on the recruiting trail, where you've recruited at a very high level. Why do you feel like you've been able to so effectively convey your message so well, and to what do you attribute your ability to identify and target prospects and recruit effectively?
D.S.: First and foremost, I would say that I'm very proud of this place. I don't know what it is in me that built this in me when I was here in my two years in '95-96, but I am proud to be here. I am proud that my family is here. I'm proud to be the head coach of this program. And I want people to come here who are proud to wear this Tennessee uniform.
So we've been able to recognize those kind of people, and that's why I'm so fond of this year's group of what we have. Because the majority of these young men came here not for the scholarship, not for any promises but because they were excited to wear the orange and they wanted to help this program get back on the map in the SEC and nationally.
VQ: As you referenced, I feel like a big part of that is your passion for Tennessee. Can you identify whatever it is that has instilled that passion for Tennessee in you?
D.S.: I think it's the people, first and foremost. It's the people around the university. It's the people in the community. I love big-time college athletics. I always have. I've always been a sports freak. To be so fortunate as to be smack-dab in the middle of that, you know, baseball might not be on the map in regards to nationally being big-time college athletics, but I'm at a place now where it's big-time football and big-time basketball and obviously we hope to have baseball at that level sooner rather than later. But it's just a dream come true to be able to plant myself here in Knoxville and raise my family in what I feel is one of the greatest communities around.
VQ: You reference the big-time nature of football and the SEC, which obviously gets a lot of national attention. But it isn't much of a difference with SEC baseball in terms of competitiveness. How much can that help you sell your message and also help you know what's attainable for this program if you have success in the SEC?
D.S.:That's a two-fold deal, because it helps us tremendously but it also hurts us. Because when you're trying to climb the ladder, it attracts players to our university because they get to compete in the SEC. Which is, in baseball, the best. There's no doubt about it in my mind.
But it also makes it tougher for what we're trying to accomplish because it is the best. And it seems like even though we're trying to get better, other programs are getting better. I knew that coming in. That didn't shy me away from this job. If I'm going to be successful and continue to be successful, then I want it to be against the best. And I feel like we have huge challenges out there. But those challenges are so intriguing to try to tackle.
VQ: It's often said that coaching football in the SEC is the closest thing to coaching professional football without it actually being pro football. Do you get the same sense for baseball in the SEC, which not only has enjoyed tremendous success at the College World Series but also had numerous first-round draft picks?
D.S.: Yeah, I would say that's a great comparison. I would compare it more to the fact that you could have a great year one year, like teams in the Major Leagues do, and then you could be an also-ran the next year. Because it's just little things that make the difference from you being from great to good to poor. And you see it every year in this league. You see a team that's vying for a championship and then the next year they don't even make the regionals. Because there's so much competition, every little thing in this conference counts on a daily basis.
VQ: I was studying your roster, and I think I counted 18 freshmen and somewhere around 18 to 20 first-year players. What is the benefit of that? How much more established is the Dave Serrano system, so to speak, and what do you like about the composition of this roster?
D.S.: Well, win, lose or draw, I love these kids. They are about the right things. They're going to be something special. I don't know the timetable on that. Every individual is going to be different. Every team grows differently. But as I look to the future, I see a lot of bright things coming up. We have a group of kids that are talented, that are motivated, that have passion and we know there are some tough waters that we're about to go into.
Not just the SEC schedule, but the non-conference we're going to be challenged in a tough atmosphere in Vegas, Arizona State coming in here and going to a tournament in Cary, N.C. But I think the biggest hurdle is going to be this coaching staff growing patience and letting the process take care of itself and allowing ourselves to grow up with these kids.
I want things to happen fast, and I can't wait to see when these kids really start to figure it out and get that experience. I'm not going to ever use youth, but you will hear me say the lack of experience that we have. I can't wait for them to get that experience under their belts where they can just become baseball players because I think we're growing into something that's just going to be something that people will be very proud of.
VQ: When you have that many first-year players in your program, just going into Year 2, is it easier to set the standard and establish your way?
D.S.: I don't know that I would ever say it as the Serrano Way. I'd say it is the Tennessee baseball way. And yes it is easier, because we got to mold a brand-new group of players into what we wanted to mold them into.
I don't want to discount the fact that this new group is special, but this wouldn't be such a special team in regards to team, which is the most important thing, if it wasn't for the great group of returners that we selected to have come back who allowed the door to be opened up the door and let these guys to come in. That doesn't always happen in athletics. When older guys return and they have a crew, a group of young talented players come in, sometimes they won't let them come in because of insecurities. These guys opened the door wide and they allowed these kids to come in and they've helped nurture them along the way. And that's what I think has helped make this team unique. Before winning or losing a game, it's what makes them a special team in my eyes.
VQ: As for guys coming back, what have you seen out of Zack Godley, Nick Williams and some of those guys?
D.S.: Well, I've seen them moving towards progressing as players. But they've also been great teammates. They've taken a leadership role of this is how things are done here. This is how things are expected. I'll throw in guys like Will Maddox, Zach Luther, guys like Ethan Bennett. Those guys have really, (Dalton) Saberhagen, those guys have really done a good job of bringing these young kids along and showing them the way.
But they've also done the job on the field, too. They've continued to work hard and master their trade and help this team be successful.
VQ: As you move toward the season and study your roster, what are the areas that you really like? Where can you hang your hat with this team?
D.S.: I feel like we're really deep, position-player wise. Knock on wood, through the course of a 56-game season or full season, there are always going to be injuries. I feel like we have complementary players. Very complementary players that will not be playing every day that could spell somebody at any time. We're going to have left- and right- options. The part I would say I'm a little cautious right now is the depth on the pitching staff. We're going to need to keep everyone healthy. We're going to need to keep everyone confident. I'm intrigued by the fact that we're going to run out so many new guys, and I get to watch them grow up. Not just on the pitching staff, but on the field too. The depth is probably a little bit more quality as far as position players right now. The depth is maybe an issue in terms of pitching, but that's a good challenge to try and overcome throughout the year.
VQ: You referenced your schedule earlier, and you've had very competitive non-conference schedules in each of your two years as head coach. Can you highlight the schedule a little bit and outline some things that will test your team?
D.S.: Well, the first game of the year will be a test. We can go through all the scrimmages and put them through all the tests in practice. The lights of Vegas. The lights of the stadium in Vegas are going to be new to this group. That challenge of traveling across the country together for the first time and competing against a good program will be a challenge.
And then we come home and it doesn't get any easier. We'll play a nationally ranked Arizona State team. It could be cold during that time of year. Those challenges. Then we go to a Notre Dame tournament and it will be three tough opponents there. We play a Notre Dame team on Friday night in Cary, N.C., and they've got one of the best Friday night guys, a very quality Friday night guy, and there will be good teams we play there.
I want our team to be challenged early and I always want our teams to be challenged early so that we can find out where we're short. And we can go back and work on those. I could easily schedule teams that we could build confidence like coaches believe, and we could have a lot of success. But we may never find out our shortcomings before we head into the SEC play. I'm not so worried about record early. I'm worried about record late and being prepared to head into the postseason when we're fortunate enough to get there.
VQ: I find that interesting when you talk about the challenges of your schedule and wanting to find out areas of concern. I think a lot of coaches talk about identifying strengths, but you want to identify weaknesses. Can you elaborate on why that's your philosophy?
D.S.: I feel like you play, I've always been brought up and I've been around coaches, that you challenge your team early on. Because things can't get brushed under the rug that way. You can beat on a team that may not be as quality as you and a lot of things might get brushed under the rug. But then when you play that real good opponent, those things come out. And it might be too late to change it when you're in the conference and you lose a conference game because you weren't aware that you weren't as strong in this area. And then you get pressured into that and it happens.
You know, I have pride and I have ego and I want to win every game. But I'd rather have the best team prepared going into conference season than to have the best record. I just want to have the best record at the end or be one of the better teams at the end. That ultimately is the goal for me and my staff.
VQ: One more on the schedule: Not only for the benefit of what it tangibly shows you about your team, but how important are these non-conference contests like opening in Vegas or last year's tournament in Texas, in terms of showing a commitment to big-time baseball at Tennessee and marketing your program at the highest level possible?
D.S.: Well, I think it's important not only to put your team in different parts of the country, different climates, different time zones. That's part of the development for what they hopefully will do one day if they get into pro ball. But I also think it helps in recruiting, too. I want to always take our team to an environment where we're going to be able to try and go in there and get players. So each and every year I'm going to try to get out to the West Coast, which is one of my strengths in recruiting, of showcasing our program out there so that kids can see we're getting better and we're a good program.
That's always going to be in my mindset. Quality opponent in an area of the country that will benefit us from a recruiting standpoint also. Just like it's too bad we can't play Memphis every year, because that's a place we're starting to have success recruiting-wise. But with the distance factor, we can only do it on years that we're going to Ole Miss or when they're coming out towards us. But it's important to get Tennessee baseball out there. Not only are there a lot of alumni out there who want to see us play, but there are a lot of kids who get to see us maybe only that one time through the year.
VQ: You haven't, since you were hired, been bashful about your ambitions and goals for this Tennessee program. What are realistic ambitions and goals for this team heading into 2013?
D.S.: There's no reason why we can't make a postseason run. We wouldn't work this hard every day just to say 'Well, we're still two years away.' And I've even started talking about it more with our team, as the season plays out getting to the SEC Tournament and getting to the regionals, super regional. I've been part of something just as magical in 2007, where nobody in the country was talking about us.
And I said this to the team the other day, I hope it hurts them as much as it hurts me --- and I get it, I think it's right --- but how no one in the country is talking about our team. Nobody in the country is talking about any one of our players. The way I look at it is that we've got them right where we want them. We'll try to prove everybody wrong. It isn't us against the world, but we'll just stay where we're at and continue to build and there's no reason in the world why we can't be excited about what we've accomplished at the end of the year.
VQ: What was the team's reaction when you shared that message?
D.S.: I believe they're on board. Again, I think many of them, even though most of them haven't been part of it, they're kind of tired of this program not being good. We have some local kids that have some passion for this program, and they're tired of this program not being where it should be. They're on the same page as this coaching staff. Nobody has told us we can't go the postseason, and until someone tells us we can't go there, that's what our goal is.