{{ timeAgo('2021-04-05 12:17:36 -0500') }}
baseball
Edit
The baseball 3-2-1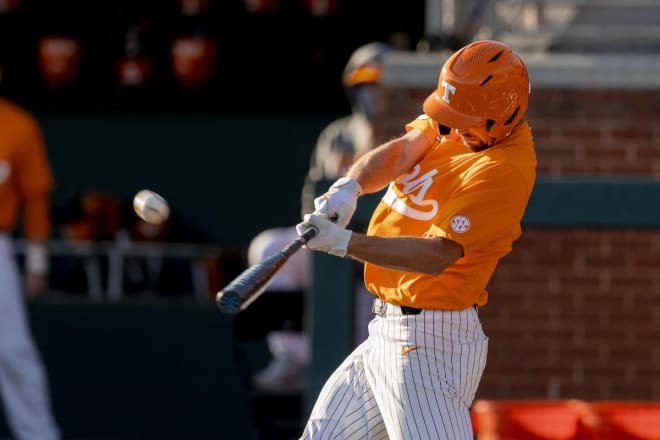 Despite dropping its first Friday night game of the season, Tennessee picked up its third straight series to open up SEC play. The Vols were far from their best in Tuscaloosa but found a way to capitalize on a weak Alabama bullpen to win their second straight SEC road series for the first time since 2005.
Let's take a look back at the weekend while looking forward to Tennessee's biggest challenge yet, a weekend series with Florida
Three Observations
1 —Heflin delivers when Tennessee needs him most— Last week I said that the pressure gets put on Tennessee's Saturday pitching plan of Will Heflin and the bullpen by committee once the Vols drop a Friday night game.
For the first time this season that happened Friday as the Crimson Tide earned a come from behind 7-4 win.
Heflin responded with his best performance of the season, given the opponent, allowing one run, six hits and zero walks in 5.2 innings of work while striking out six.
It was the best the soft throwing lefty had looked in SEC play and Tennessee needed every bit of it as its bats failed to get going, scoring zero runs until a four-run seventh inning.
On top of that, Friday starter Chad Dallas made it just 3.2 innings, forcing the Vols to use more of their bullpen than they had to that point in a series opener. It was very important for Heflin to get Tennessee deeper in the game than he has in his previous two SEC starts and the former Morristown West native not only did that but pitched fantastic while doing so.
Now there are still questions about the longevity of Tennessee's by committee Saturday strategy, but Heflin proved the Vols could still win a series while dropping the Friday night game.
2 —Leaving runners on base plagues UT again— In the SEC series opening win at Georgia, Tennessee missed a plethora of opportunities to put the Bulldogs out of games with timely hitting but struggled to, going just 7-for-35 with runners-in scoring position.
That problem reared its ugly head again this weekend for the Big Orange in Tuscaloosa as Tennessee stranded 30 runners on base over the course of the weekend.
In Saturday's game, Tennessee loaded the bases five times, failing to score on three of the opportunities. To Tennessee's credit, they made the most of the other two opportunities, tallying all eight of its runs the other instances.
On Sunday, Tennessee loaded the bases four times, including three times with nobody out. While the Vols were able to capitalize better, scoring on three occasions, they missed a prime opportunity to open a large lead on Alabama early in the rubber match.
Double plays, which Tennessee's avoided very well this season, haunted them in a couple of situations as they grounded into five this weekend.
Tennessee was able to overcome its struggles with the bases loaded due to the sheer quantity of opportunities they had but that number is bound to go down the next two weekends against higher quality pitching in Florida and Vanderbilt.
If Tennessee wants to win either of those series they'll have to have better timely hitting and take better advantage of bases loaded situations.
3 —Connell's emergence is massive— The struggles of Redmond Walsh (more on that below) has created a hole in the Tennessee bullpen. Luckily for the Vols, sophomore lefty Kirby Connell has filled that role exceptionally well.
Connell has been great for Tennessee all season, allowing just two earned runs, 17 hits and two walks in 24 innings of action.
Both those earned runs came this weekend but still Connell was Tennessee's most effective pitcher, totaling a team high six innings pitched.
The South Carolina native was able to eat three innings in Friday's loss, throwing just 37 pitches in the process and allowing him to come back and pitch on Sunday.
On Sunday, Connell was excellent for three high leverage innings despite getting little help from his defense. If it weren't for a Max Ferguson error in the ninth inning, Connell very well may have taken Tennessee to the finish line, earning an 11 out save in the process.
With Walsh's struggles, Connell's emergence as a sophomore has become incredibly important. Tennessee needs a highly effective arm to serve as a weekend closer along with Sean Hunley. Connell has proven he can be that guy this season.
Two Questions
1. How does Vitello handle Walsh?
So on to Walsh. The Vols' closer has blown leads in all three of his appearances in SEC play after being arguably Tennessee's best reliever the last two seasons, tallying a 1.22 ERA.
The soft throwing left hander has always made his hay by hitting his spots, keeping the ball down in the zone and forcing ground balls.
Walsh simply hasn't been able to do that over the past three weeks and when he doesn't SEC opponents will hit him hard.
So how does Vitello handle him?
I don't see how he stays in one of the weekend closer role spots after blowing three straight leads but I also don't think it's time to take him out of the weekend bullpen mix.
Tennessee is going to need as much effective bullpen pitching when postseason play comes around and Walsh has proved over a pretty large sample size that he can be just that.
I don't think you'll see him get taken out of the weekend mix yet as Vitello has proven this year that he will ride proven veterans through rough patches— see Evan Russell and Luc Lipcius.
Tennessee has also pitched a pretty small group of players in SEC play and until Connor Housley, Elijah Pleasants, Jason Rackers or Jake Fitzgibbons can prove to be reliable options I'm not sure Tennessee has a choice but to keep him in an active role.
2. Does Ferguson lose any playing time?
Speaking of veterans struggling, second basemen Max Ferguson's struggles at the plate continued this weekend with him going 1-of-11 at the plate with six strikeouts.
The results moved his SEC batting average to just .069, though Ferguson has a respectable .300 on-base percentage thanks to nine walks.
The junior preseason All American looks far from comfortable at the plate right now and it's costing Tennessee as he's been a near black hole with runners in-scoring position.
On the surface it seems unlikely that Vitello would limit Ferguson's playing time for some of the reasons I mentioned in the section above and due to his effectiveness defensively.
However, with Liam Spence nursing an injury and starting as the designated hitter in the final two games of the weekend set, sophomore Logan Steenstra was fantastic at the plate, going 3-for-8 with three extra-base hits and a walk.
Steenstra could force himself into the lineup with his bat and Vitello could move Spence to second base once he's back fully healthy. The problem there comes with Steenstra's struggles in the field where he committed three errors in two games.
Steenstra at shortstop and Spence at second base would be a drastic drop off in defense from Spence at shortstop and Ferguson at second base. For a team that prides itself on throwing strikes and playing good defense behind its pitchers that feels unlikely.
Steenstra playing second base could be a way to bypass this problem and stay solid up the middle defensively, but the 6-foot-5 Missouri native has just played shortstop and first base.
For now I'd expect Vitello to role with Ferguson as he tries to get out of his slump
One Prediction
Tennessee drops first SEC series of the season
Things get amped up to another level this weekend as the preseason top ranked Florida Gators come to Knoxville for a three game series.
Florida has underachieved a bit in the early season, dropping three out of four non conference games to instate foes Miami and Florida State. The Gators were also swept at South Carolina in the second weekend of SEC play.
The Gators responded strongly and showed why they were so highly thought of preseason, taking two out of three over third-ranked Ole Miss this weekend.
I expect a competitive series at Lindsey Nelson Stadium this weekend, but the Vols have been winning more than their fair share of close games this season. I think that number evens out a bit this weekend and Florida takes two out of three over its rival from Knoxville.