The three-year review: Breaking down Jones UT classes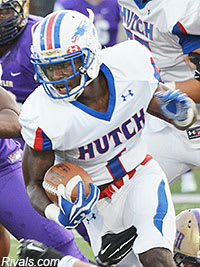 This week brings the arrival of Tennessee coach Butch Jones' second full and third official signing class atop the Volunteers' football program.
In this two-part profile examining first the offensive side of the ball and then the defense, VolQuest.com takes a look at the players signed or on the verge of signing this week.
Rather remarkably, Tennessee is positioned to add approximately another 28 or 29 members to its football program with National Letters of Intent to be signed on Wednesday, with 10 of those players already a month into their college careers as midterm enrollees. That will give the program 81 or 82 signees in Jones' three hauls, pending only some mystery surrounding Drew Richmond since Kendall Bussey Jr. opted for Texas A&M's scholarship offer right now rather than enrolling at Tennessee this summer and then going on scholarship.
If the Vols can secure Richmond, they will have signed 41 offensive players. If Tennessee sustains the momentum that it so obviously possessed through the weekend with Richmond, who raved about the Tennessee visit and his comfort level with numerous Vols coaches and players per those close to the situation, then the Vols on Wednesday would put the finishing touches on signing 41 offensive players including kicker Aaron Medley among what then would become an 82-man haul across the first three classes.
Here's the position-by-position breakdown for offensive signees in the Jones era:
OFFENSE
QBs: 5
2013: Riley Ferguson, Josh Dobbs
2014: None
2015: Jauan Jennings, Quinten Dormady, Sheriron Jones
How they've fared: Dobbs through two seasons has 658 rushing yards and 1901 passing yards. He's accounted for 20 total touchdowns and 12 interceptions.
Contributors: Dobbs has appeared in 11 career games, seizing control of Tennessee's offense last season after entering the game on the third series against Alabama.
Starters: Dobbs has nine career starts and enters 2015 as the unquestioned trigger-man for the Vols' offense.
Non-factors: Ferguson. The North Carolina native transferred out of the Tennessee program last May and did not play college football the past year. Ferguson attempted a transfer to Florida A&M and most recently, we're told, was exploring the junior college path.
The future: Dobbs' transcendent performance last November at South Carolina turned around Tennessee's season and potentially altered the course of the program's future. Hyperbole? Nah. That's direct from the Vols' football offices. Now Dobbs needs not worry about competition or looking over his shoulder; it is his offense and he is the undisputed leader moving forward.
Jennings, the four-star in-state standout, gets the spring to do major work on his mechanics and try to challenge for the backup role. He's fully healthy, which is an asset.
Dormady is perhaps the most polished of the Vols' latest batch of signal-callers, but he's been slowed by health-related issues. Dormady is a strong student of the game and has been logging serious work on his own to stay in shape, work on footwork and more. But, he has to be cleared to throw and while Dormady expressed confidence last month that such clearance was imminent, he needs that to happen sooner rather than later.
OL: 13/14
2013: Brett Kendrick, Austin Sanders, Dylan Wiesman
2014: Dontavius Blair, Jashon Robertson, Coleman Thomas, Ray Raulerson, Charles Mosley
2015: Jack Jones, Chance Hall, Venzell Boulware, Riley Lovingood, Zach Stewart, *Drew Richmond
How they've fared: Four of the first eight linemen signed by Jones' Tennessee staff have developed into significant contributors. The other four have redshirted at least one season and yet to significantly crack the two-deep rotation.
Contributors: Kendrick and Wiesman proved capable in the Vols' two-deep during the 2014 season and showed ability to be spot starters when needed. Thomas, playing out of position, didn't complain but simply battled at right tackle until an injury at Ole Miss essentially ended his debut season. Robertson spent two days along the defensive front in preseason camp and then quickly became a fixture along the Vols' offensive line.
Starters: Robertson is Tennessee's anchor at right guard, with multiple coaches telling us they believe he's got an NFL future as long as he continues to develop. He's the only member of Tennessee's front to start all 13 games at the same spot. Thomas, Wiesman and fifth-year senior Mack Crowder are expected to battle for the starting center spot beginning in spring camp late next month. Blair will be challenged to compete for the starting spot at left tackle. Mosley will be challenged to be ready from a health standpoint; Raulerson could battle at center if bigger and stronger. Sanders also can be in the mix at guard in the two-deep while Kendrick may find himself battling with Blair in hopes that fifth-year senior Kyler Kerbyson can return to his more natural right side of the line.
Non-factors: None of the linemen thus far signed has transferred out of the Vols' program. But it's a major spring for a few of those guys to show they can compete before even more depth arrives.
The future: Look for Jones to benefit the most from being an early enrollee. The Mr. Football winner from Murfreesboro's Oakland High School has a mentality the coaches love; his advanced arrival gives him an opportunity to bolster his strength levels. Hall is a raw prospect with what coaches believe is very strong upside potential. He's recovering from injury and has some rehab ahead of him, but coaches find him an intriguing tackle prospect for the future.
Blair was supposed to be an instant-impact guy last year but couldn't put it all together. But Blair still has two years to play two years, so he could emerge as a very valuable piece moving forward. Lovingood is the Vols' deep-snapper of the future while Stewart is a country-strong guard who must refine and enhance his fundamentals and skills. Stewart will likely redshirt in 2015, but don't discount his work ethic and desire.
Boulware is smart, athletic for a big man and could be the guy to replace incumbent Marcus Jackson in the future at left guard. Richmond, if the Vols can secure his signature, is a franchise-type tackle; an athletic freak with smarts and a large wingspan who could challenge to start at tackle from Day 1, very similar to Ja'Wuan James.
TEs: 6
2013: A.J. Branisel, Woody Quinn
2014: Neiko Creamer, Daniel Helm, Ethan Wolf
2015: Kyle Oliver
How they've fared: Branisel was an early contributor in 2013 with a key fourth-down reception in helping the Vols to nearly upset Georgia. He scored one touchdown but suffered an injury later and redshirted in 2014 while trying to get back. Quinn was never a factor in his two-year career, graduating this past December. Creamer bounced around multiple positions but seems to have settled in at tight end right now following a redshirt-season in his debut year. Wolf and Helm both significantly contributed in 2014, though Helm has since transferred to Duke following his freshman season.
Contributors: Right now, it's only Wolf plus recent scholarship recipient Alex Ellis, a former walk-on. But the coaches believe Creamer can develop.
Starters: Wolf had a breakout campaign and emerged as the Vols' full-time starter, slowed only by an early-season knee injury that was not as bad as appeared.
Non-factors: Quinn was a late addition to the 2013 class and came in with the buzzing story after beginning college as a volleyball player. Helm played extensively, started some games and would have started more but opted to depart the program in December.
The future: Oliver is a big, physical body at 6-foot-4, 226 pounds but consistency is the key. He has to become more aggressive in seeking the football and also more physically imposing in blocking situations.
RBs: 6
2013: Jabo Lee
2014: Jalen Hurd, Treyvon Paulk, Derrell Scott
2015: Alvin Kamara, John Kelly
How they've fared:
Contributors: Hurd needs no introduction. As a true freshman, the biggest name in Tennessee's 2014 signing class lived up to his five-star billing, rushing for 899 yards on 190 carries, averaging 4.7 yards per rush and scoring five times. He caught 35 passes for 221 yards and two more scores, averaging 6.3 yards per catch. Hurd ran for 125 yards in the win at South Carolina, 118 against Kentucky and 122 in the TaxSlayer Bowl against Iowa. His 899 yards for the year were the third most by a Tennessee freshman in program history, behind James Stewart in 1991 (908) and Jamal Lewis in 1997 (1,364).
Starters: Hurd proved durable as a freshman in the Southeastern Conference, starting nine times in 13 games, taking over the starting role at running back against Florida and never letting the job go down the stretch.
Non-factors: Recruiting at the running back position has been boom or bust. Hurd, clearly, applies to the former. Jabo Lee, Treyvon Paulk and Derrell Scott, though, apply to the latter. Lee signed with the Vols in 2013, but never made it to Knoxville, instead landing at Temple. Paulk was dismissed in September following an alleged domestic violence episode and Scott chose to leave the program after an injury-riddled freshman season in which he ran for 40 yards on 11 carries, playing in just two games.
The future: Obviously, the future at the running back position is arguably brighter than any other at Tennessee, even with three departures over the course of two classes. Hurd has established himself as an SEC workhorse, more than capable of handling the workload required, but has some serious help on the way.
Alvin Kamara, the five-star all-purpose running back from Hutchinson (Kansas) Community College with three years of eligibility left, is an early enrollee that's been on campus for a month. And by all accounts, he'll add instant impact to help lighten Hurd's load. "(Kamara) has an explosive element to his game that will allow him to help us immediately," running backs coach Robert Gillespie said last month. "I'm excited to coach him this spring and believe that his addition will create a healthy competition in the running backs room." Kamara's addition gives that running backs meeting room a second five-star, with the former Alabama back adding lightning to Hurd's thunder.
With Kendall Bussey's Monday flip to Texas A&M, the biggest question at the position is depth behind the big names. John Kelly should help in that role, as a three-star athlete in the 2015 class. Kellym at 5-foot-10, 191 pounds, was the No. 8 overall player in Michigan and had an offer list that included Michigan and Michigan State.
WRs: 10
2013: Paul Harris, Ryan Jenkins, Marquez North, Josh Smith
2014: Josh Malone, Von Pearson, Vic Wharton
2015: Preston Williams, Joc Bruce, Vincent Perry
How they've fared: After being one of the biggest names in Tennessee's thrown-together 2013 signing class, Marquez North has put up the biggest numbers. In his first two seasons with the Vols, the 6-foot-4, 221-pound receiver has 21 catches for 68 yards and five touchdowns, including at least one catch in each of his first 19 career games.
Contributors: Pearson, despite battling a nagging high-ankle sprain, showed tons of flash in his first season at Tennessee. The JuCo signee from the 2014 class caught 38 passes in 11 games, accounting for 393 yards and five touchdowns, averaging 3.5 catches per game and 10.3 yards per catch. He had two touchdowns in the win over Kentucky before putting up career bests in catches (7) and yards (75) in the TaxSlayer Bowl against Iowa, including a 19-yard touchdown. Pearson finished second on the team in both receiving yards and catches.
Smith, after a redshirt season in 2014 after being lost for the year with a leg injury suffered at Oklahoma, had 135 yards and 10 catches, including a 40-yard touchdown against the Sooners, before the injury. As a freshman in 2013, Smith played in 11 games, caught 12 passes for 182 yards and scored a touchdown. Having already been on campus for two years and still having three years of eligibility left, the future is understandably bright for the slot receiver out of Christian Academy of Knoxville, a three-star prospect from the 2013 class.
Josh Malone, after exploding in his Neyland Stadium debut with 181 receiving yards and three touchdowns, had a relatively quiet freshman season, catching 23 passes for 231 yards and a touchdown (against Alabama).
Starters: Zach Azzanni in 2013 took over a position depleted by the losses of Justin Hunter, Cordarrelle Patterson, Zach Rogers and just about anyone else on roster who had a catch to their credit. Needless to say, Azzanni's young group was forced into action from Day 1. North has started 21 times in 21 career games, Smith played in 11 games as a true freshman, starting four, and made another start in his three-game sophomore season. Malone started six times in 2014 and played in all 13 games and Pearson started eight games while playing in 11.
Non-factors: Paul Harris left the program after the 2013 season and eventually landed at Louisville. Ryan Jenkins has one career catch to his credit (for six yards) in two seasons at Tennessee, including a redshirt freshman year in 2013, and Vic Wharton unexpectedly left the program last month after a freshman season where he made two starts, played in nine game and had five catches for 64 yards, including a 49-yard touchdown in the TaxSlayer Bowl on a halfback pass from Marlin Lane.
The future: Help is on the way to supplement the departures, most notable among that help being four-star Hampton, Ga. receiver Preston Williams, a long-time Tennessee commit who's rated as the No. 19 overall receiver in the nation and the No. 158 overall prospect. Beyond Williams, Tennessee has commitments from three-star athletes in Vincent Perry (Nashville) and Joc Bruce (Knoxville), two body types --- Perry is 5-10, 175 and Bruce is 5-10, 168 --- that compare to Josh Smith or Pig Howard, two receivers that have been productive in the slot and moved all over the field in different sets and scenarios.
Kickers: 2
2013: None
2014: Aaron Medley
2015: Tommy Townsend
How they've fared: Medley beat out redshirt-sophomore George Bullock in a wide-open battle to emerge as the Vols' owner of place-kicking and kickoff duties. He turned in one of the finest freshman seasons in Tennessee's long history.
Contributors: Medley is it, and he's key to the Vols' fortunes moving forward.
Starters: Medley
Non-factors: N/A
The future: There are some walk-ons on campus and incoming signee Tommy Townsend, who will be included in the defensive assessment, has done some placekicking in the past. But Medley is the Vols' future at the moment and there's belief from kicking experts that Medley can develop into an NFL talent. Medley made 20 of 26 field goals in his first collegiate season and also was a sparkling 42 of 43 on PATs, drilling a key one to force overtime and then hitting the game-winning field goal at South Carolina.