{{ timeAgo('2021-04-03 07:34:33 -0500') }}
football
Edit
Through two weeks Heupel sees growth mentally and physically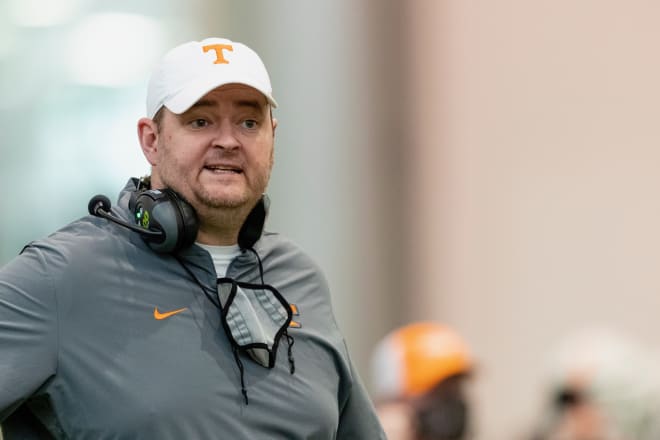 For fans, the interest in spring football centers around positions like quarterback and it centers around how individuals are looking. For head coach Josh Heupel with now five practices in the books the focus remains on the big picture which includes things like setting standards and expectations.
And with two weeks under their belt and a couple of days of full contact work Heupel is seeing growth in some key areas.
"I'm going to start with their attentiveness. Their willingness to be coached. Their will to take that coaching and try to implement it," Heupel said. "Trying not to make the same mistake twice. We called up practice today, they competed really hard. We went into a 3rd and short situation down inside the 3 yard line. You have two downs to get into the endzone. It's about finishing and competing. Nothing else matters that has happened during the first 22-23 periods of practice. It's all about how you finish at that point. We are learning how to have a winning mentality. That's effort, that's attitude and that's being a tough team. There's a drill we did on day three, we call it the vol drill. It's about putting your face on somebody, getting your hands in the right place being able to run your feet on offense. Defensively it's about being able to shed and made a play. Day three was not anywhere near the level of meeting our standards or expectations. Day five we repeat the drill and it's a whole lot more energy, and toughness. Our attitude was in a better spot and the drill got a whole lot better. I think you have to gain in the inches every single day. It starts with our guys ability to be coachable to have some of those winning attributes. How they communicate with each other. We are growing in that learning how to shed some losing habits and gain some winning habits."
As for as the physical act of playing and performing, Heupel sees that side of things improving but like every thing it takes time.
"Our guys are growing in their physicality every day. Day one in pads we were not anywhere we needed to be. Today we got back out there and our guys competed and you heard pads popping at a whole different level than it was the first day we jumped into that.
"We just finished day five of spring ball. Our players are trying to figure out the schemes. They are trying to figure out how to play at the tempo that we want to play on the offensive side of the ball and the mechanics that come with that. Defensively we are trying to get aligned, communicate and make sure all three levels are on the same page. And we are early in that journey of who we are going to be next fall. We are in a race against ourselves to get there as fast as we possibly can to be as good as we possibly can."
WALK-ON DAVIS CONTINUES TO GET CHANCES
Redshirt sophomore Dayne Davis surprised every practice observer this week when he worked as a first team tackle on the offensive line. The Sullivan East High School product walked on in 2019 and was on the roster in 2020 but has not played to this point in his career. With a new coaching staff comes new opportunities and Davis is trying to take full advantage of his chance.
"He's been rock solid since we have gotten here in the way he competes," Davis said. "His attention to detail and how he works on the practice field. Those guys get graded every single day. The rotation up front for practice one was based off how they graded out in everything they were doing every day leading up to the start of spring ball. Now you get graded every day in practice. Based on that, it kind of sets the rotation as far as whether your are playing with the 1's, 2's, or 3's for the day. He is a guy that's going to compete really hard. I think up front we have some flexibility with some guys who can play left or right. They have experience doing that. The biggest thing to me is our players learning how to play snap to the echo of the whistle. At tne end of the day it's about your effort. We use the word attack inside our program and our kids are learning to do that. He's been really consistent in the way he plays from snap to whistle."
SUSPENDED PLAYER UPDATE
Issac Washington, Aaron Willis, Martavious French, and Kaidan Salter continue to miss practice as they remain suspended from school following a dorm room incident last month leading to the four being cited for simple possession. On Thursday, Salter's case in juvenile court was dismissed with prejudice. Early next week, the suspended players are scheduled to meet with the office of student conduct. Heupel didn't have any new update other than he is hopeful of a resolution sooner rather than later.
"There's no final word on any of the guys who had that issue," Heupel said. "We are going to stay with those kids as I told you in the beginning. We are going to support them through the process. Once we have a final decision on all those guys we will communicate that with you.
We hope that process will be thorough and we will be able to work through it and we can communicate with you where our University stands."