Where does Tennessee turn after Emmit Gooden's season-ending injury?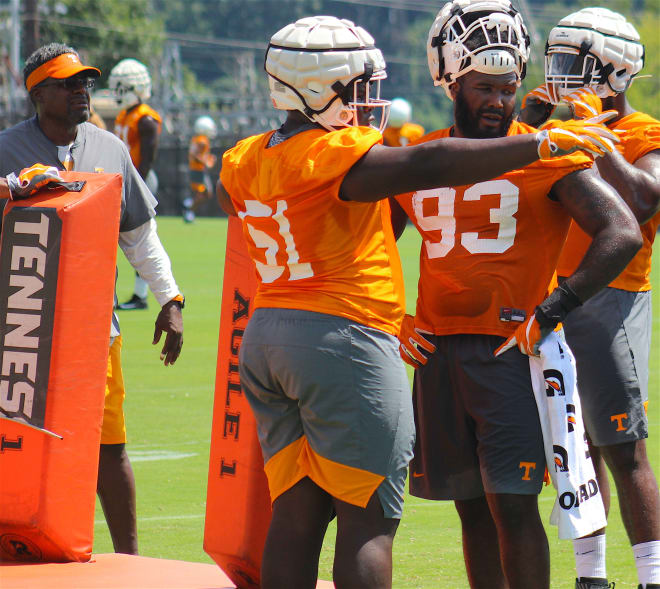 With the confirmed news of Emmit Gooden's torn ACL, Tennessee currently enters the fall with 10 scholarship defensive lineman. Alabama has 14. Same for Georgia.
Such is life for Jeremy Pruitt's rebuild on Rocky Top.
The loss of Gooden stings. Badly for Tennessee.
It's not catastrophic like a potential injury to quarterback Jarrett Guaranatno, but it's a real blow. Gooden was an important piece and would've represented body No. 11 in the unit and the only sure-bet of the group assured of a starting spot vs. Georgia State on Aug. 31.
Last season, the former Last Chance U star was the fourth defensive lineman in Tracy Rocker's rotation, playing 248 total snaps while backing up Shy Tuttle, Kyle Phillips and Alexis Johnson. He was inconsistent at times, but he flashed a disruptive ability, finishing his junior season with 7.0 tackles for loss — tied with Phillips for second on the team and nearly as many as Johnson and Tuttle combined (8.0).
According to Pro Football Focus, Gooden was Tennessee's second-most productive lineman (behind Johnson) and fourth-best overall defensive player who saw at least north of 200 snaps. As noted in a piece earlier this summer, the Memphis native was also the team's best run stopper per in 2018, PFF.
But Gooden is now gone, and the question is where will Rocker and Tennessee turn?
"We've got 10 guys there right now, working in the defensive line," Pruitt said post-practice Wednesday.
"There's not a whole lot of difference in any of them. Some of them have played in some games, some of them hadn't. They all have strengths and weaknesses, but most of them have very limited game experience."
Well, of the 10 bodies, one isn't even eligible yet.
Right now, Tennessee technically has nine available defensive lineman, as former 5-star transfer Aubrey Solomon remains in limbo awaiting the NCAA to rule on his eligibility. The Vols desperately need Solomon to get the green light, especially after Gooden's injury at Tuesday's practice. The 6-foot-5, 300-pound lineman has looked the part in both spring and fall practices and has as many career tackles for loss (2) as the rest of Tennessee's returning defensive line had last season.
Junior end Matthew Butler was the only lineman to average right around 10 snaps per game in 2018, and the Charlotte native didn't even see action in three games and 63 percent of his overall snaps came in four blowout losses, per PFF. Is he truly ready to make a leap this season?
Like the Riddler's favorite soundbite in Batman Returns, this unit is just full of "Too many questions" right now. Who will seize their opportunities?
Butler has the most experience with 17 career appearances, but he has five career solo tackles. John Mincey flashed briefly before breaking his arm in a freak pregame accident last fall, but is he ready for a real increased role?
What about the two junior college transfers — Savion Williams and Darel Middleton Tennessee didn't sign 650 pounds of aged beef to sit on the sideline and get stale in 2019.
Pruitt said both newcomers are currently learning on the job five days into camp, with Middleton currently seeing some first-team reps because of his agility and upside at 6-7, 311 pounds.
"Darel is a big-bodied guy that has some length to him," Pruitt said.
"It's Day 4 of an install and there's a lot being thrown at him. … There's some time he don't line up the correct way, but he's a guy that has the ability to strike, has ability to rush the quarterback and he's worked extremely hard since he's been here. We're excited to have him."
Wildcards include Elijah Simmons, aptly nicknamed the Junkyard Dog, Kingston Harris, Greg Emerson and Latrell Bumphus. Simmons is a 340-pound freshman who moves like he's 285, but what is his conditioning like? Can he be a plug-and-play guy as a freshman? Meanwhile, Harris is a guy some on the staff believe could be a Day 2 NFL Draft pick, but he oscillated between the offensive line and defensive line as a freshman. Can he become a reserve body at nose tackle this fall? As for Emerson, he was a highly-sought after prospect before breaking his ankle at The Opening Finals in 2017. He's never quite been the same since agility-wise though, but his conditioning and mobility has improved since arriving on campus.
Ultimately, without Gooden, Tennessee's group still has plenty of promise — Pruitt said as much Wednesday — but the unknowns outweigh any upside right now. Can the Vols find 6-to-7 guys who can seriously contribute by the end of the month?
We'll see.
"Right now, these guys show a lot of promise during the drills," Pruitt said yesterday.
"When you get to 11-on-11, there's more things flying around … We've got to continue to put these guys in those situations and put them out there. That's why they came here, for the opportunity to play. And they'll get it."