19 stats that explain Tennessee's wild 2019 season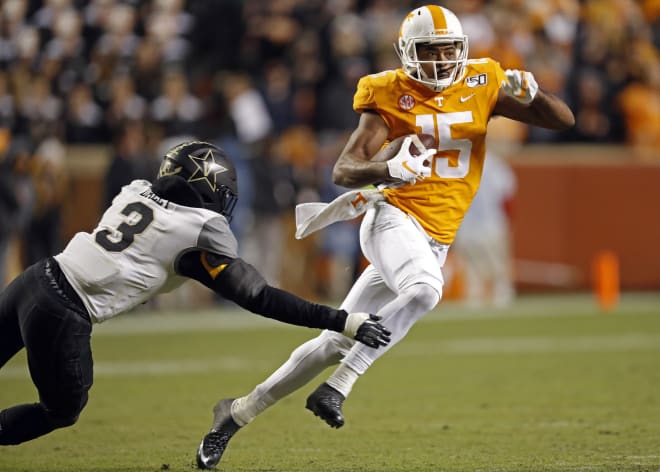 Tennessee entered the 2019 campaign swooning with confidence.
The Vols spent the offseason excitedly discussing their expected growth in Year 2 of Jeremy Pruitt's defense. Quarterback Jarrett Guarantano bragged about "all the answers" new offensive coordinator Jim Chaney provided with his scheme. The schedule was setup for Tennessee to waltz back into the postseason.
Then the Georgia State debacle happened.
Followed by a choke-job late against BYU, Tennessee started the season 0-2 for the first time in 30 years. The Vols laid another egg at Florida before ultimately saving their season by ripping off six-straight wins to end the year.
What started as a rocky road back to relevancy ended with Big Orange Nation dreaming big about 2020.
So how did it happen?
Here are the 19 stats that best explain Tennessee's wacky 2019 season.
1. Jauan Jennings was impossible to tackle. 
Tennessee's senior wideout led the nation in avoided tackles, per Pro Football Focus, finishing the year with 30. That was more than studs like Ceedee Lamb, Devin Duvernay, Justin Jefferson and Ja'Marr Chase.
Jennings finished his senior season with 969 receiving yards, 49% of which (474 yards) came after the catch. Whenever Tennessee's offense needed a life line, Jennings was there to provide it.
2. The Good, The Bad and the Ugly from Jarrett Guarantano. 
Tennessee's redshirt junior quarterback had a wild season, starting the first four games before losing his job during the open date, playing the hero in relief against Mississippi State, coming off the bench at Alabama and inexplicably calling is own number at the goal line only to bounce back and help Tennessee record wins over South Carolina, Kentucky and others.
The Gator Bowl win over Indiana was a microcosm of Guarantano's season: He started the game poorly, was briefly benched, but because he remained the team's best option he was reinserted and helped the Vols rally for a one-point victory.
Guarantano finished with career-highs in both touchdowns (16) and interceptions (eight). He also had the lowest completion percentage (58.9) of his career.
When diving into the numbers, it's clear his dip in completion percentage was mostly due to a major regression as a play-action passer. It was a strange step back for Guarantano, who entered the 2019 season as the SEC's No. 3 play action quarterback (behind only Tua Tagovailoa and Jake Fromm). He was ahead of a guy named Joe Burrow last season.
In 2018, Guarantano completed 64% (+2.5 vs. normal dropbacks) of his passes off play action, averaging 9.5 yards (+2.7 vs. normal drop-backs) per attempt with five touchdowns and just one interception.
In 2019, those numbers sank, with Tennessee's quarterback finishing the year completing just 53.4 percent of his play action attempts (a -8.1 drop in completion percentage vs. normal drop-backs).
Notably, Jim Chaney dialed up play action attempts about as often as Tyson Helton in 2018 (98 drop backs in 2019 vs. 99 in 2018). One would expect this to be a major focus for Guarantano this offseason.
3. The Juice Man + The Joker = Tennessee's dynamic duo.
Senior receivers Jauan Jennings and Marquez Callaway accounted for 56% of the team's receiving yardage in 2019 — and 74% of Tennessee's receiving touchdowns.
Combined, they had 89 receptions and 14 touchdowns. That's some serious production the Vols must replace in 2020.
If you add in seniors Dominick Wood-Anderson (268 yards, one score) and Tyler Byrd (66 yards, one touchdown), Tennessee must replace nearly 70% of its receiving production in 2019 — and 16 of 19 touchdowns.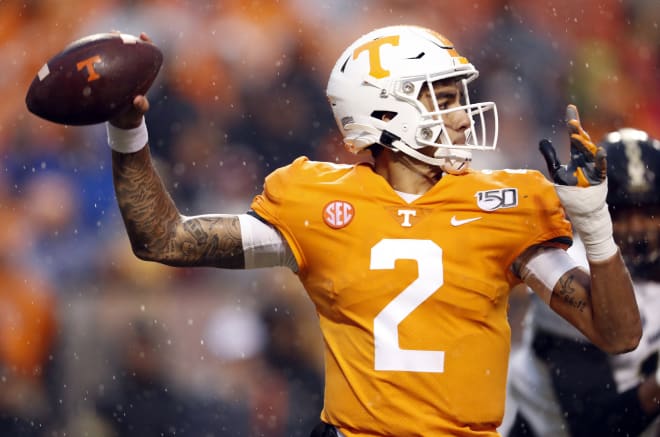 4. Who is starting at quarterback this week?
Tennessee, technically, started four different players at quarterback in 2019.

Jarrett Guarantano made seven starts. Brian Maurer accounted for four, while JT Shrout and wideout Jauan Jennings each had one apiece.
In all, seven different players took snaps behind center for the Vols this past fall, the four mentioned above plus tailbacks Tim Jordan, Ty Chandler and Eric Gray.
5. Halfway through the season, Tennessee became a second-half team.
Tennessee actually finished the 2019 season with a negative scoring margin in the second half (-23), but a large reason for the team's 6-0 finish was its improved play after halftime.
The Vols boatraced South Carolina in the second half (24-0), came up with key stops against Kentucky and Missouri and rallied to beat Indiana in the Gator Bowl.
They outscored their opponents 79-43 (+36) after halftime during their six-game winning streak to end the season. In the first seven weeks of the year (2-5 record), they were outscored 101-49 (-52) in the second half.
UT's 2019 post-halftime improvement late in the season was a marked change from the previous year, when the Vols were outscored 86-44 (-42) in the their last six games — that included key losses to South Carolina, Missouri and Vandy.
6. The Vols limited their negative plays. 
Tennessee was one of the worst teams in the country allowing negative plays in 2018, finishing with 92 tackles for loss allowed (No. 116 nationally, last in the SEC) and the worst stuff rate in nation, per Football Outsiders.
Jim Chaney's first season spearheading Tennessee's offense still came with some lumps, but under the veteran coordinator's stewardship, the Vols did an excellent job eliminating so many negative plays.

Tennessee allowed just 69 tackles for loss in 2019, good for 47th nationally. The team's stuff rate improved to 77th nationally. There's obviously still more progress to be had, but it was a nice sign of progress.
7. Tennessee stunk at scoring touchdowns in the red zone. 
The offense was better in 2019, but Jim Chaney brought his red zone doldrums over from Georgia.
The Vols finished with the nation's No. 112 touchdown percentage, getting in the end zone just 48.9% of the time on their red zone trips, easily the school's worst percentage in over a decade.
An inability to run the ball consistently was an issue, but a bigger problem was turnovers inside the red area. Jarrett Guarantano threw multiple interceptions in the end zone and also committed one of the more boneheaded plays in recent Tennessee memory when he called his own audible on the goal line at Alabama, only to fumble and see Trevon Diggs return it 100 yards in the opposite direction.

8. Who run it?
No one would confuse Tennessee with a dynamic rush offense or run defense in 2019, but the Vols did show marginal improvements in both areas compared to last season.
In Jeremy Pruitt's first year at Tennessee, the Vols averaged just 3.70 yards per carry — worst in the SEC and good for No. 114 nationally. They were middling stopping the run defensively, too, ranking 52nd nationally by allowing 4.14 yards per carry.
Thanks to upgrades (and development) along both lines of scrimmage, both areas saw progress in Year 2. By eliminating so many negative runs, the Vols averaged 4.07 yards per carry (still only 85th nationally, but better than a year ago). They were even saltier defensively, yielding just 3.70 yards per carry — this despite replacing future pros Shy Tuttle and Kyle Phillips.
Only one team averaged more than 5.0 yards per carry against Derrick Ansley's unit this season (UGA) — something that happened four times in 2018. Tennessee's rush defense also allowed three fewer touchdowns (17 vs. 20) in one more game, too.
9. The Vols had themselves a kicker.
Brent Cimaglia was able to mask some of Tennessee's red zone woes with his ability to kick the ball between the pipes.
The junior drilled 23 field goals — the most by a Vols kicker in over a decade. Cimaglia hit 85.2% of his kicks (23 of 27), the second-best percentage in the SEC, and was perfect on extra points.
Cimaglia earned All-SEC honors and came up clutch in wins over Mississippi State, Kentucky and Indiana.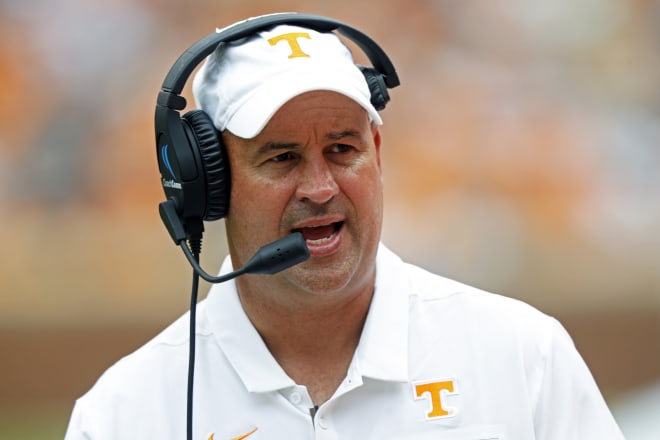 10. Tennessee's pass rush was better Year 2 in Jeremy Pruitt's system.
Whether it was guys having a greater comfort level in the system or players being used more properly, the Vols recorded 34 sacks in 2019 — No. 3 in the SEC. They had just 25 sacks in Pruitt's first season.
Darrell Taylor remained Tennessee's top pass rusher (8.5 sacks as a senior, second-most in the SEC), but the outside linebacker wasn't a one-man band this fall.

Tennessee had nine other players record at least two sacks in 2019. Nickel-back Shawn Shamburger provided pressure off the edge (3.5 sacks), as did inside linebacker/BUCK Daniel Bituli (3.0 sacks).
The Vols also received contributions from unheralded vets like Matthew Butler, Latrell Bumphus and Kivon Bennett (2.0 sacks each).
11. Two cemented starters anchored Tennessee's offensive line.
One reason for Tennessee's offensive improvements, especially up front, was directly related to the games played by veterans Trey Smith and Brandon Kennedy.
In 2018, the two offensive linemen combined to start just eight games.
That number jumped to 26 — as in all 13 games each — this past season. The Vols benefited from having the same left guard-center combo all season, and that will remain the case in 2020 now that Smith has turned down the NFL and Kennedy received his sixth-year waiver.

12. The Vols were excellent at limiting opponents' explosive plays. 
Tennessee finished the year No. 23 in total defense (334.5 yards per game) and No. 24 in yards per play (5.01), and the Vols were at their best this season keeping the football in front of them.
They were in the middle of the pack in the SEC in plays between 10-20 yards (with Derrick Ansley's unit actually a bit worse in that regard compared to 2018), but the Vols were the best in the SEC — and No. 3 nationally — in limiting plays over 20 yards.
Tennessee's defense had just 39 such snaps, slightly better than Georgia (42) and right around elite defenses like Clemson (35), Iowa (35) and Utah (36).
In 2018 (with one fewer game, mind you), Tennessee allowed 50 snaps over 20 yards.
13. Nigel Warrior: The Ballhawk. 
The senior safety entered his last season on Rocky Top with just one career interception. Warrior was not regarded as a playmaking safety his first three years at Tennessee, but that changed in a big way in 2019.
Warrior finished with four interceptions this fall, tied for the most among SEC safeties with UGA's Richard LeCounte and LSU's Kary Vincent Jr.
Tennessee's senior safety had key picks in wins over Kentucky and Mississippi State and his interception at Alabama sparked UT's (albeit brief) comeback.
Warrior really improved his NFL Draft stock with a strong senior season by constantly being around the football. His 10 PBUs were way more than he'd had his previous three seasons combined (just four).
14. Tennessee battled some tough luck. 
While Tennessee had an excellent kicker in 2019, the Vols also had to survive some clutch field goals by its opponents.
Tennessee played in five one-score games last season, and that doesn't include a 20-10 win over Mississippi State that wasn't decided until late.
In the Vols' 13 games, opponents hit 16 of 19 field goals against the Vols — a percentage that ranked No. 106 nationally.
Obviously, Tennessee ultimately benefited from a key miss in its Gator Bowl win over Indiana, when All-Big Ten kicker Logan Justus missed an extra point and the potential game-winning 52-yard field goal.
15. Daniel Bituli was the soul of Tennessee's defense. Again. 
Despite missing the first two games of the year, the Vols' senior linebacker led the team in tackles (88) for the third straight season, earning second-team All-SEC honors.
Tennessee desperately missed Bituli in its losses to Georgia State and BYU, finishing the season 8-3 with its senior inside linebacker on the field.
16. Tennessee was efficient at converting third downs. 
The Vols weren't an overly explosive offense, but they did a nice job all season moving the chains on the money down.
After finishing the 2018 season ranked No. 10 in the SEC in third down offense (38.2% conversions), Tennessee saw that number jump to 43.2% this fall — third-best in the conference.
17. Tennessee squeezed everything it could from its freshman linebacker.
The Vols played a slew of true freshman in 2019, but none were more important than Henry To'o To'o. The freshman linebacker started all 13 games and played 727 snaps — the second-most by any freshman linebacker in the country behind only Alabama's Shane Lee, per PFF.
To'oto'o came to Tennessee from football factory De La Salle High, so the expectation was that he would be more ready to play than a typical freshman.
That proved true, as he finished with 72 tackles, 5 TFLs, 6 hurries and two PBUs.
While Daniel Bituli was the soul of Tennessee's defense, the Vols would've been screwed without the steady play of To'o To'o. They lacked inside linebacker depth to start the year, and then by midseason, Will Ignont, Shanon Reid and Jeremy Banks were all off the team.
To'oto'o has a very bright future and he showcased his skills early in his first season on Rocky Top.
18. Austin Pope proved critical as Tennessee's No. 2 tight end. 
Jim Chaney loves to line up in 12-personnel, but considering Austin Pope's myriad of injuries the previous two seasons, it was unclear at the start of 2019 if the Vols had two true viable options at tight end.
Dominick Wood-Anderson was the clear starter, but by the end of the year, Pope, a Knoxville native, proved just as valuable due to his physical blocking prowess.
Although Pope caught just four passes for 21 yards this fall, he was instrumental in the run the game — seeing 276 run-blocking snaps — more snaps than he'd seen in any regard his first two seasons (201) with the Vols.
And finally...
19. Tennessee is still chasing its rivals. 
Optimism is high on Rocky Top right now, and for good reason. The Vols ended the year on a six-game winning streak and have had a strong offseason by signing a Top 10 recruiting class, having Trey Smith stick around and adding transfers Cade Mays and Velus Jones.
But while folks are already eying a potential run to Atlanta in 2020, the Vols must first show real improvement against their main three rivals.
In games against Florida, Georgia and Alabama, Tennessee was outscored 112-30 this season (-82).
A year ago, that margin was -89 (143-54), so there still wasn't much improvement there.
Tennessee had a strong bounce-back season this fall, but if the Vols want to seriously compete for a chance to get to Atlanta next fall it must start truly giving their rivals a true game. They beat just two Power 5 teams with a winning record in 2019, and that won't be enough to play for a conference championship in 2020.