BREAKING: 4-star ATH Bryce Thompson is a Vol, enrolled at Tennessee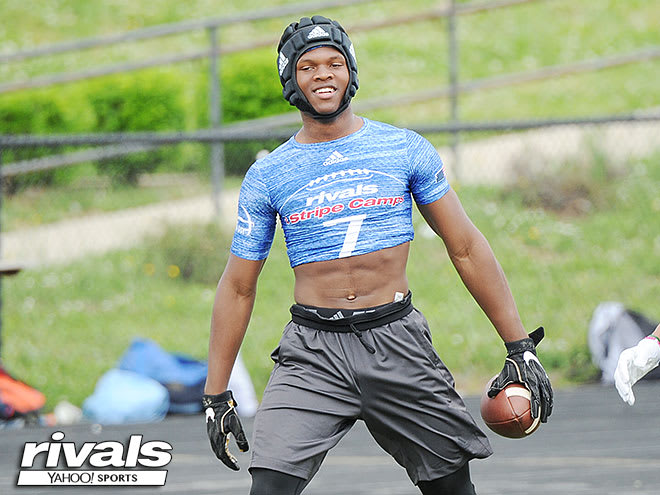 Dutch Fork (S.C.) athlete Bryce Thompson made news just before National Signing Day when he announced he wouldn't be signing with his hometown South Carolina Gamecocks. With high school and a winding recruitment behind him, Thompson is finally ready to head off to play his college football, but this time it's at Tennessee.
The 4-star prospect becomes the latest summer addition of Tennessee's 2018 recruiting class, as Thompson enrolled in summer classes for the June session and will begin offseason workouts with strength coach Craig Fitzgerald immediately following his arrival.
"It was everything," Thompson said about why he chose Rocky Top. "It was the facilities and the coaches. Just how the treated me when other schools were backing off because they didn't know why I didn't sign with Carolina they still pursued me heavily and showed me a lot of love. It just seemed normal there."
Thompson was a two-way standout at Dutch Fork, helping lead the Silver Foxes to their second-straight Class 5A state Championship. He rushed for 1,368 yards and caught 44 passes for 630 yards.
On defense, Thompson had 27 tackles, an interception and blocked a kick. After the season, he played in the tradition North Carolina/South Carolina Shine Bowl where he earned Most Outstanding Player honors after catching seven passes for 165 yards and a TD.
"They told me I could playe either receiver or defensive back," Thompson said of his role with the Vols.
"Definitely special teams, but they said I should make an impact early as along as I come in and do what I'm supposed to do. I want to start at receiver first, but if they want me to go do DB then I will."
So where would Thompson fit in if he played offense for the Orange?
"I think I'm a slot guy," Thompson said. "They are some of the biggest receiver groups I've seen in college. I think I'd be a perfect fit for them as a shifty slot. Catch little drive and drag slots and just get the ball out in space and make plays."
The addition of Thompson gives Tennessee help on either side of the ball and gives Pruitt and his staff options with player like Alontae Taylor, who featured on both sides of the ball this spring.
He first visited Rocky Top in February for and then returned for the Orange and White Game back in April. It was a good chance to see the coaches coach like defensive backs coach Terry Fair and wide receivers coach David Johnson.
"When I was up there for the spring game I really liked how they were teaching some of the drills," Thompson said. "I haven't had a lot of time to talk to (Terry Fair and David Johnson) personally. I've just been talking to coach (Chris) Rumph and coach (Jeremy) Pruitt.
"I was impressed by the offense and I feel like will fit in well in that offense with how they air it out and how the keep it balanced as well by keeping the defense guessing."