4-star DL hopes to visit Vols soon, says they'll 'definitely' get an OV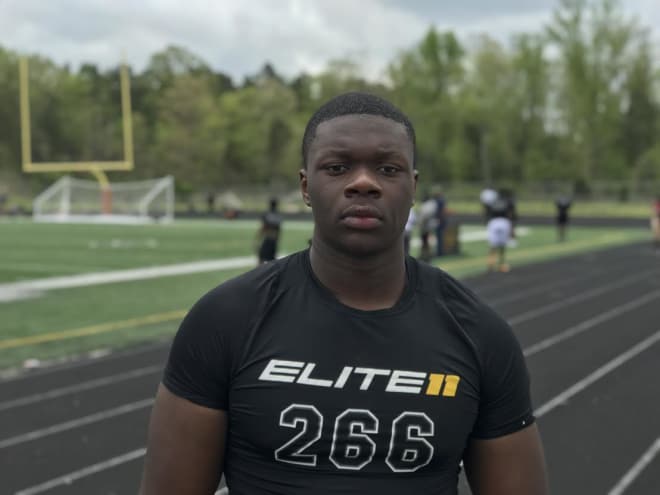 CHARLOTTE — Ben Smiley has only visited Virginia and South Carolina, but the 4-star defensive lineman from Indian River (Va.) plans on changing that this summer.
After his performing at the Nike Opening Regional in Charlotte, Smiley told VolQuest that Tennessee is among the schools contacting him the most right now and he hopes to make his first trip to Rocky Top "real soon."
"The Vols have been recruiting me hard for a while now," Smiley said.
"I talk to the coaches all the time, I feel real love from Tennessee. I'm in a hurry to just get up there. Sometime soon, I got to get up there."
On Sunday, Smiley is set to release his Top 10 schools, and the Vols will definitely make the cut.
The 6-foot-4, 265-pound defensive lineman holds two dozen offers, mainly from Big 10 and ACC schools. South Carolina and Tennessee jumped into the mix in January, hoping to make a move with the Tidewater native.
Smiley said most of his contact with Tennessee has been from head coach Jeremy Pruitt and area recruiter Brian Niedermeyer. He's also touched base with defensive line coach Tracy Rocker and his favorite player happens to be a recent Tennessee legend.
"I love Derek Barnett," Smiley said, unprompted.
"He went there and dominated. That just makes me feel like that's a school I could play at and get better like he did. He's quick off the ball, he uses his hands and he makes a play almost every time."
Tennessee, Virginia, Maryland, Boston College and North Carolina are schools recruiting Smiley the hardest currently, mainly as a "versatile guy who can play outside or inside."
"Most schools are recruiting me as a rotational guy across the line. Not just one spot," he added.
While Smiley hopes to visit Tennessee soon, he will definitely be on campus in the fall in an official capacity.
"They'll definitely get one of my five official visits," he said.