Harrison Bailey solid, focused on making sure 2020 class 'stays together'
Sitting in the front row, Tennessee commitment Harrison Bailey watched and observed Tennessee's loss to BYU on Saturday night. While the result wasn't what he hoped for, he also was happy with the improvement in just one week's time.
"The coaching staff made improvement from the Georgia State game to the BYU game," Bailey said. "The coaches called a pretty good game and the players played pretty good last night, but some unfortunate events happened. It's very exciting for the future of the team."
Speaking on the improvements from Game 1 to Game 2, Bailey believes that the big uglies up front came ready to play.
"Compared to last year the offensive line held up better for JG and the running game," Bailey said. "The running backs ran for over 200 yards, so there are definite improvements there. The experience at wide receiver is good. I just like the overall direction the offense is going."
Bailey committed last November, so he could be the unquestioned leader of this recruiting class for the Vols. In moments like these he is reminded of that very purpose and he takes it personal to make sure he holds this group together.
"We talked about it last night and we all have to stay together," Bailey said. "It all starts with us staying together as a one. Not branching out and doing our own things and looking around and stuff like that."
And schools will start to come for the top level players in this class like the Marietta signal-caller, but that's not what he's focused on.
"I really don't have much contact with other schools," Bailey said. "I hear from some, but I just focus on Tennessee. I really don't say to much to those schools."
The more that Tennessee struggles to make plays in the throwing game, the more fans clamor for Bailey's pending arrival, but that may not be fair to him. Let's face it, he will be a freshman and the weight of the program can't fall on his big right shoulder. It's not about him and just about the T he says he can't wait to represent.
"I'd like to come in and go to work," Bailey said. "My mindset is whatever I can do for the team. Just try to go 1-0 every week."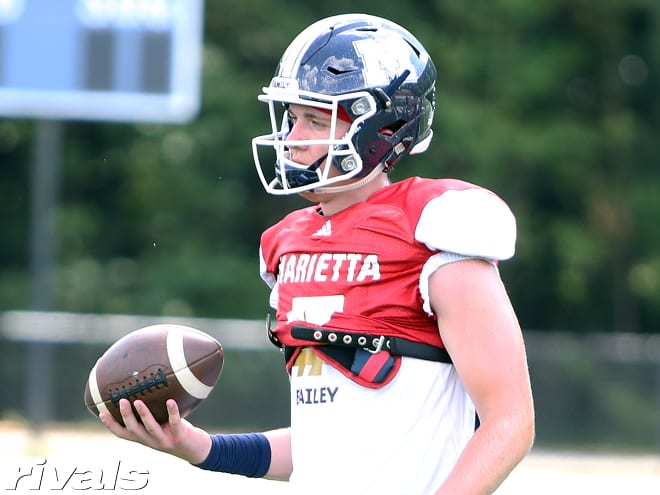 Marietta is perfect on the young high school football season. He's off to a phenomenal start and he can see the strides that he made this off-season physically are paying off.
"I dropped some weight and cut down on my overall body fat this past year," Bailey said. "Just doing a lot of lifting and running and stuff. It's really helped my overall game just being able to move int he pocket and extend plays. I've even run the ball some and it's kept the defense on their toes."
And that new ability to be more mobile has been an added dimension to his game, but at the end of the day, old habits do die hard.
"I'd much rather drop back and throw a touchdown because it's easier, but at the same time, it is fun to drop back, nothing is open and make some moves and make a play," Bailey said."
The Vols have Jalin Hyatt and Jimmy Callaway committed in this 2020 class at the wide receiver position. They want to add other pieces like 5-stars Rakim Jarrett and his teammate Arik Gilbert. He's been all over them for going on a year, but has scaled things back recently due to the high school season.
"I don't stay on them too much," Bailey said. "I know how the recruiting process is and he has a life. They know where I want them to go. I know where we stand with everything. With Arik, I don't harp on it to much because he is one my best friends."
Rivals.com ranks Bailey as a 4-star quarterback in the class of 2020.