A path of patience and belief lands George on Rocky Top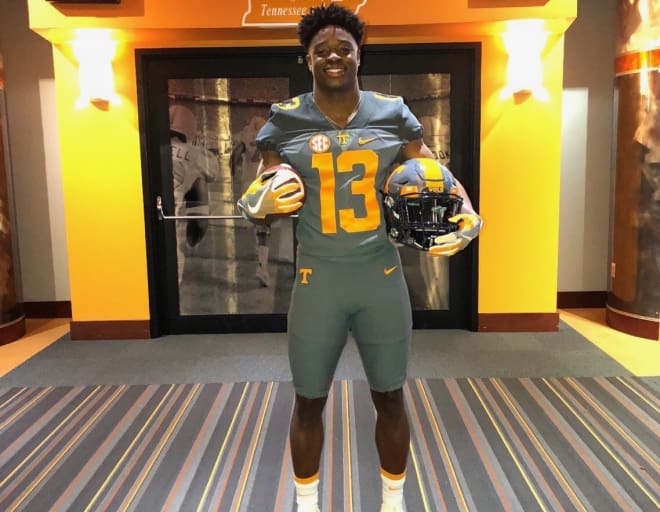 The path for high school players to colleges are all different. Some have been coveted for years and some are "sleepers".

For Tennessee's newest member of the class of 2018, Kenneth George, his path might be best described as one of patience and belief.
In 2015, George graduated from Arcadia High School in Lafayette, La. George was on the team. But he never started. In fact he rarely ever played.
"I was on the team, but I really didn't play," George said. "I practiced and dressed for games, but I was 5-7 and about 140 pounds. There was always someone bigger than me and in front of me on the depth chart."
But for the newest Vol, the dream of football simply wouldn't die. George kept working, his passion remained, his body finally caught up.
Today, George is 6-0, 197 pounds and in June will be on Rocky Top a part of Jeremy Pruitt's first team.
"My body just matured," George said. "It finally caught up to my desires I guess. I see it as a blessing. It's all a part of God's plan for me."
Following his graduation in 2015, George moved from Louisiana to Denton, Texas where he continued to workout and he says, "build is body".
With a developing frame from a year of work and maturity, George put pads back on in 2016 where he walked on at Trinity Valley Community College.
"I moved to Texas because I wanted a new start," George said. "I wanted to meet new people. I didn't want to stay in Louisiana all my life and I wanted to try and keep playing football."
In 2016, George found himself in a familiar situation on the football field as he again didn't play. He redshirted as a receiver. In 2017, George got moved to defensive back playing on that side of the ball for the first time in his life. George started five games and his coaches wanted him back for another year to grow as a cornerback.
But that all changed with Louisiana native and Vol receiver coach David Johnson called on Wednesday night.
"He said the coaches saw my hudle highlight and they liked what they saw," George explained. "They said they wanted to get me up there to see campus and meet them. So my parents and I took a mini-vacation this weekend and headed up to Tennessee for an unofficial visit."
Upon arrival in Knoxville, George knew he was home.
"They took me in as soon as I got there. Everyone made me feel like I was home. They showed me around everywhere. When I got on campus, it made everything official. I was willing to take visits anywhere last week, but after this visit it was all said and done."
George admits he didn't know a great deal about Tennessee before arriving in Knoxville, but can't wait to arrive in June.
"I knew about coach Pruitt being from Alabama. We sat down last night and this morning. I'm really excited about being a part of his first team and they are excited about me," George said.
George said he has 3 to play 3. Tennessee has a need at cornerback and George has plenty to show everyone when he get in orange.
The adjustment to defense was pretty natural for me," George admitted. "I'm really physical. I'm excited and I'm just ready to get in the SEC and show everyone what I can do."