A Tale of two Teams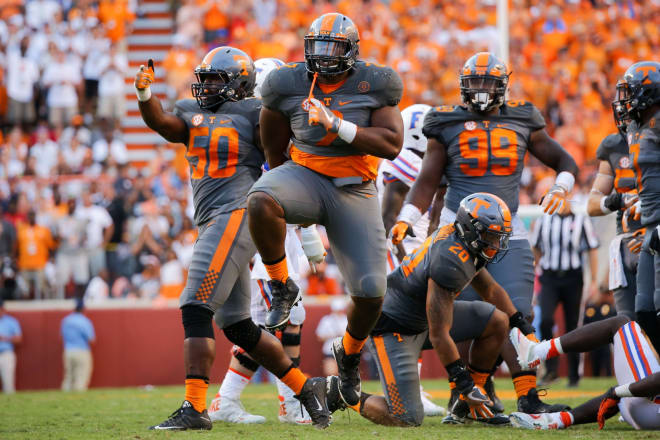 A tale of two halves, a tale of two teams.
And the body language told the story.
Tennessee was down 21-3 at halftime and few gave the Vols much of a chance to come back in the second half of what looked to be another notch in Florida's belt on the Gator's way to winning 12 straight in the series.
But, Tennessee didn't look like a team that had just been out-gained by the Gators 300 total yards to 162, had wasted two golden opportunities inside the five-yard line, coming away with zero points in those trips.
Instead, they emerged from the Peyton Manning Locker Room as poised as if they weren't totally out-coached and outmanned in the first half.
Not even when Joshua Dobbs threw his second interception of the game inside the 10-yard line on the first possession of the second half did the Vols flinch.
The same couldn't be said for the Gators when the Vols found some momentum.
"If you just look at the film, or just pay attention to this one thing, this is when you can tell a team is tired; hands go to the hips and stuff like that," Tennessee offensive lineman Jashon Robertson said. "Bad body language occurs when guys are getting tired. They had some of that going on."
Tennessee finally hit pay dirt with about eight minutes to play in the third quarter and the Vols felt as if they saw the Gators begin to wither.
"I just kept looking at their body language at the sideline," Todd Kelly Jr. said. "It was bad. I think they were worried about talking too much and not focusing on playing football and it showed in the end."
And as Tennessee's points, and plays, began to mount, so too did the bad body language for Florida.
As the third quarter rolled on into the fourth quarter, Florida had six consecutive drives that looked like this: three-and-out, three-and-out, three-and-out, three-and-out, interception on first down, 3-and-out.
At the same time, Tennessee scored 28 points.
Tennessee could smell blood in the water.
"It's sic'em. That's what you want," Robertson said of what he thought when he kept seeing Florida's demeanor. "That's what you play for. That's what you grind for, to have that moment when you have an opponent winded or whatever it is and just being able to seize that opportunity."
Added defensive lineman Danny O'Brien, "When you get to the line and look at them dudes across from you and you can see the look in their eyes that they don't want to block you, you know you have them. We just kept coming at their ass all night."
Junior safety Todd Kelly Jr. went a little further.
"Coach Jones teaches us how to read body language and we looked at the other side and knew we had them beat, to be honest," Kelly Jr. said. "We just took their soul, really."
'A Tale of Two Teams,' that's what they may call it, and it may be a bedtime story for Vol fans to read to their children for years to come.