Addison Nichols details in-home visit ahead of Signing Day
As Tennessee coaches continue their nation-wide sweep of in-person visits, Josh Heupel and Glen Elarbee spent time in Norcross, Ga. Wednesday night to check in on the leader of the 2022 committed class, Addison Nichols.
"It was great. It was really awesome to get them to stop by and to see what things are like in the Nichols' household. It was a really good visit," the offensive lineman told Volquest. "We didn't really talk a whole lot about football. It was just normal conversation about life.
"It was nice in the sense of it wasn't really like a recruiting visit. It was more of us getting to know each other better and spend more time with one another. My parents were able to spend more time with them as well."
The in-home visit was a chance to speak face-to-face for a change and not just over phone, text or Facetime. Outside of the few unofficial visits and one official visit, prospects don't usually get in-person time with their recruiters.
"We talked about what went into the season more so than the season itself," Nichols said. "We discussed what goes into a normal day and sleeping schedules - stuff like that.
"I always love speaking with them. They are super down-to-earth guys and I could talk to them for hours. They are fantastic people."
Tennessee's recruiting class is beginning to round into form with two commits in the past two weeks. The Vols now have 15 total commits and have cracked into the nation's top-30 in terms of team rankings with 10 offensive pledges and five defensive commits.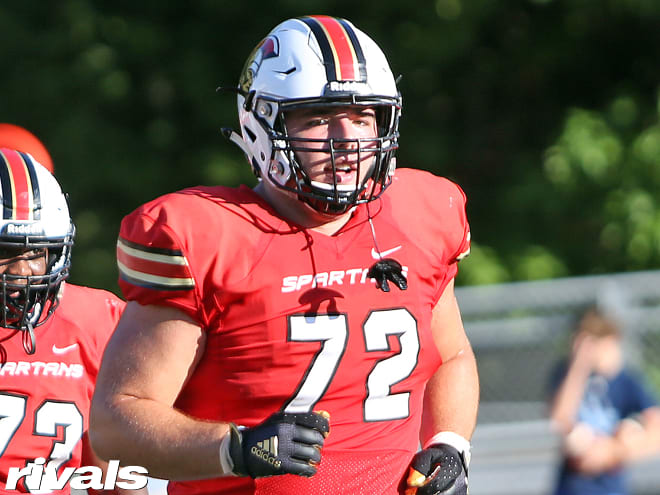 "Everything is looking good there," the commit said of recruiting. "We've got some guys who are looking to get onboard and some guys who are onboard who will be going public soon. I'm excited for it. We are going to have a good recruiting class. Pieces are falling into the puzzle and coming together."
The Vols are stable with a solid foundation being formed by Heupel and staff. It's a welcomed feeling for prospects who are currently committed to Tennessee as some of the nation's powerhouses are going through wholesale changes at the moment.
There's a lot of uncertainty surrounding a couple of programs right now, and for now, that can't be said for the likes of Tennessee.
"I'm super excited and blessed for that. Tennessee has a great staff and they aren't going anywhere," Nichols said. "They are doing great things and want to stay. They love Knoxville and Tennessee loves them. That stability is really good for me so I don't have to worry about if he [Heupel] will have a job next year or if he will be leaving for another spot.
"It's reassuring for me and other commits knowing there's that stability. We will have the same thing these four years – the same schemes that we can continue getting better at. We don't have to rebuild. All that stuff."
The Greater Atlanta Christian standout is tabbed as the 139th-ranked prospect in the class, the 15th offensive tackle and 14th player out of Georgia. Nichols owns a Rivals Rating of 5.9 and is Tennessee's second-highest rated commit, just behind quarterback Tayven Jackson.
With plans of signing in less than two weeks and enrolling in January, the four-star is ready to get this next phase of life underway.
"I am so, so excited. I've been counting down the days until I get to Tennessee and get to be a part of the program," Nichols said. "I can't wait to get to Knoxville and I've really been looking forward to it for months. It's so nice to finally be happening and I've super fired up for it."
The soon-to-be Volunteer will put ink to paper at his school as part of a Signing Day celebration.
"We'll have a table on stage to sign and take pictures and all that. There will be a little get-together," the commit said in conclusion. "I'm excited for it. I've been to so many, it's weird to think that it's finally my turn. It feels like yesterday when I was in eighth grade going to these things.
"It's cool. Time flies."
Nichols plans to be in attendance for whichever bowl game invitation Tennessee accepts.