Alabama DL Hunter Osborne feels good vibes on Rocky Top
Trussville, Alabama defensive lineman Hunter Osborne has been hearing from the Tennessee staff more and more. Friday and Saturday, he was in town for Rocky Topalooza and got the see what the Vols are about firsthand.
"It went amazingly," Osborne said. "Honestly it changed my views on Tennessee. I was already high on them, but this trip made everything that much better. I can't wait for my official visit next month."
So what made this trip so good?
"Just the time I got spend with the coaches and getting to see all the other recruits that were there," Osborne said. "Getting the chance to talk to some of the commits and hear why they chose Tennessee. The relationship I'm building with coach Heupel, coach Banks, Coach Garner and coach Chop, feels like a family"
Sitting down with Rodney Garner and Tim Banks was a chance to see how they see him fitting into the defense at Tennessee.
"He says I can play any position on the D-Line, I'm heavy handed throwing guys off making plays," Osborne said. "On our team, the defensive coordinator calls me one of the leaders and he sees me calling out plays and coach Banks recognizes that. He said they like that in me."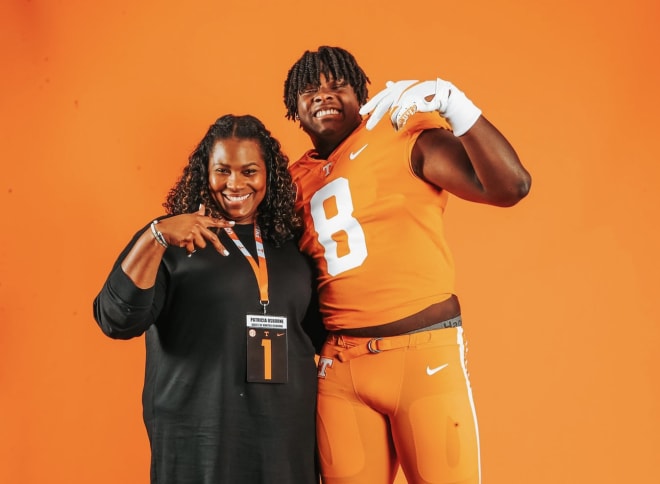 He has know coach Garner for a few years now and he loves the veteran SEC assistant's mindset.
"Coach is old school," Osborne said. "I like how tough he is and he is a great guy when he isn't on the field, but I know he can chew you out and that's what I want."
If there was one thing that made an impression on him it was the chance to spend time with Josh Heupel. The second year Vol head coach has pushed how real the program is and Osborne felt it.
"It was my first time getting to be about coach Heup and what surprised me was how much of a down to earth guy he really is," Osborne said. "He acted like one of us. We played golf with him. He's a great man and I love that about him."
Add in the fact that he got to spend time with several recruits over the weekend, and he just felt at ease on his visit. Saturday was more laid back with the scavenger hunt, talent show and golf.
"It was great," Osborne said. "I got my real visit in on Friday so I had a lot of fun on Saturday. I didn't know it was going to be that much fun. They were all really good people I truly enjoyed myself. My mom loved it and she had high things to say about the program."
Osborne will be back later this month and he can't wait. It's a chance for Tennessee to build on what they accomplished this weekend.
"They are a major player after this weekend," Osborne said. "My official can only help them from here. I'll get more in-depth with ball and scheme when I come back."