Barnett's rightful place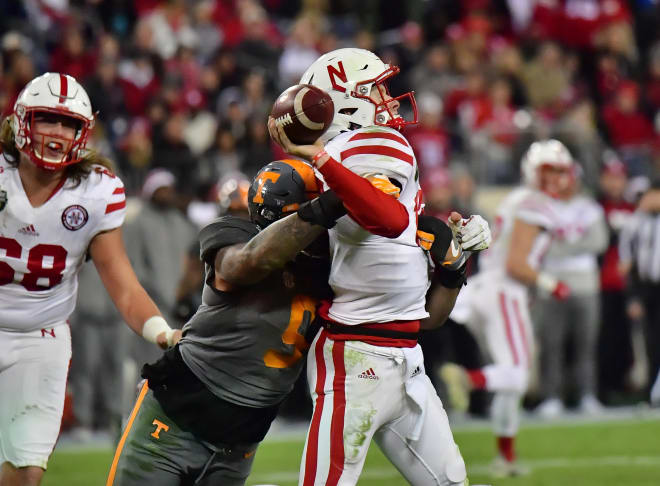 NASHVILLE -- In trying to put Derek Barnett in his rightful place in Tennessee history after the junior broke Reggie White's career mark for sacks, I did what reporters are supposed to do. I went to an all time great for perspective.
For me Leonard Little has been the benchmark of defensive ends to wear the orange and white. So I asked Little following the Vols win, what makes Barnett special.
"EVERYTHING," Little replied. "Technique, hustle, tenacity and always finishing plays."
High praise from the player who's record Barnett would have been chasing had Little not gotten hurt in 1996 and not been moved to linebacker in 1997.
The fact is Derek Barnett is a lot like Little. Little played hard. He was relentless and disrupted the game in ways the stat sheets don't show. Little was different between the lines and so is Barnett.
Off the field, Little was shy. He wasn't about the media. He never liked discussing himself. The same can be said for Barnett. As the fans chanted Barnett's name postgame, they asked him to lead the band. Barnett's first response was "no thanks".
"I was a little nervous at first," Barnett said. "I saw Dobbs up there so I said I had to go."
"He asked me what to do," interjected quarterback Josh Dobbs with a laugh.
Safety Todd Kelly, Jr. said there aretwo sides to Barnett. There's nice Derek, then there's football player Derek.
"There's a Derek Barnett that I know and a Derek that I don't know," Kelly said. "When he steps on that field, I don't know what's in him. He's a beast. He turns his A game on and plays 110%. He exemplifies what it means to be a Tennessee Volunteer.
"Reggie White will always be a legend at the University of Tennessee, but to know that I played with a legend at the University of Tennessee speaks volumes for who he is. Just the character that he has. He's a great guy."
As time passes, the stories of Barnett and his legacy will only grow. The stories of challenging teammates verbally. The stories of his effort not just in games, but on the practice field, the weight room and in anything competitive.
"When I noticed that he was going to separate himself from others was the first day in pads," LaTroy Lewis said of Barnett's arrival three years ago. "The first couple of days in camp is gym class. You run around in jerseys. He ran well and that was fine we had a lot of people run well, but when we put on the pads, the demeanor he brings and the attitude he brings he wants to be great at everything he does."
Added fellow defensive end Corey Vereen, "I will be real with you, the first day he came in he said we are going to make sure we bring this program back. For me, it was when it we were running these laps around the field in the summer and he was burning everybody. He was keeping up with the db's and that's when I said there was something special about this kid."
Barnett was non-committal Friday after his record setting day about his decision regarding the NFL. The truth is shy Barnett will humbly and quietly declare in the coming days. And in April, he will stroll across the stage to see the NFL commissioner, cementing his legacy and giving Butch Jones another standard that he's been seeking since his arrival as head coach.
A standard of guys in the NFL Draft, and a recruiting pitch that Jones can sell.
For Barnett, the legacy is a one of a standard of effort, a desire to be great and one of respect. Friday's record setting sack nearly didn't happen. A pass interference penalty extended a Nebraska drive giving Barnett another shot at the mark he privately craved. An opportunity he humbly credited to the greatest pass rusher of all time.
"I think Reggie probably helped on that," Barnett said with a smile. "I think he was probably looking down and tossed a flag for me."
Anyone who knew White, knows the Minister of Defense like Little would gladly make room at the top for Derek Barnett, a seat among the very best of all time.