Baylor WR commit recaps meeting David Johnson, schedules OV with Vols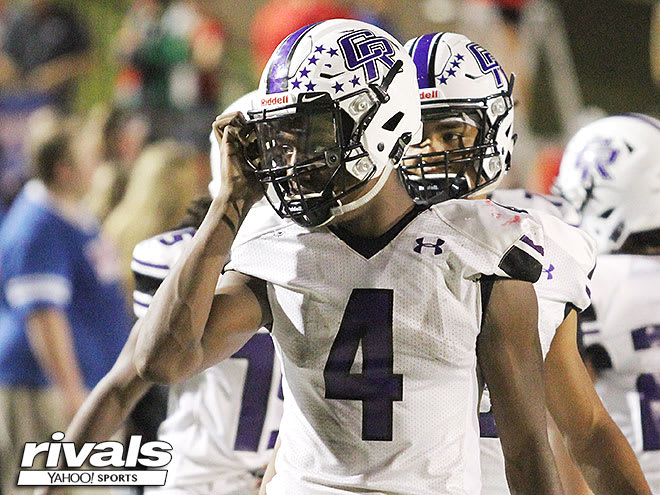 With the NCAA contact period starting Sunday, one of Tennessee's first stops this week was to see 3-star Cedar Ridge (Texas) wideout Jaylen Ellis.
The Baylor commit has long been a top target for the Vols and wideout coach David Johnson, as the 6-foot, 190-pound playmaker clocked a 4.59 at the Opening this summer and has the jets and skill-set Tennessee is looking for at the position.
"They want the speed," Ellis told VolQuest.
"Coach (Jeremy) Pruitt has preached it and coach Johnson really talks to me about. He says all the time you can't teach speed. But I already have it, so they can use it."
Johnson went in-home with Ellis and his family Sunday. The wideout said there's not a day that goes by when he doesn't hear from someone on Tennessee's staff, noting, "It's really good to know that someone is that invested in me."
Still, meeting Johnson in person finally was big.
"It went really smooth, actually," Ellis said.
"He was really cool. My family really loved meeting him. They talked to him the whole time. It was literally like a family get together. I had most of my family there. We were all just having our Thanksgiving that we really didn't get to have together. He was a part of that. It went really well."
The visit went so well that the Ellis, who had 30 receptions for 789 yards and 11 touchdowns his senior season, scheduled an official visit with the Vols for the final weekend before the dead period.
"I will be taking an official to Tennessee the weekend of the 14th," he said.
"It's really big for me. It's actually my last one. I will be taking that and then I'll have to choose."
Baylor, Michigan and Texas are all still in play for the All-American, who plans to make his final announcement at the game on January 5. He will then sign with his school of choice in February.
The Vols currently have just one wideout committed in their 2019 class (4-star Ramel Keyton) and they're pitching a chance to compete for early playing time with Ellis. That's a message that resonates well with the speedster who said, "It's huge because that's the plan. I want to go somewhere where I can play immediately. That's the biggest draw. That's really why I chose certain schools I did because that's where I feel like I'm going to get that opportunity to play."
So what makes him interested in Tennessee right now?
"It's the biggest football you're going to get. SEC football is huge. What coach Pruitt could do, I like coach Johnson. Meeting him was big," Ellis said.
"Then the playing time. It's one of the biggest things I like about Tennessee, and I know it's going to come. That's my main (attraction)."