Berry gives back to community; bleeds orange
Kansas City had just conducted its final three-day mini-camp this week before it begins preparations for the NFL season in late July, and Eric Berry continued to push himself in his recovery from ACL surgery but also maintained a cautious approach toward resuming his Chiefs career.
The former University of Tennessee All-American did not, however, relent in his efforts to give back to the Knoxville-area community and also pay homage to his father, former Vols captain James Berry, this weekend. So Berry took a red-eye flight in the early-morning hours Friday from Los Angeles and headlined the third annual a3 Big Brothers Big Sisters Celebrity Golf Tournament.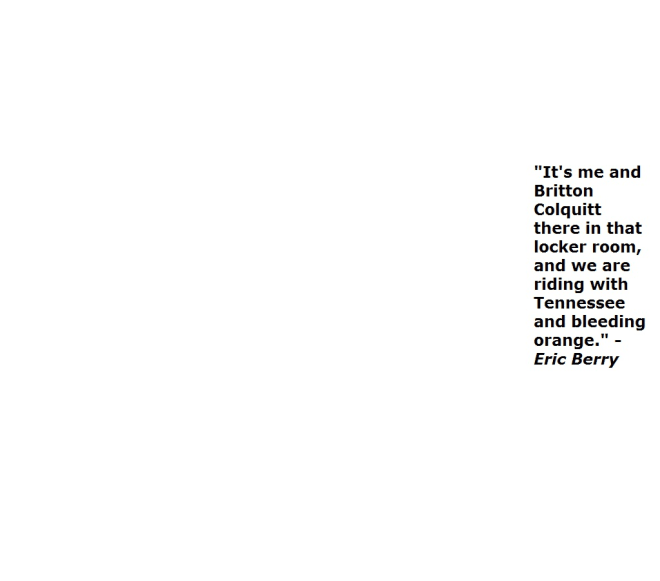 "I love Tennessee. It will always have a part of me," Berry told VolQuest.com. "I feel like I did a lot of growing as a man in Knoxville and at the same time, A-3 is a special group to me. It's more than just a partnership or a business, if you want to say that. I mean, Chad (Speck) was down there with me when I had my surgery, and he didn't have to do that. He was there with me when I got drafted. Just everything that I've done that's major in my life since we've been in this together, he's been there or somebody from A-3 has been a part of it.
"This is a cool event; I just didn't want to show up because I felt like I had to. I wanted to. I wanted to do it, and my dad is out here. Father's Day, it's pretty cool."
While Berry is confident he's 100 percent in his return from the left ACL tear that robbed him of his second NFL season in 2011, Berry also believes he's growing with his Chiefs' teammates in other areas. The fifth pick in the 2010 NFL Draft and a Pro Bowler as a rookie, Berry is finding ways to take on a greater leadership role in Kansas City even as he eases back into full-bore football work.
"One, not having a lockout. That was a big thing. Then number two, our team, everybody is just preaching come together as a team. Everybody ate together when we were at OTAs (organized team activities). The crew that I came in with, my rookie year, we were a young team, but I feel like we're growing and we've got a lot of experience under our belt," Berry said. "I think that's bringing us closer as a team, and we're doing a lot of stuff outside of football together. I think that's one of the biggest things.
"The guys on the team, they know I like to have fun. That's the biggest thing I always kind of show but at the same time I work hard, too. The NFL is not long, and I feel like you should enjoy it while you're there. Cherish every moment, but at the same time, work hard while you're there and have fun at the same time because you just never know."
Berry imparts a similar message to his younger brothers, twins Evan and Elliott. The duo of Atlanta-area stars already are garnering widespread attention for their high school exploits in both football and track. They've got their pick of verbal offers to continue their careers at the collegiate level, and Berry simply wants them to take an even-keeled approach.
"I just try to tell them to keep a level head and don't let all the little accolades and everybody saying they're top recruits, don't let that get to their heads," Berry said of his advice to the 2014 prospects. "There's somebody else on the other side of the country that they're saying the same thing to. Make sure they keep a level head and keep working hard and try to be the best that they can be and don't put pressure on themselves.
"Everybody is going to have these expectations about them trying to fulfill my footsteps but they need to make their own history and try to crush all my records and make their own path."
Berry maintains a path back to Tennessee, both to his final few former Vols' teammates and Tennessee's new stars emerging under third-year coach Derek Dooley.
"Me and (senior defensive back) Prentiss (Waggner), he's like the last of the Mohicans. He's like a part of my crew," Berry said. "Used to always come to the house, kick it and watch film together. Eric Gordon is still there and Marsalis Teague. That whole little crew.
"And even the guys that came after I left, Da'Rick Rogers and Justin Hunter, I try to tell them certain stuff to do and just try to stay focused and just try to enjoy their time at Tennessee because it goes so fast. I made the most out of my three years that I spent here, and I still wish I could come back and come play."
More than anything, Berry wants to see the Vols again competing for SEC titles. He carries with him an enormous amount of pride each week into a Kansas City locker room dotted with former SEC standouts.
"It's a big deal, I'm always wearing my Tennessee stuff and representing the 'T' in that locker room around the guys from Alabama and LSU," Berry said. "It's me and Britton Colquitt there in that locker room, and we are riding with Tennessee and bleeding orange."