BREAKING: Jarrett Guarantano to get his first start vs. South Carolina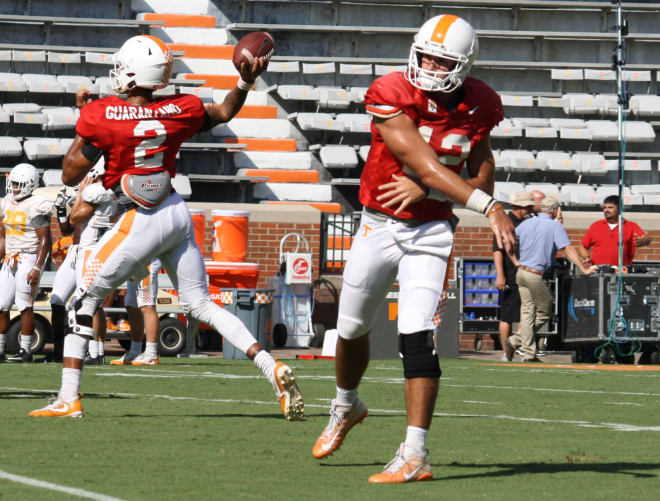 Tennessee head football coach Butch Jones is making a change at quarterback.

According to multiple sources, redshirt freshman Jarrett Guarantano will make his first-career start on Saturday, as the Vols host the South Carolina Gamecocks at noon (ESPN). Quinten Dormady started the first five games for Tennessee at quarterback, but after learning that he would not be the starter moving forward, sources say Dormady is contemplating his football future at Tennessee. All eyes will be on Tuesday afternoon's practice as to whether Dormady is present.

Guarantano has seen action in three games in 2017. He played in relief of Dormady against UMass and Georgia due to Tennessee's offensive struggles. Guarantano hasn't exactly lit it up in his limited opportunities though, as the former top recruit has throw for just 54 yards on 12-of-24 passing, averaging just 4.5 yards a completion.
With Dormady at the helm, Tennessee's offense ranks 109th nationally in total offense, averaging 333.4 yards a game. Dormady's completed 55.5 percent of his throws and is tied for the league-lead in interceptions with six. On the season, he's thrown for 925 yards and six touchdowns.
On Monday evening, offensive coordinator Larry Scott intimated that one of the biggest keys in Guarantano's development may have come as a result of the quarterback's biggest embarrassments.
All Vol fans are familiar with the televised images of Guarantano from the Vols' sidelines during the opener against Georgia Tech. Cameras caught an emotional and obviously frustrated player exhibiting what could fairly be described as negative body language, with Scott suggesting the moment humbled Guarantano.
"I think we all know the Georgia Tech deal and what happened there, Jarrett's not hiding from that. We're not going to hide from that, we know what happened. It was all over national TV. For that kid and what he needed in the process of being a quarterback, was to have something like that occur, where he can actually step out and see himself in those situations," Scott said of the episode.
The quarterback's behavior was singled out by well-known analyst Kirk Herbstreit, only heightening the attention it got. In hindsight, Scott says that Guarantano having to confront those images and that perception might have been a blessing in disguise in terms of speeding up his learning curve of what it takes to quarterback a college football team at this level.
"He can see that, 'If I'm going to be the face of a program, the face of the team, the quarterback, it can't look like that. Ever,'" Scott said.
"For him to have that experience, that's as real as it gets. That's no 'coach talk.'"Now your parents and us as coaches and your teammates, we're going to help you through this, but now you see what it's supposed to look like and that it can't be like that.
"You have to grow and go in a different direction. He's done a really good job just mentally, understanding how to focus, how to be a great teammate, learning how to take the steps to be a quarterback."