BREAKING: North Carolina tailback Jaylen Wright details commitment to Vols

Durham, North Carolina running back Jaylen Wright had a feeling when he left Tennessee's campus earlier this month that he had found his future football home. After careful thought, the Tar heel state product made it official by committing to Tennessee.
"When I visited I just knew," Wright said. "They showed a lot of love and made me feel welcome and it just felt like the place that I needed to be. Coach Graham and coach Pruitt both told me they need me and they made me feel like I was part of the team already."
Wright was recruited by running backs coach Jay Graham and the two have built a steady bond. It's something that really put Tennessee over the top.
"I like all the things he told me and I felt like he meant what he said," Wright said. "He just made me feel like I was part of the family. He's from North Carolina and has been successful and played in the league. It helps me feel like I can be the same person he is and do the same things he has done.
"He likes my speed, likes how I catch the ball and how I hit the hole. He likes my acceleration and my explosiveness."

Tennessee head coach Jeremy Pruitt showcases quite the resume of being in championship programs and the upward trajectory that Tennessee showed last season was very evident to see for Wright and his family.
"I feel like he's a good dude," Wright said. "I know his background and the success he has been a part of over the years. It tells me that he knows what it takes to be successful. He has it."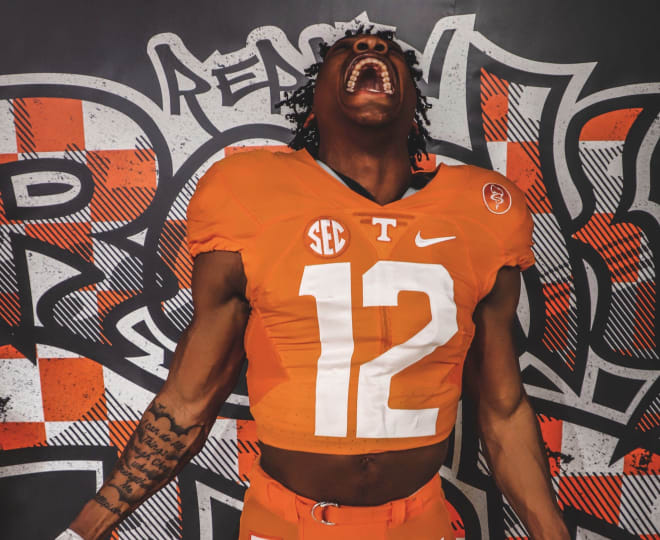 Also standing out on his visit to Rocky Top earlier this month was a conversation with offensive coordinator Jim Chaney.
"He was very honest with me and he said something to me that really stood out," Wright said. "He told me that he would let me run track in college, but as soon as my grades slip, he would pull me from stuff. That just showed me he wants me to be successful on and off the field. Academics are important to me so that was big."
It wasn't just Wright who felt Tennessee was the right move. He had the support of his parents through the decision making process.
"Yes they loved it," Wright said. "It was just my dad on the visit, but he loved it and coach Graham made my mom love it and she wasn't even there. Everyone was on board and that's why I knew Tennessee was the right place."
Wright has been training extremely hard since life was suspended during the Coronavirus outbreak. He knows where he wants to improve his game going forward.
"I think my flexibility can still get better," Wright said. "I think that will help me on the field and in track. That's what a lot of college coaches have told me that I can be faster as I become more flexible."
And even with Covid-19 killing most recruiting momentum with mandatory dead periods, Wright has found a way to still get out and be self-motivated.
"Even with the Covid-19 taking away school, spring practice and everything, he has continued to train," South Durham head coach Darius Robinson said. "I've seen a light come on in him. He's training so hard even with the situation we are in. He's putting in so much work. He's going to be a kid that is going to make some impressive noise this year and going forward."