Will bricks from 2017 class become the mortar for Tennessee's 2019 season?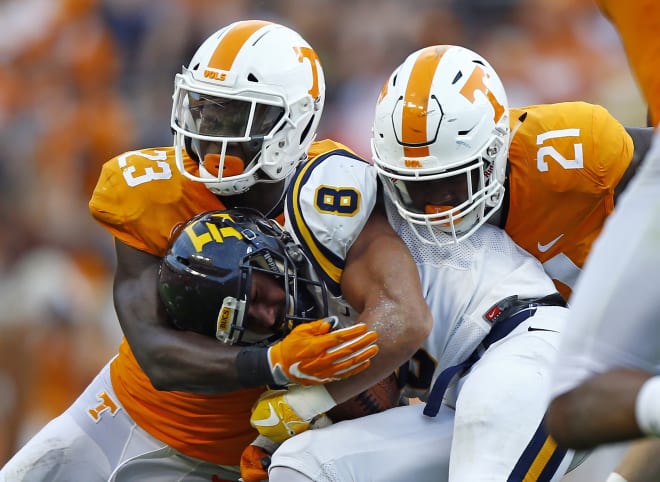 Saturday's Orange & White Game had a Groundhog Day feel, as once again, Tennessee enters the offseason wondering if its offensive line will hold the team back this fall.
Right now, it certainly seems like the unit will determine Tennessee's floor in 2019. But on a granular level, another much-maligned group, albeit not a specific position, could actually determine the team's ceiling.
I'm talking about Tennessee's 2017 recruiting class, aka, the bricks Butch Jones left behind.
The group has had its moments the last two seasons — namely Trey Smith, Ty Chandler and Tim Jordan — but overall, it's a class that's largely been castigated due to a lack of contributions.
Four signees are no longer in the program and a slew of guys have yet to see action at all in two years. But growth isn't always linear, and if this spring was any indication, several third-year players appear primed for breakout seasons.
Specifically, Shanon Reid, K'Rojhn Calbert, Matthew Butler, Josh Palmer and Kivon Bennett.
Palmer certainly flashed his potential in 2018, but he's clearly taken a leap this spring and could be the team's most explosive receiver. The rest? Many had been cast off or forgotten.
Reid played all of 26 snaps in 2018. Calbert barely beat that with 36 total snaps, per PFF. Butler experimented playing offensive line last spring and only saw extensive work a defensive tackle in two blowouts (Alabama and Missouri). Bennett was asked to redshirt.
But spring practice is all about individual development, and working with a roster that has still lacks depth, Jeremy Pruitt and his staff may have found some real answers buried within the margins of the roster.
Reid changed his body, positions and has a better understanding of the playbook. He's still a bit undersized, but he's a bouncy thumper who naturally hunts the football and appears set to be a real contributor at inside linebacker, especially in nickel and dime situations. Tracy Rocker tabbed Butler has his most consistent defensive lineman through 15 practices and the junior, who's always had a dogged work ethic, is thinking less and just cutting it loose. Bennett lost weight and is pushing for a role at outside linebacker opposite Darrell Taylor. Meanwhile, Calbert is still searching for consistency but he spent the last several weeks of spring entrenched as the first-team right guard and has as much upside and physical tools as any offensive lineman on the roster.
Several others from the 2017 class could be set for larger roles this fall, too. Will Ignont will factor at inside linebacker. Latrell Bumphus switched sides of the ball and will be in the d-line rotation. Deandre Johnson, who gave Wanya Morris fits at times Saturday, should see an uptick in snaps after averaging right around 20 per game a year ago, per PFF. Shawn Shamburger was back at corner after playing mostly safety in 2018, and could give Pruitt options if he truly wants to move Bryce Thompson to STAR sometimes.
None of these players project to be stars, but many of them can legitimately help Tennessee this fall. Pruitt has done his best to extinguish the ghosts of the past, but you can't completely write off a quarter of the roster. And to his credit, he hasn't.
Entering Year 2, plenty of "Pruitt's guys" — Thompson, Alontae Taylor, Darnell Wright, Quavaris Crouch and Dominick-Wood Anderson — will dominate headlines, but after a solid spring, a bunch of cast-offs from Jones' final recruiting class could be X-factors in Tennessee's success this fall.