Camp confidential: Kiffin goes behind the scenes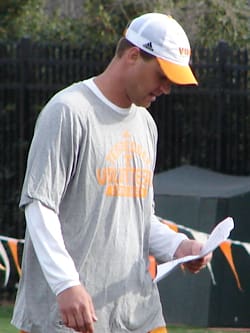 In 12 days, the Lane Kiffin era will begin inside Neyland Stadium. For Kiffin and Co. there is still much to be done, but a lot has been accomplished already. Volquest.com caught up to the always- moving Kiffin to discuss his first preseason as the Vols head man. From regrets, to what Kiffin is satisfied with, to what is left to be done, and why it might be safer for the head man to literally move into his office in August, it's all inside with this exclusive question-and-answer session.
Volquest: You have less than two weeks till kickoff. Where are you? Ahead of schedule? Behind schedule? Middle of the road?
LANE KIFFIN: "We never really set a schedule to say we are going to be exactly at this point because there is way too many variables. For instance, the receiver injuries. We could say, 'Hey, we want to be here with the passing game,' then three of our top four receivers coming out of spring are not playing for us right now and most likely won't be available for us in the opener. So we don't really set a schedule of where we are supposed to be. I think we have gotten a lot of things done. We know our team a lot better, but we still have a long ways to go."
VQ: As far as the receivers go, you made it clear the day you were hired that freshmen would play and they would get opportunities early in fall camp. It would seem the benefits of doing that make having the injuries at receiver at least manageable and not a full-fledged panic?
LK:"It has been a benefit for us. If we were of a different mentality where those guys sit and hardly get any reps then now we would really be in a panic mode because now all of a sudden they have to play. But they have been playing with the ones all along. It has really benefited us in this situation."
VQ: You named your starting quarterback with Jonathan Crompton. Some would say it's not a surprise; this is what was thought back in the spring. How much of a true competition was it the last three weeks?
LK: "It would have been easier for everyone to name the starting quarterback after the first week because there was a big difference. That might have been easier, but that wouldn't have been best for our team because it would mean the other guy wasn't playing very well. The fact that Nick [Stephens] had such a good camp, played so well and has improved so much, it made it a tough call. It went down to the wire, and when we went back and looked at the last preseason game and looked at everything, Jonathan beat him out by just a little bit."
VQ: Was it Jonathan's command of the offense more than anything?
LK: "Nick's command really improved. That is where they were really separated at the end of spring because Jonathan had so many more reps. It really came down to a little bit of accuracy. When we went back and looked at everything, Jonathan was a bit more accurate. Nick went through a change in his throwing motion, which has helped him improve a lot. But at the same time, when you change something, it's hard to be as accurate. We are very excited that if Nick plays that he will do great for us and that we won't have to have what a lot of people have when your No. 2 quarterback comes in and that's having to cut your call sheet in half or something, because I think Nick can do everything in our offense."
VQ: Your dad said after Saturday's preseason game that you got after the defense pretty good, throwing a lot of things at them. You have said you are about midway with installing your offense. Are you further along with what you can do offensively than you thought or about where you expected to be?
LK: "I would like to be further along. But because of a number of variables, we have really slowed down where we are at. One, it's our first year so they [the players] don't have a background with us. Where obviously after you have guys for a couple of years they have a background with the offense and you can always just add. Two, the quarterback competition. You didn't know who your guy was for sure to build it around him, and number three, these injuries and playing so many freshmen. On offense, we have those two backs and one of them is in there almost all the time. Then the three freshman receivers, one of them is in there all the time. So it has been difficult to keep growing and adding. I could have done it and been stubborn, but I think our players would have suffered from it. Just so I could have a thousand plays in and tell everyone that. But at the same time, we have put a ton on them and I have to remember that myself. When I go look at our board, which is in the other that I will show you when we are done, and you will go, 'Wow!' Even though I say we don't have a lot in, we have a ton in. It's still a reminder of how hard they have worked and how much they have gotten done."
VQ: This is jumping ahead a bit, but how many plays will you take into a game? Will you go in with 70 or 100 plays, or do you go in with looks you like against that particular defense and your package might be 200 plays potentially?
LK: "It's somewhere in the middle. What will be a challenge for me and our staff, especially for me because remember no one on this offensive staff has been with me; James Cregg did, but that's just a little bit up front, I am talking more about the passing game, so it's new for the staff too. I am kind of the one with all the registered stuff. I have to slow myself down sometimes because I want to have all this stuff in. We were fortunate at USC to have quarterbacks who had been in our system. None of those guys had to play their first year. Once we got rolling Matt [Leinart] sat and waited two years to play. John David [Booty] wanted two years to play. Mark Sanchez waited for a while to play. All those guys had to wait, but they were learning the offense. It's all new for these guys, so we have to make sure we are not doing too much. I am the one who has to look at myself more than the other guys."
VQ: I asked you in Birmingham about managing contact in the preseason. You must have thought I was crazy to ask that after watching how much you have hit in the preseason. I know you have some injuries now late in camp. Do you second-guess that in any way?
LK: "I don't second-guess anything about practice or anything about how physical our practices have been. The one thing that is driving me nuts from the minute I wake up to the minute I go to sleep and I wake up halfway through my sleep upset about it and that is Gerald [Jones] getting hurt. Gerald had done so much. We had pulled a number of guys at that point in the scrimmage. They were off doing their conditioning, running the stadium steps and stuff. Gerald had done such a good job and was in such good shape that we kept him in there and we got the high ankle sprain. Gerald probably was, if you took a poll among our coaches to list the top two offensive players on our team, Gerald was one of the two. So I am mad at myself about that [the injury]. That's nothing about how physical we have been in practice. We needed that as a team, but Gerald had already shown us enough at that point, just like [Nick] Reveiz had. Just like Rico [McCoy] had. Just like Chris Walker had. Just like Wes Brown had and all those guys we pulled on Saturday. We were more concerned about our defense. On offense, we kept playing our guys. We should have pulled him."
VQ: What about your chemistry up front on the offensive line? With Josh's injury and Cody getting the first-team work for the last week, do you like how you have jelled there?
LK: "I do. I wish that we had a No. 1 center all along. As much as the competition has been good for both of them and has made them both better, you would like to have that one guy just like the quarterback that you could benefit from because he is making the calls, the rhythm of the snap count and the rhythm of everything up there. It's the most difficult position to play up there. That's the only thing that I wish was different. I think they have come together and played extremely well. I think they are much stronger in the run game than the passing game right now. We still need to improve in our pass protection, but I think we are going to be a really good running team."
VQ; The last two weeks, how do you keep it as intense as you have to back it off some? Do you think your team is mature enough to handle that?
LK: "It's very difficult because we have so many freshmen playing. I don't know the number that we are going to play in the opener, but it is going to be a lot. I don't know what the record is here, but I am sure we are going to break it. It's hard. We need to back off some, but our older guys who have been with us for spring break understand when we back off what we still need. There is no way these freshmen can know. You go back and forth. You say for us to be ready for the opener maybe we need to be more physical at this point in practice, but the problem is the freshmen don't understand it. We have to keep monitoring it every day to get the best out of our guys."
VQ: Flip it over to defense, what do you like in terms of how you have grown defensively this preseason? What do you like and what concerns you on that side of the ball?
LK: "I like our pass rush a lot. I think we are a really good third down team right now rushing the passer. When we play normal offenses, I mean when we play NFL style offenses and not this other college stuff, whatever you call it. I think we are really geared for that [NFL style]. We have to continue every day to work on this college offense stuff because there is so much of it in this conference now with obviously Florida doing it and Dan Mullen going to Mississippi State. Western Kentucky does it. We are going to play against a lot of teams that do this stuff. Gus [Malzahn] is doing his deal at Auburn. That is the hardest thing for us because every day our defense goes against a pro-style offense so our defense is really good at it and is very much trained in that mentality. So I think we are really good on third down. I think we are really good against basic NFL type-style offenses. It's the other stuff that scares me that we continue to have to create every day for our defense because that is not who we are on offense."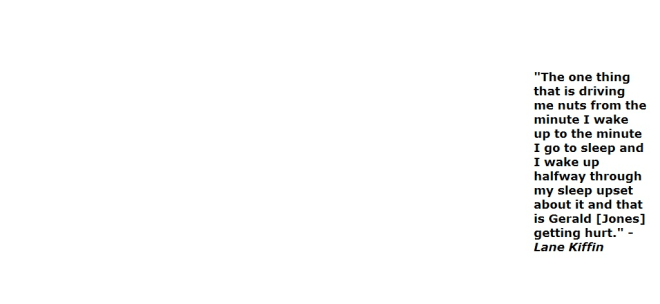 LK:"Number one is the time with the players. In the NFL you get so much time with them between OTA [Organized Team Activity] days, mini-camps and the four preseason games. We all of a sudden here have to go play an opener. We don't get to go play against anyone else at all and then all of a sudden they count. Think about how valuable it is to play four preseason games that you get to play in front of a packed house. Television coverage, just everything that makes players nervous. We don't get to do that. We have had to try and create that as much as we could. That's the big difference. Then when you are trying to build depth. Our roster is short. We have had injuries. We didn't have a full roster anyway. We don't have 85. We just put some walk-ons on, but I think we are at 79 so we are six spots short of what other teams have. That's because of our philosophy of wanting to sign really good players and not just filling a spot. That's hard to deal with when guys keep going down like at receiver. In the NFL, all you do is go sign a guy. You get a guy off waivers or you trade for a guy. We have no where to go. We went to defense today and traded for Rod Wilks. We have five scholarship receivers that could practice today and three of them were freshmen. There isn't anywhere else to go in college for answers."
VQ: Sitting here in your office, there is a pink pillow and a bunch of blankets. (That's not really pink, it's more purple, Kiffin interjects). What have you specifically learned about being back in the college game and about being the head guy at the collegiate level for the first time during this camp that you will learn from moving forward to future camps?
LK:"The first thing I would do is one of two things. I am either going to have a driver or I am going to sleep in the office every night."
VQ: What do you mean by that?
LK "After the 10th or 11th day of camp we finished meetings and coach [Jim] Chaney said, 'Why don't you go home and see your kids wake up? I will take the start of the meetings in the morning'. I was driving home and was about a half mile from home, nodded off and slipped off the side of the road into the ditch. So they joke around here that I am not allowed to drive any more. They said, 'We are taking your keys, you are too tired to drive anymore. So you are either sleeping here or we are getting you a driver to bring your home.' What I have really gotten reminded of is that there is so much to do in a day. That is why I try to maximize every second of every day no matter how hard I have to push myself. Everyday I am making notes of 50 things that need to be done. Today, I made a note of probably 20 things in practice where a coach is not setting up a drill right or we are just not doing something right. Think about how few people on this staff has worked together. A lot of times when you get a job you have moved up meaning you have gone from a smaller college job to a bigger job and you have brought most of your stuff with you. So they know exactly what to expect and exactly how you want things done. Ed [Orgeron] and I talk about it all the time. It was like a machine at SC because we had been there for so long. I was there for six straight years with coach [Pete] Carroll. He knew what I was going to do everyday and I knew exactly what he wanted. These guys don't know that and they have no way of knowing that. That is why we did the preseason games. That wasn't just for players, that was for coaches. They don't know how I am on gameday. They don't know how I want the walk-through or how I want the pregame meal. They don't how when we get to the locker room how I want the board set up. They don't know what's going to happen at halftime. All of those things if you are going to be great, have to be nailed. There is just not enough time in the day to do it all, but we are trying to figure it out."
VQ: This is not the first time fatigue has hit you right? Weren't you ill at Oakland during training camp?
LK: "Yea, I was hospitalized for two-and-a-half days during training camp. It came after the second preseason game. I was diagnosed with mono due to exhaustion and missed a day of practice. I guess I need to learn that my body does need some sleep."
VQ: You have been very open with camp and practices. Has anything this preseason about being the head coach at Tennessee surprised you?
LK: "It's very different than SC. I think it's simply the passion people have for Tennessee football. People say it's the No. 1 thing in the state and not just in Knoxville. That's different than SC. In L.A. there is so much going on. There are all the professional teams, there's UCLA, you have all the actors, it is different here. I joked with someone and told him you can't imagine all of the places I have been here. They said what do you mean. I told him I get all the time, 'Hey, my buddies saw you last Thursday night as this restaurant' or something and I wouldn't have even been in town that night. I would have been in Tampa recruiting or something. The stories here always amaze me. It's impossible for me to be in all the places people say they have seen me."
VQ: Is there just an awareness that you have had to learn?
LK: "Sure. Because it is different. I never even thought about ... you know, you want to be open and invite everyone to practice, and then an hour after practice I am being told that some of the people we let into practice are on their computers or their phones texting out that we are playing this guy at quarterback or this guy here. It's just followed so heavily that everything we do is magnified."
VQ: Can you sum up what your goal is for your football team for the rest of this week because you're going into game week next week?
LK: "We have to get our guys in the exact position that we need them in on gameday and that is talking about packages. What are we doing with this guy, this guy and this guy so we are not wasting reps and wasting time on things that are not going to be done. Not necessarily just for the first game but for the first few games because we are not going to run everything in game one. We have to really hone in on what our guys are doing and who is playing. You know we went live on special teams Saturday, which is unusual for people. We learned so much by going live; shoot if we hadn't went live, we would have not known ... Janzen Jackson made almost every single play; he was all over the place because the lights came on. And some other players didn't respond that way. We have a ton to do with getting a guy in the right places whether it's offense, defense or special teams."