{{ timeAgo('2020-05-11 11:08:45 -0500') }}
football
Edit
Detailing Tennessee's truly historic two-week recruiting run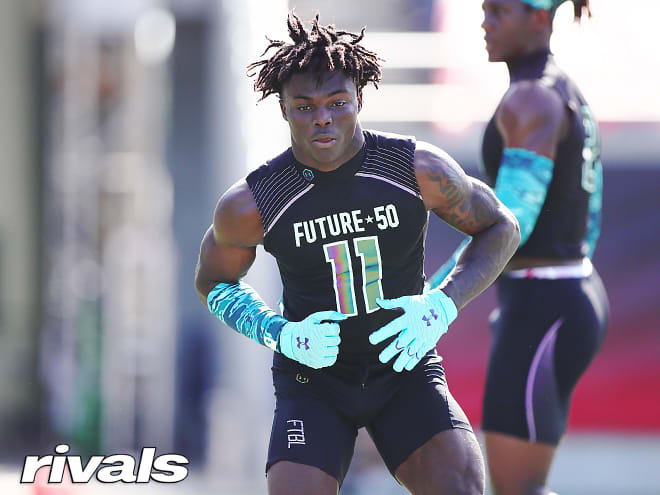 In July of 2017, a show about a venal financial advisor who laundered money for a drug cartel debuted.
The pilot episode packs punch after punch. It's all plot, and there's barely a moment to take a breath.
It's perhaps the densest Episode 1 of any show in recent memory. Some seasons barely have enough time to cover a double-crossing, murder, infidelity, a master escape plan and a midnight move. Ozark does it in 59 minutes.
Well, Tennessee just had its Sugarwood.

The last two weeks have been the most action-packed recruiting bonanza for the Vols since ever??? Maybe???
Well I checked.
In the "modern era" — Rivals.com rankings go back to 2002 on the website — the Vols have never had a two-week recruiting run like the one Jeremy Pruitt & Co., have orchestrated during the middle of a pandemic. Folks love to toss around the word historic or momentous in sports, but in this instance, it wouldn't be a throw away line.
Since 4-star outside linebacker Dylan Brooks committed on April 26, Tennessee has landed 11 verbal pledges in the last 15 days, capped by quarterback Kaidon Salter choosing the Vols over Auburn. Seven of the 11 commits were blue-chippers — i.e, 4 or 5-star prospects — and several others (namely Salter and offensive lineman Colby Smith) could easily rise in the rankings. The Vols now have 21 commits in the class — more than any Power 5 school in the country.
I went back over every Tennessee recruiting class since 2002 — looking at all commits, even those who ultimately decommitted or did not sign with the Vols. Since we don't know how this 2021 crop will ultimately turn out, or who will sign with UT, that seemed most prudent.
The Vols have had strong two-week stretches before — some with volume, others with more star-power — but never one like what UT fans have just witnessed. During the early years of the millennium, Phillip Fulmer was famous for splash closes around National Signing Day. Butch Jones was notorious for his Oprah commit-giveaways on Orange Carpet Day. Even Derek Dooley had a strong finish in 2011.
But none had the combination of depth and star power.
Since 2002, the most commits over a two-week stretch Tennessee ever had was 16 pledges between Jan. 23 and Feb. 5 in 2004. Jesse Mahelona, a 5-star defensive lineman, headlined the class, with guys Arian Foster, Jerod Mayo and Robert Ayers were also key members. But five of the 16 commits were 2-stars — the same as 4 and 5-stars in the group. Overall, the group had a blue-chip ratio of just 31%.
You could absolutely make the case that one of the strongest recruiting months — or 30-day stretches — Tennessee has ever had was in 2005 (Jan. 3 to Feb. 2) when the Vols added nine 4-stars — guys like Gerald Williams, Montario Hardesty, Chris Scott, Lucas Taylor, Rico McCoy, Raymond Henderson and Slick Shelley — over the course of four weeks. But they never had a two-week stretch with more than six commits.
Similarly, in 2007, Tennessee landed a trio of 5-stars in a month — Eric Berry, Chris Donald and Ben Martin — but they had just two other commits over that stretch. Dooley's 2011 group was another strong crop late, but it just misses the criteria here, as the seven commits — six 4-stars including Marlin Lane, Curt Maggitt and Antonio Richardson — came over a 16 day period.
I was looking for binge recruiting.
So here you go.
The five best two-week stretches in Tennessee's modern recruiting history.
1. 2021 Class — April 26 to May 10: 11 commits, 64% blue-chip ratio
4-star OLB Dylan Brooks
4-star DB Kamar Wilcoxson
4-star WR Julian Nixon
3-star RB Tiyon Evans
4-star LB Terrence Lewis
3-star DB De'Shawn Rucker
4-star RB Cody Brown
3-star OT Colby Smith
4-star DT Katron Evans
4-star LB Aaron Willis
3-star QB Kaidon Salter
2. *** TIE*** 2009 Class — Jan. 26 to Feb. 5: 8 commits, 63% blue-chip ratio 
3-star DB Mike Edwards
4-star DB Darren Myles
4-star ATH Marsalis Teague
3-star LB Greg King
3-star LB Robert Nelson
4-star WR Nu'Keese Richardson
5-star DB Janzen Jackson
4-sar RB David Oku
And, 2018 Class — Dec. 13 to Dec. 20: 8 commits, 63% blue-chip ratio
4-star CB Alontae Taylor
3-star DT Kingston Harris
4-star OLB Jordan Allen
3-star QB JT Shrout
4-star TE Dom Wood-Anderson
4-star OL Jerome Carvin
4-star RB Jeremy Banks
3-star OL Jahmir Johnson
3. 2020 Class — Dec. 9 to Dec. 18: 8 commits, 50% blue-chip ratio
4-star OT Omari Thomas
3-star RB Jabari Small
4-star DB Doneiko Slaughter
4-star DL Tyler Baron
3-star DE Reginald Perry
3-star ATH Len'Neth Whitehead
4-star DE Morven Joseph
3-star QB Jimmy Holiday
4. 2010 Class — Jan. 21 to Feb. 4: 14 commits, 43% blue-chip ratio
4-star WR Justin Hunter
4-star DB Eddrick Loften
3-star DE Martaze Jackson
3-star TE Mychal Rivera
4-star RB Rajion Neal
2-star QB Nash Nash
2-star DB Dontavis Sapp
4-star DB Dave Clark
3-star LB Josh Propst
2-star LB Raiques Crump
5-star WR Da'Rick Rogers
4-star OL James Stone
2-star DT Greg Clark
3-star PK Matt Darr
5. 2012 Class: July 18 to July 30: 8 commits, 38% blue-chip ratio
3-star ATH Justin King
4-star WR Drae Bowles
3-star RB Alden Hill
4-star QB Nathan Peterman
2-star ATH Cody Blanc
3-star DE LaTroy Lewis
2-star PK George Bullock
4-star DL Damien Jacobs (Florida)
A couple final notes here. Jones had a couple stretches where he loaded up on commits — in 2017, 11 prospects committed over an eight-day period around Orange Carpet Day, but the group lacked real juice (just a 27% blue-chip ratio).

Also, the majority of these recruiting surges happened around signing day, so there's a finality and context for those classes that we simply don't have yet with this 2021 crop. And yet, it's clear that what Tennessee has done to date — during a recruiting moratorium no less — is historic compared to the rest of the program's recent recruiting history.
As for the rest of the story? I guess we'll just all have to stay tuned.