Dooley says size matters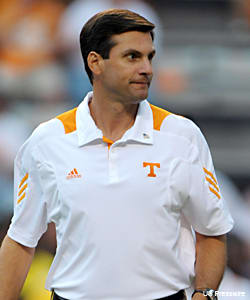 DESTIN, Fla. --- Derek Dooley believes he isn't asking for much. Answers. Just answers. An explanation.
Dooley, with meticulous research in hand retrieved from a custom-designed manilla folder that clearly found its way into the hands of one of Dooley's aspiring artist children, wants to know why football coaching staff sizes are at the bottom of the rung in terms of maximum allowable coach-to-student-athlete ratio. Dooley's "2011 NCAA Sport Comparison" chart shows a full football squad, with scholarship players and walk-ons, has a 10.5-12:1 ratio. Next closest on the chart is men's and women's track, at 9.5:1 according to Dooley's information.
"We're really missing the boat," Dooley emphasized here at the Southeastern Conference's annual spring meetings. "Everybody around us is talking about staff reductions. If you look at the data, if you look at the player-coach ratios in the NCAA, football, if you look at just scholarships, we're 8.5:1. If you add full squads and staffs, we're 10.5-12:1 player-coach ratio. There's not one sport in the country that has a higher ratio of football. Now, add to that that football players are under a much greater scrutiny level, that coaches are under more accountability than probably every other sport for their players' actions, maybe with the exception of basketball.
"I'm for increasing our staff, our coaching staff. I understand the extra, the periphery, but when you look at it from a player-coach ratio, I don't see the fairness from what we have in our sport relative to all other college sports."
SEC Commissioner Mike Slive, however, indicated he had no knowledge of Dooley's wish to bolster staff sizes. There is an NCAA legislative proposal afoot that would limit "non-coaching positions" to a maximum of four. Already legislation previously passed this year that capped the number of strength and conditioning coaches allowable at five who can work with a football team.
"You know, I wasn't privy to that conversation today so I can't really comment on it," Slive replied when asked about Dooley's desire to expand staff sizes.
While Slive indicated he was not aware of Dooley's thoughts on creating additional staff spots, Dooley said he had informed UT athletics director Mike Hamilton prior to these meetings that he would present his views here in Destin.
"Well, Mike knows. And he understands. It's hard to argue against the data," Dooley said. "The data is so blinding to me. I just would like to know why. What's the answer? We've got a sport here that every department depends on financially. We've got a sport here that is the front porch of our marketing arm for our university. We've got a sport that is scrutinized, analyzed, covered more than any other sport out there. And yet we have less coaches who are mentoring, motivating, guiding our players than any other sport. All I'm asking is why?"
Dooley had logged extensive time studying the staff size conundrum. Particularly in the legislative crosshairs are the perceived "extra" positions around athletics programs, most notably football and men's basketball. Positions added in recent years on football staffs include offensive and defensive quality control coaches, as well as player personnel directors.
Tennessee football has offensive and defensive quality control assistants, as well as a director of player personnel. Some schools, such as Michigan did under coach Rich Rodriguez, employed as many as five quality control coaches, according to the Ann Arbor News. Alabama has two members of its football department in the positions of offensive and defensive analyst.
Basketball posts have been somewhat similar, with titles such as director of video scouting. The University of Kentucky team photo for 2010-11 features 11 players and 11 men wearing suits. Several, like former player Tony Delk, are pictured without any title or specified association.
After limiting football staff sizes to nine full-time assistants in sweeping change several years ago, the NCAA has now brought the "quality control" situation into its purview. Dooley, for one, thinks it doesn't add up. Tennessee's second-year coach believes that adding full-time assistant coaches would decrease the number of personnel in quality control positions.
"I know for some schools it's a budget issue. Like where I was before (as head coach and athletics director at Louisiana Tech). And they feel like they can't keep up," Dooley said. "And I'm sure at other schools, there's a perception because we spend a lot of money in our league to try and get our programs right, they're trying to keep us from spending. So I can't speak for why. All I can speak is, everyone is talking about reductions and I'm the only one saying we need to increase. And what I'm talking about increasing are the full-time coaches. And I think if we would have more coaches to get our player-coach ratio more in line with the other sports, you would not see this proliferation of support staff like you have."
Dooley said he already had broached the staff size subject previously with his peers and intended to do so again this week. He admitted fellow SEC coaches responded with quizzical expressions when he first advocated expanding staff rosters.
Dooley also pointed to the NFL, where he served as an assistant coach under Nick Saban at the Miami Dolphins, for a better coach to player ratio. Dooley's research showed the NFL average is a 3:1 player to coach ratio, with the average staff size 17 and NFL rosters at 53.
"I think at first they look at me like, 'Are you out of your mind?' But when you look at the data, how do you argue against the data? And the NFL can't be that off-base with what their numbers are," Dooley emphasized. "Look at the player-coach ratio; 3:1. Now you have to remember they have half the squad size. And by the way, they don't recruit. They don't do academics. I mean, they don't do near what we do.
"Between recruiting and academics, if you consider recruiting time outside away from our team development, our team growth, yeah it's an inordinate amount of time. Recruiting and then academic work, where you're staying on top of your players on that. You take the offensive line coach. The offensive line coach has to manage, minimum, about 18 to 20 scholarship players. On the O-line, the player-coach ratio is 20:1. Defensive line, same deal. You've got about 16 to 18:1. Now the tight end coach, it's about 4:1, 5:1. Quarterback coach, if you have one (is same). Some staffs do (have a special teams coordinator), but then you have to give up another position. You know, you have a G.A. coaching another position or some schools don't have a tight end. Some of the spread schools. There's a lot of ways you balance, but in our case, we have a pro style offense and there's give and take. Our tight ends coach is our special teams coordinator; well, that's pretty taxing."
Dooley did not hesitate when asked what post(s) he would immediately add to his coaching staff.
"Well, I wish we could add several full-time coaches. The first and obvious one is it's hard to have a special teams coordinator on your staff who doesn't coach another position. That's the obvious one," he said. "It's difficult to have a quarterbacks coach. I think the ideal situation is to have your coordinators where they're not responsible for a position so they can constantly get involved with the key players on offense and defense. There's a lot of ways we can go. I think if you increase the coaching staff, it would eliminate the perceived abuse of the support staff. Part of the reason there's been this proliferation of support staff is because we don't feel like we have enough staff to manage the players we have. That's a fact. Now then the issue is 'What about the schools that can't afford it?' When I was at Louisiana Tech, we couldn't afford it. Well, allow them to have voluntary coaches like every other sport in the NCAA except football, basketball and one other (women's basketball)."
An incredulous Dooley said he believed coaches would leap at the opportunity to coach in college football, even minus a paycheck.
"There's plenty of football coaches that would come out and work for free. I can assure you," Dooley said. "I don't know how you can argue against the data is all I'm saying. Explain to me why we have a higher player to coach ratio than any other sport out there when we're bringing in 85 percent of the revenue of the department, our players are more scrutinized than any other sport out there, our coaches are more accountable for what our players do in academics, off the field. It doesn't make any sense to me."
Only time will tell if Dooley's point of view is something that makes sense to others.