Family, faith and football: How Labruzza's work ethic paved path to UT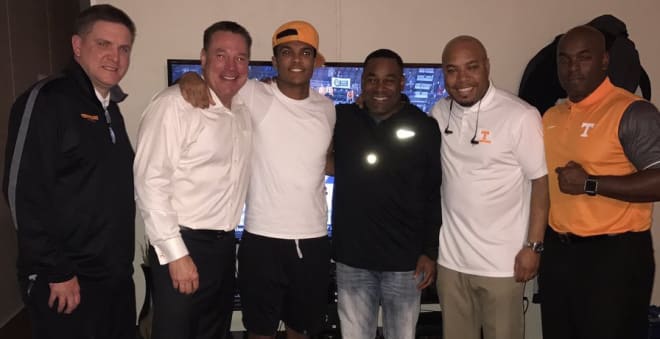 Paul Bunyan was a legendary laborer, but Cheyenne Labruzza developed his own fabled work ethic from a logger much closer to his heart.
Even into his 60s, Howard Parker Jr. was building log homes for folks in Louisiana, and during the summers, Labruzza would join his dad at the work site, picking up life lessons and a blue-collar attitude Tennessee's 2017 cornerback signee will bring to Knoxville in just over a week.
"My dad worked hard. He worked with his hands," Labruzza said. "He'd wake up super early and go do hard labor. He was a working man all the way."
Howard Parker never saw his son play football. Tanya Labruzza didn't either.
Both of Cheyenne's parents passed away roughly 11 months apart when he was merely a fifth-grader. But years later, it's obvious Labruzza's early upbringing was instrumental in molding the person — and player — he ultimately became.
"Losing them so young, it made me mature a lot. I realized, I've seen a lot of things young kids didn't see usually," said Labruzza, as his dad died of lung cancer and his mom passed away from a heart attack. "Just seeing things, the (reality) of life, it pushed me. Staying with my brother and his wife, we're big into church and we're big believers. So it's just God, giving me strength to keep going.
"I wanted to be great. My parents, they wouldn't have wanted me to just stop there and be complacent. They wanted to see me become the best I could be. I'm doing all of this for them. God has given me the strength. I'm motivated and disciplined. Nothing can stop me."
Instead of a life derailed by tragedy, Labruzza has opted for a different destiny.
He's defined by perseverance. After his parents died, he moved in with his older brother, Tracy, and his wife, Paula, and Labruzza continued leaning on the values he learned from his folks.
First it was school, as Howard Parker had long stressed academics as a ticket to success. Labruzza, who just graduated summa cum laude from Albany High (La.), remained a straight-A student, but under a new roof, football quickly became an important part of his life, too.
"HE'S GOING TO MAKE IT"
Tracy Parker, 50, had begun assuming a fatherly-role for Labruzza well before Howard passed away. When their dad got sick, Parker would check Labruzza out from school so they could take Howard to get chemotherapy. Despite a household that already included four preteens, it wasn't even a question if Labruzza would move in with Tracy and his kids.
"It was just natural for him to be with our family in the first place," Tracy said. "He was always hanging out with them. When we'd go on vacation, he'd go with us. He'd come over for dinner. Church every Sunday."
After living with Tracy for more than a year, Parker and his eldest son, Jahesman, a former standout at Hammond High and an ex-JUCO jock, convinced Labruzza to finally give football a shot.
Until the seventh grade, Labruzza wasn't even interested in sports. He preferred books and playing Grand Theft Auto. It took all of one game for Labruzza to get hooked.
"I just immediately fell in love," Labruzza said, laughing. "I really enjoyed it. I loved winning. I loved competing. I loved training. I loved the mental aspect of it. It was just something I instantly fell in love with, and since the 7th grade, I haven't stopped. I just keep building on it."
Early in his eighth-grade season, Labruzza flashed enough potential for Jahesman to turn to Tracy and say, "Daddy, Cheyenne is going to go D-1. He's going to make it."
"I was like, 'Na. He ain't that good yet,'" Tracy replied. "But Jahesman said, 'Wait until I start working with him.'"
Labruzza still remembers his breakout performance to this day, recalling that he "caught two interceptions for pick-6s. (Jahesman) was there, and he knows talent. He has an eye for it. So when he saw those two plays, and one was like a 95-yard score, he was like, 'That kid is a cornerback.' So from then on, I put in the work. At school, outside the house at 5 a.m. He put the goal in my head to be a phenomenal football player and to play college football."
It was on.
Jahesman became Labruzza's first football mentor, as the two would obsessively watch film and look-up different football workouts. Labruzza heard about LSU's players running 25 110's during summer conditioning, so he would ride his bicycle to the nearest field and do the same. His cousin, Addarius Booker, was another early mentor, teaching him drills and taking him to camps and games.
"Whatever Jahesman would tell him, he would do it," Tracy said. "He used to get up at 5:00 a.m. before school and go train outside in the yard and do ladder drills, cone drills and nobody even knew he was doing this stuff until I woke up (one day) and was like, 'What's that dude out there doing? Oh, (heck) that's Cheyenne.'
"I mean it's dark. His work ethic, it's just way different than most kids his age. Tennessee is getting a good football player. Folks just don't know it."
They're about to find out.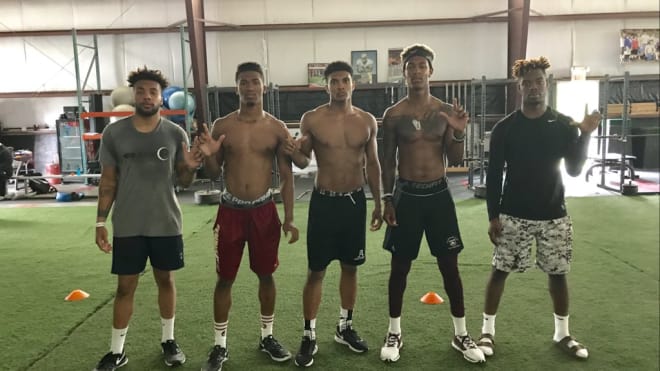 In 2014, Labruzza camped at LSU and performed well around various future stars like Tre'Davious White and Jamal Adams. Afterward, Labruzza went up to former Tennessee and then-LSU assistant coach Frank Wilson and said, "Why y'all not recruiting me? I want to be recruited, too."
Wilson told Labruzza to "wait your turn," and that simply motivated the cornerback even more.
Soon after, Labruzza was invited to play on the Louisiana Bootleggers 7-on-7 team — the top all-star squad in the state. Coached by J.J. McCleskey, the former Vol defensive back quickly took a liking to Labruzza — with colleges immediately following suit. Despite playing on a slightly torn meniscus for two seasons, Labruzza starred at Albany and began picking up scholarships from blue-bloods like Tennessee, LSU and Florida.
He started training regularly with McCleskey, too, driving 40 minutes to Mandeville, La. to workout with his new mentor. McCleskey admired Labruzza's drive, seeing a kid not unlike himself years earlier. The former UT walk-on and future NFL vet ultimately helped Labruzza climb from an anonymous Albany star to a legit D-1 prospect.
This summer, he helped the corner rehab from his latest knee injury, also giving Labruzza a jumpstart on what to expect from secondary coach Charlton Warren.
"He's 100 percent ready to go," McCleskey said. "We don't have to worry about him being shape. He's going to be in shape. We want him to get more explosive, so he can go up there and compete for playing time because one thing we do around my facility: We don't redshirt. If you go back and look at the track record of my athletes, the guys who actually come to me and have actually bought into the program do not redshirt.
"I'll be very disappointed if Cheyenne doesn't come in and play this year because he's going to be the first one in and the last person out."
McCleskey spoke at Tennessee's coaching clinic in April, and the return visit to Knoxville allowed him to pick Warren's brain on techniques and drills. When he went back to Louisiana, he immediately had Labruzza doing the specific exercises at his Mental Edge Sports facility. McCleskey's current training sessions include a large group of college football players, with guys like Jalen McCleskey Jr. (Oklahoma State wideout), Tyron Johnson (LSU receiver) and Kyle Meyers (FSU cornerback) regularly in the gym.
"And Cheyenne is right there with those guys," McCleskey explained.
"He's so smart and so intelligent that he can play whatever he wants to play. One thing that impresses me the most about Cheyenne: You see how polite he is? Let him go 1-on-1 and he completely changes. He's not a nice guy. He's a dog. He's mean. The first time I saw that it really shocked me."
A FEAR OF FAILURE
An integral facet of Labruzza's dogged motivation is a fear of failure. He's determined to not let down his parents' legacy or spoil the help, guidance and aid of people like Tracy and Paula Parker and J.J. McCleskey.
Labruzza was frustrated by his second meniscus tear that shortened his terrific senior season, so he attacked the rehab with a game-like fervor, determined to report to Tennessee ready to compete for a spot in the secondary.
Even though Labruzza missed half his senior year, Tennessee never wavered on its interest in the three-star corner, and in turn, Labruzza kept his word with the Vols despite a coaching change and a late, futile push by LSU.
"It gave me a lot of confidence," Labruzza explained. "Instead of having to rush my knee and try to get back on the field so schools would honor my scholarship, Tennessee told me, 'You still have a spot here. Take your time. We still want you to come play for us.' That was really comforting. That was a huge weight off my shoulders. It allowed me to take my time with the injury. Take my time with the recovery period.
"So then when there was a coaching change at Tennessee, I didn't waver with them. I knew that's where I wanted to go."
Throughout the process, McCleskey has given Labruzza a crash-course on Rocky Top, outlining everything from Tennessee's rabid fanbase to where to he can get a haircut and a good, home-cooked meal in town.
"He already loves Knoxville, and Cheyenne is focused on what he's up there for," McCleskey said. "He wants to major in engineering, so you can't do that and play football at Tennessee and not be a focused person.
"I've told him, the traditions at Tennessee. The fans, it's football heaven there. I'm going to be honest with you, I tell Cheyenne this all the time, the NFL will never take the place of Tennessee — as far as me. I played in different venues all over, but just playing at Neyland Stadium it comes second to none. I told him that. Everyday you have to embrace that you're at Tennessee and you have to buy in. Just believing is not enough. A lot of people believe they can play at Tennessee. Ok, the devil believed and trembled. You've got to buy in. You've got to invest and say, 'I'm going to Tennessee to play this year.' And that's why we've been focusing on this whole offseason.
"You only get blessed with coming across the Cheyenne's of (the world) once in a lifetime. I would not bet against the guy. I think the world of him."
As do many, many others.
With a foundation built on family, faith and a fear of failure, Labruzza has overcome multiple adversities to end up at Tennessee. Throughout it all, he's never flinched and he's always been ready for whatever was next.
"This is a business trip. I'm going up there for a reason," Labruzza said. "To get a degree. To become a great football player and get to the league. I'm going to handle my business."