Five quick takes, disaster edition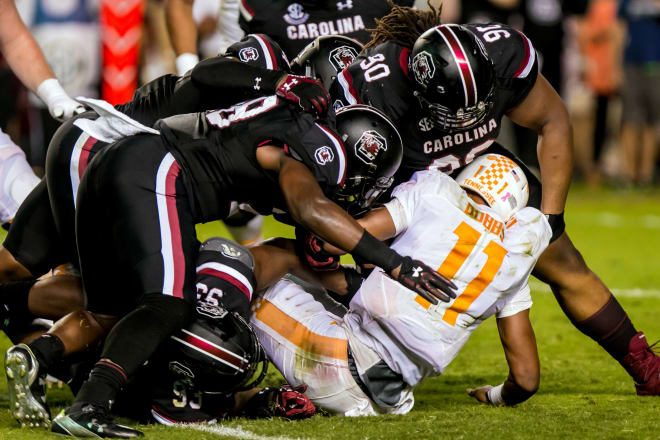 COLUMBIA, S.C. -- Coming off a bye week, Tennessee took on South Carolina as two touchdown favorites on the road and SEC East aspirations still very much alive. What followed was a game that Vol fans will look back on in disgust for years.
1 — Start fast…or don't — We've seen it all year long so it shouldn't have come as a complete surprise, but the Vols once again stumbled out of the gate tonight against the underdog Gamecocks. Badly.
The Vols allowed South Carolina to go 73 yards for a touchdown on the first possession of the game to grab a 7-0 lead. In four previous SEC games the Gamecocks had managed to score a TOTAL of seven first half points. They doubled that against Tennessee tonight, taking a 14-7 lead into the half.
The Vols opened the door for the Gamecocks to take the early lead by giving up 4th & 2 when the defense lost backside contain and let quarterback Jake Bentley slip out for a 16 yard gain to the Vols' 23.
The defense actually shone in comparison to the offense in the first half, holding South Carolina to 102 yards. That's a good thing because the Vols managed just 98 total yards themselves, 51 yards rushing and 47 passing.
Tennessee also gift wrapped South Carolina's second touchdown of the first half when Josh Dobbs forced a throw into coverage along the sidelines, a miscue that set the Gamecocks up in business at the Vols' 31 yard line early in the second quarter.
Stats aside, the Vols simply didn't look like a team with any 'juice' to start this game and they certainly didn't look sharp coming off a bye week.
2 — Sloppy, sloppy, sloppy — Tennessee cleaned some things up as the game went on but the Vols were just sloppy in the first half, committing a ton of unforced errors.
The Vols had an unseemly four penalties in the first five minutes of play and finished the first half with six for 60 yards. One of those was an offsides call on the opening kickoff, something that looked like a bad omen in hindsight. The Vols were also hit with a couple of pass interference calls in the first half, a reflection of how thin they are at corner now.
Tennessee also had a bad shotgun snap that cost resulted in a 15 yard loss. That gaffe occurred on 1st & 10 from the Vols' 38 yard line and essentially killed a drive.
Dobbs' fourth quarter fumble at midfield, which appeared to be caused by some miscommunication between he and true freshman Carlin Fils-Aime, was an absolute killer. The Vols had solid drive going at that point, highlighted by a 34 yard scamper from John Kelly but the fumble destroyed that momentum. South Carolina scored four plays later, taking advantage of a bust in the secondary, to go up 24-14.
Finally, the death blow came after Derek Barnett's third sack of the night forced South Carolina to punt the ball back to Tennessee with 3:58 left in the game.
Tennessee took over on it's own 20 with 3:50 left and two timeouts to use. On the first play of what could be called the biggest possession of the season Dobbs was picked off by Jamarcus King at the South Carolina 46 when he tried to force the ball deep down the seam. It was a fitting end to what I would say was the worst offensive performance of the season given the competition.
The Vols also cost themselves nearly 40 yards in field position by simply not paying attention on special teams. On a South Carolina punt early in the second quarter a Tennessee player inadvertently kicked the ball backwards, and the Vols were extremely fortunate that Josh Smith was able to chase it down and fall on it.
Later, Cortez McDowell went hell-bent after a ball on the right on the fringe of the goal line and carried it and himself into the end zone. The refs may have well blown that call, but McDowell gave them the chance to do so by going after a ball that already appeared dead with such reckless abandon.
For a team that stresses special teams to the degree the Vols do, those were a couple of unsightly errors.
Furthermore, for a team coming off of an open date with an absolute ton to play for, it was an embarrasingly flat performance.
3 — Evan Berry — No matter what else might be going on around him, Berry is just incredible as a kick returner. It's a highly specialized skill and Vol fans will have to go all the way back to Wille Gault to find anyone that could remotely be considered his equal.
The one he took back 100-yards tonight in Columbia near the end of the third quarter with the Vols trailing 17-7 might have been the biggest of his career. Tennessee was just wrapping up a quarter where the offense 'racked up' 48 total yards and saw South Carolina extend its lead to 10 with a field goal to make it 17-7.
Berry answered that field goal with an explosive return, going nearly untouched right up the chute. He picked up a couple of great blocks and once he got to midfield it was over. That play looked like it might be the kind of thing that would jump start Tennessee, but it didn't really work out that way.
The defense was salty all the through, but the offense simply never got its legs underneath it and sputtered to the finish line.
4 — Downfield passing — Where was it? Where were the big plays? Until Jauan Jennings hauled in a 27 yard catch in the final minute, Tennessee's longest passing play was a 25 yard completion to tight end Ethan Wolf. A 17 yard John Kelly catch and run on a screen pass constituted the other 'big play' in the passing game.
Tennessee and Josh Dobbs have never been a well-oiled machine through the air, but the Vols have shown this season that they have some big play capability and a couple of wideouts that can win one-on-one battles.
Dobbs' accuracy was spotty from the beginning tonight. He short-hopped several throws to receivers on simple curl routes and never got into anything approaching a rhythm. His first half interception was the kind of play you just don't expect a senior to make. The second half fumble seemed more on Fils-Aime than Dobbs, but it still goes down as a turnover on his ledger.
To be fair, Dobbs saw a steady amount of pressure all night long which contributed to some of his inconsistency, getting sacked twice and feeling heat a lot more often than that.
Also, there didn't appear to be just a ton of Tennessee receivers running wide open through the secondary but regardless, you've got to do better than 12-of-26 161 yards and two INTs against one score.
5 — John Kelly — When you just took your best chance to get to Atlanta in 10 years ran it into a ditch like a joy-riding 13-year old who's raided his dad's liquor cabinet, it's hard to find many bright spots, but the Vols' sophomore running back certainly was one.
With Alvin Kamara out this looked like a big chance for Kelly, but it got even bigger when Jalen Hurd didn't get a touch in the second half and Kelly became the team's primary ball carrier.
Kelly shot really nice vision and great burst into and out of the hole. He ran tough between the tackles and broke into the second level on multiple occasions. Kelly isn't exactly an unknown, coaches have been singing his praises for ages, but he took advantage of his chances tonight and showed what he can do when given the opportunity.
He finished the night with 94 yards on just 14 carries and sent a definite message about the future state of the Vols' running game, regardless who decides to depart or return off the current roster.