For Kirkland, the picture is clear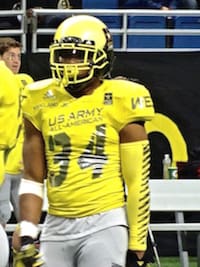 There never was any looking back.
Not in the month since
Darrin Kirkland Jr.
pledged to Tennessee, spent a week at the U.S. Army All-America Bowl competing against some of the nation's best and also recruiting for the Vols.
Not as Kirkland's friends and family departed San Antonio, Texas, 12 days ago for their 18-hour drive home while Kirkland capped his whirlwind month by boarding a plane to Knoxville some 24 hours after his final high school game.
Instead, the soft-spoken, hard-hitting aggressive linebacker dived straight into his University of Tennessee defensive playbook.
Not haphazardly, either.
"Well, right now me and Coach are doing a three-times-a-week schedule, but I'm trying to learn individually by myself more and more," said the 6-foot-2, 235-pounder from Indianapolis' Warren Central. "Just picking it up and doing extra like they told me to."
Turns out, picking things up for Kirkland isn't too hard. Upon arriving on Rocky Top and getting settled in, Kirkland Jr. met with the staff at Tennessee's Thornton Center for Academic Support. Dr. Joe Scogin and crew soon discovered Kirkland has an eidetic --- photographic --- memory.
"He's part of the new wave of linebackers. He has a combination of speed and power, but also has a photographic memory and that's really good for what we can do," UT linebackers coach Tommy Thigpen exclusively told VolQuest.com. "He can play in space and he's tough in the run. He brings a different element to our team than what we have in the football program."
Kirkland, citing the examples last year of Derek Barnett and Todd Kelly Jr. on defense while also getting 'Big Brother' help from Jalen Reeves-Maybin, isn't just picking things up visually; he also is soaking in Thigpen's words. He recognizes that when spring camp opens in approximately two months, there are some wide-open battles for playing time in the middle of the linebacker corps.
"Definitely that's the cerebral aspect of it because definitely my position you've got to have that leader-role, that Alpha-dog mentality is what Coach Thig always says," Kirkland told VolQuest.com of really embracing the football classroom. "So that's one thing I like to pick up on a lot. …
"It is definitely a great opportunity for myself; I am just looking forward to showcase my abilities in spring practices and the spring game and the rest of the summer going into the fall. We will see what happens."
Yet to coach him on the practice field, Thigpen already sees the critical characteristics in Kirkland that Tennessee's staff identifies in the linebackers they recruit.
"The two elements to a great linebacker, we say, are being tough and smart," Thigpen explained to VolQuest.com. "We know he's tough; he played on a sprained ankle all year. And we know he's a smart kid because you tell him something one time and he can retain it all. He doesn't forget anything.
"He's going to bring a whole different type of competition to that room. He's everything we want. He's tough, he can tackle; you saw it in the all-star game how fast he closes when he ran down the quarterback at the end of the game. That's what we're going to be looking for here when we get into the spring."