{{ timeAgo('2021-03-30 21:21:59 -0500') }}
football
Edit
For the defense, it's about defining roles and spots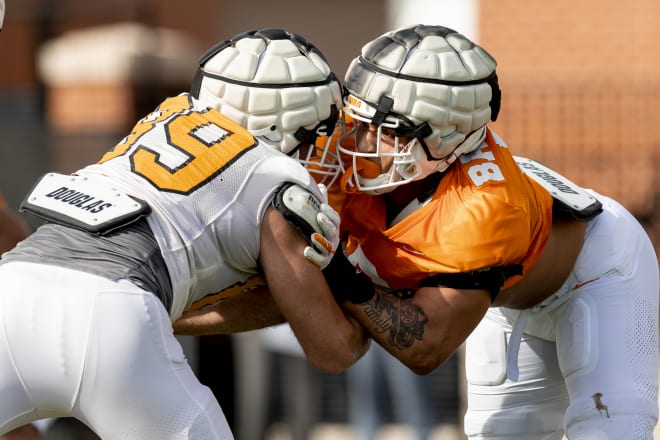 Forty-three — it's the number of days Tim Banks has had to get to know his defensive staff and defensive players and that's with Josh Heupel choosing to push spring practice back a week to give that side of the ball more time to prepare.
To say it's been a whirlwind for Banks, Rodney Garner, who's been here the longest, Willie Martinez and Brian Jean Mary, is an understatement which is a reason why Banks routinely said Tuesday after the teams first practice in pads that everything is on the table.
"It's obviously a learning curve for our staff as we get to know our players and get to know each other, but we live for challenges. It's kind of what gets you going a little bit," Banks said
"We are definitely working hard to make sure we are on the same page, but these guys are veterans. They have coached alot of years as I have. We understand the communication and the preparation is at the forefront of everything we want to get done. We work really hard to make sure we are on the same page so when we are on the field the kids feel that and can feed off our energy and how well we are prepared."
While positions aren't defined for some. How some can be used in the defensive scheme remains unknown Banks said he's sees a group of guys with plenty of desire.
"The want to is there. The guys are working extremely hard. We obviously play at a really good pace. They are learning a new system. So there is a lot that's required to play at the standard to which we want to play. I thought as far as the effort as far as what we are asking them to do, they are working their tails off to try and improve and that's all we can ask for.
"You want to put them in situations where they can play extremely fast. I don't know if simple is the word for us, but obviously in anything we do we want to be sound. We are putting it in day by day, piece by piece. The more they can digest, the more we can install. Ultimately we want to see guys play hard and execute. Whatever we feel like they can handle as we move forward we will continue to put it in. Ultimately what we are looking for right now is who is going to play hard. Who's going to strike, get off blocks and make tackles. That's really what they are being evaluated on to this point."
As season ago, the Vol defense struggled. The struggle forcing turnovers. They struggled in the middle of the field and they struggled on third down. But that was a year ago and for Banks and many of the players that feels like a lifetime ago after the last 43 days of assembling and building relationships. Today is day 44 and for Banks and company it's another day to learn. To learn what they have, who they are and were every one fits.
"Every day we are learning something new just building relationships figuring out what their strengths and weaknesses are and every day as a staff we are figuring things out and moving guys around. We are going to utilize every single day, every single minute of the 15 opportunities we get to make sure we are gathering as much information as we can gather to make sure we are putting these guys in the best possible position. We are truly learning every day about our front, about our back seven to make sure we have these guys in the right spots."
That includes a returning productive player like Tyler Baron. Baron had 21 tackles, 3 tackles for loss including a sack as a freshman last year. Baron worked as a defensive end on Tuesday, but Banks said Baron is a guy they are trying to figure out what role is best fo him.
"We are still defining all of our roles right now on defense. He's obviously a skilled athlete. I think it's too early to say exactly how we are going to utilize him whether it's as a hybrid guy or strictly a defensive lineman. Quite frankly, I think that's a good problem to have. He has a good skill set. We are still evaluating it and hopefully come end of spring we will have a better idea of exactly how we are going to utilize him," Banks said.
As the numbers of days on the job grows so does the comfort level for Banks and his staff. For the players that means some additional opportunities are likely coming.
"Only three practices, we haven't had the opportunity to switch it up as much as we will moving forward but that's definitely the plan," Banks said. "A defensive end might be a right end instead of a left end, a linebacker might be to the field side one day and the weak side the next day. I think it's in our best interest to make sure we move these guys around to get it on video so we once again have the knowledge we need to make sure guys are in the right spots."