For Williams: Like father, like son
The father-son talks always shared in football.
Both Jordan Williams, the Tennessee senior, and dad, Keith, a former Florida Gator, could talk the game, but never too much.
Never the same position. The elder Williams was an interior lineman on some of the Gators' 1980s teams.
The Vols' Williams signed in 2011 as a strongside defensive end --- 20 pounds less than what his father had played along the defensive interior 30 years earlier in the Southeastern Conference.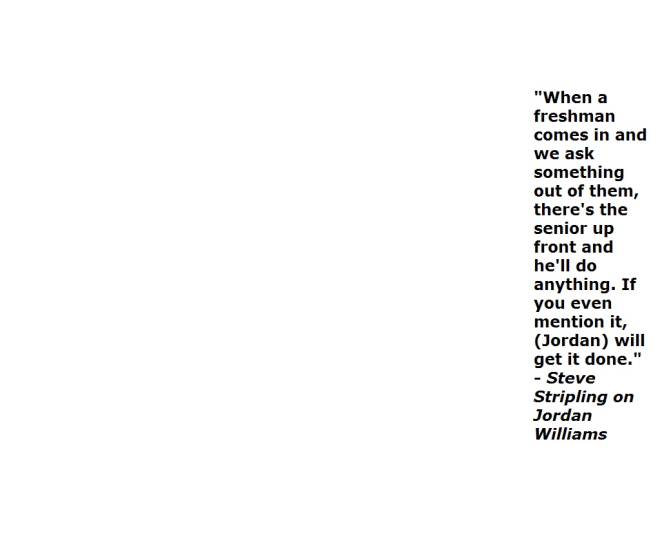 "The thing is, that's what my dad played in college. But he played D-tackle at 260, so that was a long time ago," said the 6-foot-4, now-285-pound Jordan Williams. "I came in 260 playing defensive end. That's how it is nowadays. Never would I have thought I'd be playing D-tackle, especially playing behind 'Big Dan' (McCullers). He's like the biggest human on earth."
Williams' contributions along Tennessee's two-ply thin defensive front are larger than his increased size. Despite a host of maladies, Williams is an interior anchor alongside similarly undersized and beaten-up Danny O'Brien.
Behind them? Keep looking; the Vols' coaches mostly are. Junior college signee Owen Williams has provided some depth, and Dimarya Mixon has gotten selective snaps. Trevarris Saulsberry is out this week and missed the season's first three games due to injury; Saulsberry hasn't been 100-percent healthy all year.
"We talked about, 'We need help in there.' For him, it was never even a question," said Tennessee defensive line coach Steve Stripling. "He said, 'What have I got to do Coach?' It's whatever it takes from Jordan. He's a tireless worker. He and O'Brien are out there after themselves, at least 10 minutes after practice, so just a young man can't say enough good about."
Sophomore end Corey Vereen still remembers the first time he saw Williams at Tennessee.
"Man, Jordan's done everything we've asked him. It's crazy. I came here in like 2011, and I saw he was way undersized. Then he was playing linebacker for Coach Sal (Sunseri in 2012)," said Vereen, who has 19 tackles including four for losses. "Just seeing what he's been able to do with his body, getting stronger in the weight room and just coming to work every day. It might not be what he's used to, but he's just coming to work every day."
Stripling points also to the intangible benefit from Williams' example aside from his 18 tackles, including four behind the line of scrimmage, through eight games. Rather than buck the change and fight to stay along the edge where he spent his first two seasons in Knoxville, Williams is working daily to be a program-player in every aspect.
"I think it's really important for my room, because he's the only senior in the room," Stripling said. "When a freshman comes in and we ask something out of them, there's the senior up front and he'll do anything. If you even mention it, he will get it done. And he's doing more than that. It's been a real positive for our room to have him as a senior."
Added coach Butch Jones, "Jordan has been invaluable to us. He's meant so much to our football team and made so many contributions. Obviously, on the field he's been a warrior; it's a position we don't have much depth. We've asked him to put weight on, he's done that. He's making plays for us, but then also his leadership in the weight room, in the meeting room and in the locker room. He's playing his best football, and that's what we expect from our seniors."
Williams now knows what to expect the day after games as well. He knows where the soreness will be worst; what steps must be taken to expedite recovery.
"I mean, you're going to be sore after any game but some of the tough teams we've played and how close we've played them, it's tough being in the game busting behind the whole game through," Williams told VolQuest.com. "It's tough, but that's part of it.
"Come in, get treatments. We have mandatory … it's something different this staff has done … if you play in the game, you have to come in, talk to trainers and they evaluate you. If you're hurt, you're getting treatment. If not, you've got time to come in get massages, get in the cold tub. Stuff like that. It's good."
Ultimately, Williams endures it all with a singular goal in mind.
"The thing is, I just want to win. That's the one thing; I just want to win more than anything," Williams said. "Whatever it takes. If it's playing D-tackle or if it's playing kicker, whatever they need I'm doing."