Four quick hits on the end of the misery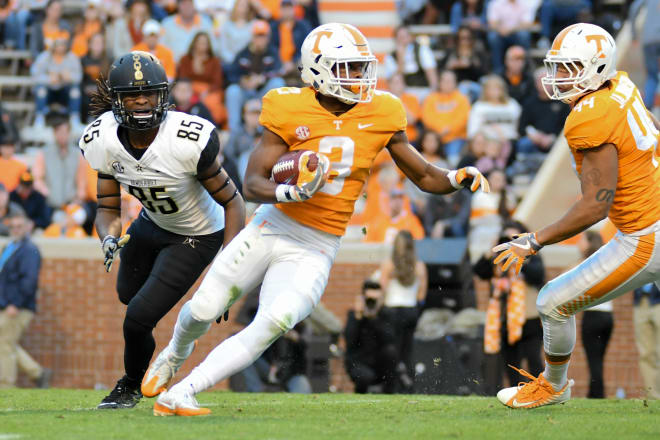 The worst season in the history of Tennessee football came to a fitting end today as the Vols fell 42-24 to Vanderbilt. Here are four quick takes on an ugly day and an ugly season.
1 — Second quarter siesta — Tennessee's offense looked better than it had all season on two first quarter drives, both of which produced touchdowns. Jarrett Guarantano was as sharp as he's been at any point we've seen him this season, making some strong, accurate throws and pushing the ball down the field in a manner we haven't seen from him or this offense with any regularity.
All told the Vols gained 148 yards in the first quarter and Guarantano was a sizzling 6-of-7 passing for 95 yards and a score, Marquez Callaway had a one-handed stab for a fantastic touchdown and the Vols generally looked like a competent offensive football team.
Who cares if it was Vandy? For Vol fans absolutely starving for some offensive fireworks, two first quarter touchdowns were like manna from heaven.
Unfortunately for Vol fans, all good things must end, and in this case the offense's productivity ended in emphatic fashion.
The same group that had produced 148 yards and averaged 9.9 yards per play on 15 offensive snaps picked up a total of one yard. One. Yard. On 10 offensive snaps, an average of 0.1 yards per snap. So, had Tennessee been allowed to run 100 consecutive plays they would have picked up exactly one first down.
The Vols reverted to the unit we've seen for most of this season, one that can't run the football, couldn't protect the quarterback (two sacks) and couldn't extend drives (0-for-3 on third downs).
Vandy, meanwhile, kept on cruising along, scoring 14 second quarter points to take a 21-14 halftime lead that the Vols wouldn't be able to overcome.
2 — Kyle Shurmur loves seeing Bob Shoop and the Vols' defense — Shurmur embarrassed Tennessee in 2016, throwing for a career high 416 yards and two touchdowns.
He pretty much picked up where he left off last year. Shurmur was slightly less prolific in terms of yardage but he pretty much picked the Vols' defense apart all night long. Had Vandy not been in control of the game in the fourth quarter and looking to run clock there's little doubt Shurmur could have topped the 300-yard mark.
As it was, he finished 20-of-30 for 283 yards and four scores.
Shurmur's passing was a big reason the Commodores converted 8-of-12 third downs. That little stat—when Tennessee was going 2-of-8 themselves—helped Vandy control the clock, finishing with a 38:15-21:45 advantage in time of possession.
The quarterback wasn't the only aspect of the Vandy offense that Tennessee couldn't handle.
Ralph Webb went for 163 yards on the day, only the second time he's rushed for over 100 yards in eight SEC games and his season-high.
A Vandy team that came into this game ranked No. 120 in the nation in rushing set a season high for yards on the ground with 246 the most it's complied against any SEC team this season.
Tennessee came into today's contest with the SEC's worst rush defense, and if nothing else, they at least lived up to the hype on that end.
3 — Let's talk OL one more time — I don't really have any new material here, but the offensive line situation is simply unprecedented.
For the second straight week the Vols played a football game without even having a scholarship offensive lineman available as a back-up.
Tennessee got Brett Kendrick back today but were without Jashon Robertson. So, it was Kendrick and four freshman up front and one of those freshman, right tackle Devonte Brooks, was a tight end this time last year.
Even against a Vandy team that has given up a MINIMUM of 191 yards rushing to every SEC team they've faced, the Vols couldn't get anything done after that opening quarter.
Tennessee finished with just 55 yards rushing and averaged just 2.6 yards per carry.
Yes, it was largely a result of injuries as the season wore on, but it's doubtful we'll ever see a worse Tennessee offensive line.
4 — Good riddance 2017 — Many Tennessee fans expressed their sentiments with their attendance, or lack of it today. The Vols played in front of the smallest Neyland Stadium crowd I can remember seeing and by the end of the game the crowd was mostly friends and families.
It was an ugly end to the worst season in the history of the program. Today's loss means that for the first time in 121 years of playing football Tennessee lost eight games in a season. Prior to today, Ohio State was the only other program that could make that claim.
Adding to he bad taste in everyone's mouth this week was the unceremonious dismissal of Jauan Jennings after his profanity laced Instagram tirade on Wednesday evening.
No matter how you feel about that decision, it's sad to see Jennings' career end in that fashion. Fans fell in love with him when he embarrassed Florida's Jalen Tabor last fall, but he unfortunately embarrassed himself on his way out the door this week.
It's a shame that instead of automatically thinking about his Hail Mary, game winning catch at Georgia, he'll also be remembered for a poor decision that cost him a spot in the program.
It's almost kind of fitting that the most disappointing season in the history of the program ended with a loss to Vanderbilt. I mean, how else could it end, just to really emphasize how far things of fallen.
Not only that, but the Commodores have now won consecutive games in this series and four of the last six meetings.
If you don't think that's rock bottom for this program, than I simply don't know what to tell you.