Four quick takes on Vols' escape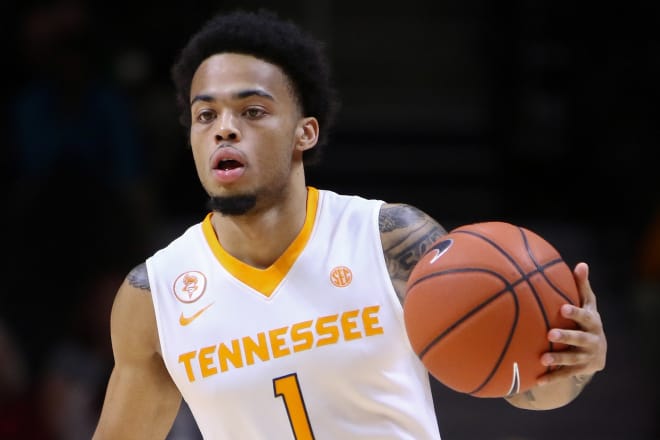 Tennessee (5-4) appeared on the way to a blowout win over visiting Tennessee Tech (4-7) Tuesday night after they went up by 20 points early in the second half against the Golden Eagles. Things got a little sideways though in the second half though and the Vols found themselves desperately trying to avoid an ugly upset in the final moments.
Here are four quick takes on a game that was truly a tale of two halves.
1 — No hangover…in the first half— After the way things went down in Chapel Hill on Sunday in what was a glorious missed opportunity for the young Vols, the notion that they might suffer a bit of a letdown the next game out wasn't unthinkable. That was even more true given the quick turnaround—48 hours— that the Vols were working under.
Tennessee handled its business though, jumping on the Golden Eagles early and making sure they never got a chance to develop any early confidence.
The Vols primary did that on the defensive end, at least to start the game. Tennessee Tech made just three shots in the first 10 minutes (3-for-18) as Tennessee quickly built a double-digit lead which stood at 23-9 after back-to-back buckets from Robert Hubbs with 9:45 left in the half.
The Vols shot 50% in the first half, put the Golden Eagles in a hole they were never quite able to dig out of, though the Vols did cool off considerably in the second half and nearly left the door open for an ugly loss.
The lead swelled to 22 points at 47-25 early in the second half, but after that things got a little sloppy. More than a little sloppy actually. Tennessee went 6:37 without a made basket midway through the second half and compounded matters by committing a boat load of turnovers.
Tennessee Tech trimmed the lead down to as low as four points in the second half when the Vols looked to lose some the intensity they played with in the first half.
Tennessee was never really on upset alert, but losing that big lead wasn't something that is going to please Barnes.
2 — Everybody plays!! — Maybe Rick Barnes was trying to give everyone a chance to get some run, maybe he was concerned about his team's legs with four games in seven days this week or maybe he just didn't think it mattered against Tennessee Tech but everyone that dressed had played in the game before the second media timeout. That's 11 guys.
Barnes has largely been pretty liberal in spreading the minutes around all season long but tonight he seemed in a mood to look at a variety of different combinations.
The guess here is that he was motivated by the fact that his team is playing four games in quick succession and didn't want to unduly tax anyone in a game that the Vols were in control of from the opening moments.
However, it's probably also a reflection that nine games in, he's still looking at defining roles for guys on this team. Outside of the top six; starters Robert Hubbs, Shembari Phillips, Grant Williams, John Fulkerson and Jordan Bowden along with reserve Lamonte Turner, it's not exactly clear where everyone else fits in the pecking order. Certainly you can expect Jordan Bone to join that group when he gets healthy, but for now it looks like the head coach is still trying to figure out some things with this team.
The final tally had 10 Vols getting at least eight minutes of action. Maybe that's Barnes' plan and it can be sustainable, but the guess here is that he'll shorten that rotation up and trim his rotation down by the end of this month.
3 — Hubbs stays hot — Robert Hubbs might have played his best college game against North Carolina on Sunday, considering the opponent and the circumstances. He went for 21 in that loss, including a 7-for-7 shooting performance in the first half against the Tar Heels. That number constituted his career-high against a Division I team (he had 28 against Chaminade earlier this year).
He stayed hot tonight against Tennessee Tech, going for 15 in the first half alone. He then proceeded to score the Vols' first four points of the second half on his way to a team high 25 points.
Hubbs did virtually all of his work in the paint tonight and he was efficient in doing it. He finished 10-of-17 from the floor and 5-for-5 from the line.
He also led the Vols with seven rebounds, something that should please his head coach, and he had a big block in the final minute when Tennessee Tech trailed by just five and was looking to make it a one possession game.
For a player who's struggled with consistency for virtually his entire career, back to back games of 20+ points is a solid couple of outings.
4 — Take care of that ball!! — We mention the turnovers in this space pretty frequently and that's because it's been a rather frequent problem for this Tennessee team. That's been especially true in their four losses where they've had a combined 69 turnovers, just over 17 per game.
For the first 20 minutes of the game the Vols were exceptional in his department, committing just one turnover. Was Tennessee Tech a fantastic defensive team? No, but that number is pretty strong no matter who the opponent is.
That was the good news.
The second half was a different story altogether and if the Vols had been tangling with a team with more talent than Tennessee Tech tonight they would have been in some serious trouble.
The Vols committed 13 turnovers in the second half alone, one after another seemingly at one point. That's an enormous number and usually the kind of thing that goes hand-in-hand with a loss.
Barnes looked like he was in danger of having his head explode at a couple of different points in that second half due to the unforced nature of some of the miscues and some egregious decision making with the basketball.
As it was, the Vols managed to survive, but it was hardly an encouraging sign for a squad that's struggled with ball security almost every game this season.