Grad transfer Keller Chryst reviews Rocky Top
With only two scholarship quarterbacks on campus for spring practice, Tennessee is constantly evaluating options to improve depth at that position. This weekend, they hosted Stanford graduate transfer Keller Chryst. It wasn't about seeing a stadium or the fancy facilities in Knoxville. This was clearly a business trip to learn about the staff and players.
"I learned that they are a no nonsense type of program that knows what it takes to win games, as the coaching staffs resume speaks for itself," Chryst said.
"I really like the people involved in the program outside of the coaches as well."
Both Jarrett Guarantano and Will McBride saw limited action last season and that's the extent of the current depth at the quarterback position for Tennessee. The Vols will add true freshman JT Shrout this summer, but adding Chryst would add quality depth with a player that has started games in the Pac 12.
New Tennessee offensive coordinator Tyson Helton was familiar with Chryst due to his time at USC, but this was his first time getting to hang out with the athletic and accurate quarterback.
"After only just meeting Coach Helton It seems like he is truly a good guy first and foremost," Chryst said. "Secondly he has produced a handful of really good Qbs over the last few years."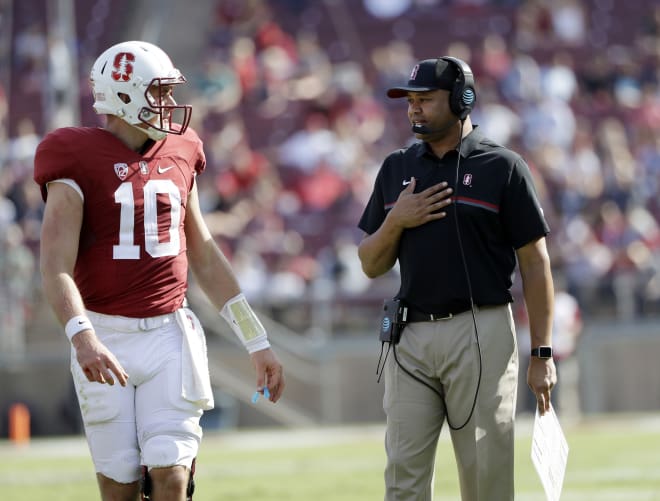 Chryst is looking for a new home based off Stanford going in a different direction with their signal-caller. He started 13 games over the last two seasons and completed 55.4 percent of his passes for 1,926 yards and 19 touchdowns to just six interceptions. All that aside, he knew things didn't feel right in Palo Alto. That led him to seek a new home and Tennessee started to speak to him because of an open opportunity with a completely new staff.
"Looking at schools as a grad is different because you really have to prioritize what is important," Chryst said. "Coaching staff and scheme, as well as the guys on team and the motivation they have to win."
That's something he found in Knoxville this weekend, as he heard a common message from a staff that's hungry to prove they can get it done both on the field and in recruiting. He also found a group of players that are tired of the offseason narrative and want to turn the corner in a big way.
"I hung out with some of the guys and I liked them and could tell they were hungry to win," Chryst said.
"Hopefully I can make my decision soon so Its best for all parties. It's too soon to rank (the schools) comparatively but i really liked what they have to offer."
Chryst plans on visiting with his family and coming to a decision in the next couple of weeks. He would arrive this summer and be ready to compete with Guarantano, McBride and true freshman JT Shrout in fall camp.