Healthier and energized Vol defense ready; more notes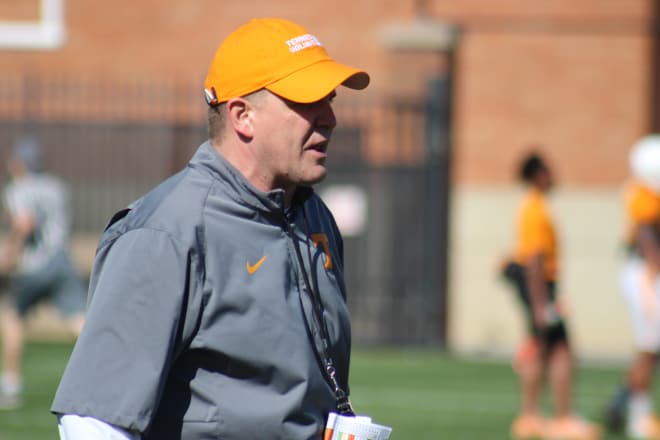 NASHVILLE -- The last time Vol fans saw the Tennessee defense it was the end of a three game stretch of ugliness where Bob Shoop's unit had given up 118 points and nearly 2,000 yards of offense. A month later, Shoop's defense is looking to erase the bad taste of a poor finish as they take on Nebraska Friday in the Music City Bowl at Nissan Stadium.
"When we played against Kentucky we played nearly 90 snaps, when we played against Missouri it was over 110 snaps," Shoop said. "I thought it really showed itself in the last two and a half quarters against Vanderbilt. We made sure the players weren't wearing ankle weights this week so we are ready to roll. The guys have come back with a great mindset. They are very confident. They are very excited. We are looking forward to competing.
"Everyone wants to win. We talk about our style of play and our style of preparation. Those are the two things we have talked about since we have gotten back together and started practicing. You can't just turn it on December 30th at 2:30 in the afternoon in Nissan Stadium and expect it to happen. Bowl games are about, first of all, enjoying it. We want our guys to have fun, but it's about tackling. It's about ball security. It's about special teams. We have talked about those things, and our guys have prepared really hard. I'm impressed with the way they have practiced. We have practiced probably better these last two-and-half, three weeks, than we have since maybe October. It may be a product of being a little bit fresher. It may be a product of that bad taste in your mouth. Bowl games mean a lot of different things to a lot of different people and different teams and units. I know our players are going to come out excited and ready to play tomorrow."
One of the reasons for Shoop's excitement for Friday is the fact that despite all the injuries his defense have, in some ways is starting to look more like what they were early in the year.
"We have gotten some people back healthy," Shoop said. "To watch Darin Kirkland practice the way he practiced early in the season has been a big lift. Cam Sutton is continuing to get healthier. Coach used the phrase in the last month, 'style of play,' and that's really what's important that tomorrow against a really good Nebraska team, we go out and play to our style of play like we did the first five games. Even though we didn't beat South Carolina, I thought we played well against South Carolina and Tennessee Tech. We have gotten healthy. They guys are excited. They have practiced really well. We are looking forward to going out and playing tomorrow."
For Nebraska at quarterback on Friday it will be veteran Ryker Fyfe, who replaces the injured Tommy Armstrong. Fyfe has had quality snaps during his four years in Lincoln, but he is totally different from his fellow senior, Armstrong. It could present a challenge for the Tennessee defense, but defensive coordinator Bob Shoop believes he has a good feel for the Big Red.
"There is enough film of Fyfe," Shoop said. "I was in the Big Ten for the last two years so I'm very familiar. We didn't play Nebraska, but I've seen them on film for different reasons. Tremendous respect for their offense, for Coach Reilly and his offensive mind. They run the ball first and foremost. They try to operate their offense to their personnel. They are a personnel driven group. They are going to run the ball."
Fyfe isn't the same athlete that Armstrong is, but he also isn't a statue. He's crafty and his perseverance has helped define him.
"You don't lose a guy like Armstrong with his experience and playmaking ability, 22 touchdowns accounted for this year, 2,200 yards passing and 500 yards rushing, and not say you are going to miss him. Fyfe can operate the offense. He started the game against Maryland and they won 28-7. He has started games in the past. He can throw the ball. He has a nice feel for the offense. I admire guys like him. He's a senior and he's stuck around the program and worked his way up."
Black shirts meet Smokey Grey group
Nebraska isn't going to blow you away with their defense, but they will very solid. It's a group that is ranked in the top 25 nationally and does the little things well. Most parties involved continue to talk about tackling, blocking and those little things. They continue to liken this game to a season opener.
"I feel like it's a scheme defense," Mike DeBord said. "What I mean by that is they play their defense and they play it very sound. They are good in their fundamentals. They are tough and their players are in the right position all of the time. I just think it's one we have to do a good job with our angles and blocking schemes and our routes and concepts that way. We have to be assignment competent in executing. It's a challenge. They are the 22nd rank defense in the country and they have done it for a while."
Helping Tennessee and their efforts on the offensive side is the stability along the offensive line. Tennessee will start their original five for this bowl game, and after a season of so much musical lineman- chairs, the last month has been a breath of fresh air up front.
"We have had those five guys in there the entire bowl practices. We have been able to continue to get healthier as you just mentioned and have continued to work on techniques and working together so it's been beneficial."
Debord reflects on past two seasons.
With all the talk of the poor play on defense, it's Tennessee's offensive unit that has shined down the stretch. It's a group that has put up plenty of yards, points and dazzled with big plays. Offensive coordinator Mike DeBord came to Tennessee from outside of coaching and while he has drawn the criticism of some, he's also been very good.
"I was in a position where I was going to be very particular with where I went and who I worked for and everything," DeBord said. "Everyone knows Butch and I had a relationship before that, and I've always had great respect for him and we have a great friendship. I wanted to come help him if I could help him. I told him I don't want to be your coordinator if you don't feel like I can help move this offense along. As I look back, I'm proud of what our coaches and players have done offensively. Going back to two years to when we were the No. 2 rushing offense in the conference to this year with what we did in second in the conference in scoring and one of the best in the red zone. I'm proud of what we have done."
And no matter if Friday is his final game, or he coaches another decade, DeBord says the search for the perfect game or play will always remain very evident.
"There are always things you haven't done," Debord said. "You always go back and look at how we can get better at that. That's for another day, but I've really enjoyed this past season with these guys getting better this year."
Kongbo impresses this month
The obvious question fans have every bowl season is what young player is impressing. Who takes a big step in bowl workouts that feature plenty of fundamentals and development work? Shoop has been impressed with junior college transfer Jonathan Kongbo, who will help anchor a defensive tackle rotation that no one saw coming back in October.
"I think one of the guys who has stepped up and played exceptionally well over the last few weeks is Jonathan Kongbo," Shoop said. "I have said that to you guys throughout the course of the season. I think we put some unrealistic expectations on him. A kid from Vancouver, British Columbia by way of Larmie, Wyoming by way of Yuma, Arizona coming in to the SEC. He's stepped inside he's played his best football at the end of the year and he has practiced really, really well. I'm excited to see him. Kendal Vickers has been a warrior throughout the season. Kyle Phillips continues to play inside. Quay Picou continues to be n the rotation as well. We are going to go with the guys we have got. It's like I said, it's not like the NFL where you have a practice squad of guys or you can get guys off the waiver wire. These guys have practiced really well. They understand the game plan and we are looking forward to playing our best."
Respect and tributes
Friday, Tennessee will wear their Smokey Gray uniforms to honor the victims of the wildfires in and around Gatlinburg. Nebraska will also wear a mountain tough sticker on their helmet honoring those victims. The Vols will also wear an SF27 sticker paying respects to Nebraska punter Sam Foltz who was killed in an auto accident on July 23.
"Aaron Medley had first initially come to me to do it and we had already made the decision to do that," head coach Butch Jones said. "It's all about life and the respect that we have. I think that's what college football is all about. I don't know that there are two other teams in the country respecting each others programs like Tennessee and Nebraska is doing."