Hurd transferring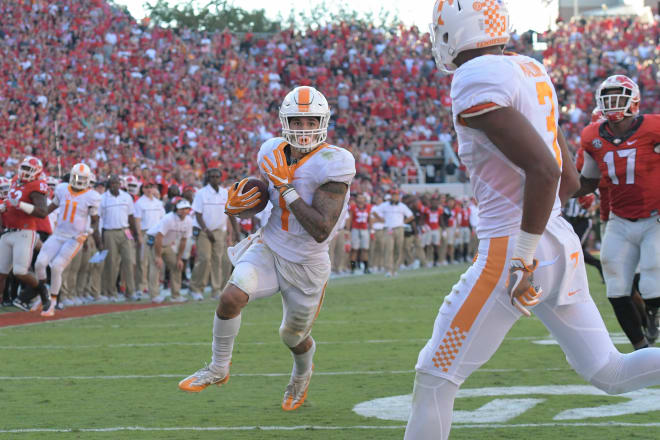 Just two months ago the 2016 season seemed to be one that was full of promise for both Tennessee as a whole and junior tailback Jalen Hurd individually. Optimism abounded for what many thought had the makings of a storybook season for both the player and the program.
Hurd began the season within easy striking distance of Travis Henry's all-time rushing record at Tennessee needing just 891 yards to own the record. The Vols themselves were heavy favorites to win the SEC East and return to championship game in Atlanta for the first time since 2007.
Fast forward to Halloween, and it's an understatement to say that things haven't worked out the way many envisioned.
Tennessee is mired in a three game losing streak and the program is suddenly engulfed in a storm of rumors concerning Hurd's status within the program.
Sunday evening/Monday morning saw a firestorm of speculation erupt speculating that Hurd was poised to transfer following a contentious team meeting on Sunday evening.
On Monday afternoon, Butch Jones, addressed the rumors.
Jones indicated that he met with Hurd on Monday morning and the former five-star told the head coach that he planned to transfer out of the program.
After beating both Florida and Georgia in the same season for the first time since 2004 the Vols controlled their own destiny in the SEC East race. A three-game losing streak, capped by a demoralizing upset at South Carolina this past Saturday has thrown that once promising season into disarray.
On a personal level, Hurd's year has been a reflection of the frustrating nature of the Vols' season.
It started at Georgia when an apparent injury, suffered when he fumbled away an apparent touchdown as he was about to cross the goal line, sidelined him for the majority of the second half, then kept him out of the subsequent game, an overtime loss at Texas A&M.
He played sparingly against Alabama the next week but after an open date, seemed healthy going into the South Carolina game. His presence in the backfield was critical with Alvin Kamara sidelined with a knee injury.
Hurd played the first half against the Gamecocks but didn't play a snap in the second half in the loss and didn't return to the field in the fourth quarter of a close game.
His absence, minus the appearance of a play where he suffered an obvious injury, immediately fueled speculation that issues beyond his health had kept him on the bench.
Jones confirmed those rumors during his Monday press conference, adding that he 'wished the young man nothing but the best.'
Hurd finishes this season with just 451 yards rushing and a 3.7 yard per carry average after gaining 1,288 yards as a sophomore.