Impact Analysis: Jaylen Wright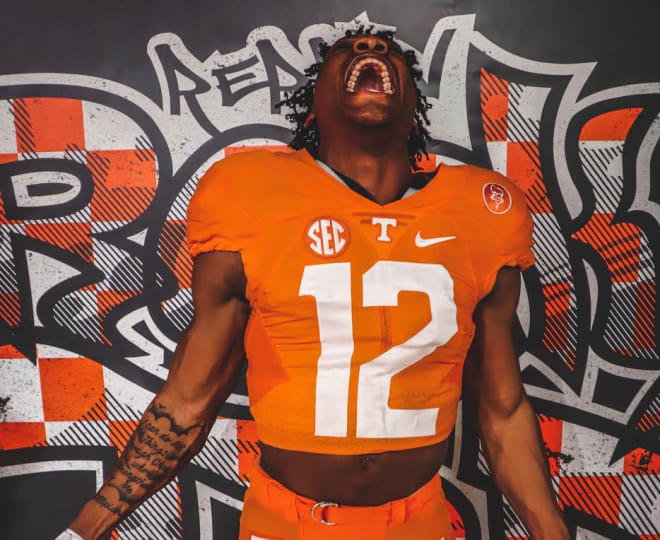 While the recruiting world is in an unusual dead period thanks to the coronavirus, Tennessee received some good news Monday from a prospect who visited just before the COVID-19 outbreak.
Coveted playmaker Jaylen Wright committed to the Vols over FAU, Arizona State, Miami and others.
The 5-10, 185-pound North Carolina speedster becomes the eighth member of Tennessee's 2021 class — and second player from the Tar Heel State.
Here's a look at what Wright's addition means…
SCOUTING REPORT
"He brings excitement. Man, anytime he touches the ball, if there's a lane there, it's going to be a touchdown because of his speed and his explosion. He's got great character and is going to be a great teammate whoever he's with at the next level. He's a 'Yes sir, no sir kid.' He's going to be great in the class room, too. He brings a ton of elite level ability.
"He's been a varsity player for me since he was a freshman. I saw his ability coming out of middle school. In his freshman year, he showed a lot of that ability and then got better his sophomore year. Then as a junior, if there was a seam, it was over. Everyone just might as well just stop running because you weren't going to catch him. His vision and his ability to cut-back against the grain and find open field has improved tremendously."
— Darius Robinson, the head coach at Southern Durham
HOW DOES WRIGHT FIT IN WITH THE VOLS?
Tennessee recruited Wright as a playmaker — someone capable of lining up in the backfield or out wide.
The Southern (N.C.) standout is one of the fastest prospects in the 2021 class, clocking a blistering 6.29 indoor 55-meter dash in December — at the time the fastest track time in the country. He was a state champion in the event last year, too.
On the gridiron, Southern had four guys register at least 35 carries in 2019, with Wright leading the team with 89 rushes for 901 yards — 10.1 yards per carry — and five touchdowns. He displayed solid hands, too — although he had just six receptions as a junior.
New Tennessee running backs coach Jay Graham pitched Wright on the idea of filling a similar offensive role as Dalvin Cook or Devonta Freeman at Florida State — lots of outside zone runs, cut-back opportunities and screen passes.
Wright could play early for the Vols, as his speed will be hard to keep on the bench.
WHAT DOES WRIGHT'S ADDITION MEAN FOR TENNESSEE?
For one, the Vols did a nice job getting in early on a prospect who could explode onto the national scene as a senior.
All noted caveats with the impact of COVID-19, but Wright is the type of player who stands to draw attention from local schools like North Carolina and NC State with a big 2020 year.
"People don't realize how good he is," Robinson said.
"Throughout this whole process, I told Jaylen to be patient. He was just wondering when his opportunity was going to come.
"I told him the only difference between you and these other guys getting stars is they have over 2000 yards rushing because they have all the tools — big o-lineman across the board opening lanes. In open space, I told him, you've proven you're just as good as the Will Shipley's and all the other guys ranked higher than you in your class. He's just as good as explosive and as great as they are."
Wright's addition is also another sign that the Vols are serious about planting an orange flag in the Tar Heel State. With Graham back on staff, Tennessee is aggressively chasing targets in North Carolina, as well as Virginia and the DMV. Wright joins defensive lineman Isaac Washington as North Carolina natives in Tennessee's 2021 class, with targets like Jahvaree Ritzie, Raneiria Dillworth, Travali Price, Kaemen Marley and Payton Page still on the board.