Tennessee's QB quagmire: Can Vols truly move on from Jarrett Guarantano?
GAINESVILLE, Fla. — It only took seven days.
It was just a week ago that Tennessee head coach Jeremy Pruitt bristled at critics who had questioned the play of quarterback Jarrett Guaratano to start the 2019 season.
"You guys give yourself more credit probably than you deserve. The rest of us ain't really worried about what you say when it comes to our quarterback," the head coach who has spent all offseason building up his redshirt junior signal caller quipped.
"Jarrett is our quarterback. He will be our quarterback until we decide that he's not."
Two quarters into Saturday's 34-3 blowout loss to Florida, Tennessee's head coach made that choice.
The Vols are 1-3 for the first time since Philip Fulmer's last season roaming the sidelines on Rocky Top, and while poor quarterback play isn't the sole reason for their rancid record, it's a big part of it.
Guarantano was bad again Saturday, throwing two more interceptions and displaying a fragile confidence at the first sign of adversity, ultimately getting benched at halftime. He returned to play a couple series later in the blowout, but Pruitt's message had been sent.
"Obviously, it hurts to be told you're not gonna go out there and start. It hit (Jarrett), but I think it also put him in the right mindset that if he don't get his head together, things are gonna go this way," senior wideout Marquez Callaway said.
Things certainly went badly for No. 2 in The Swamp and it's unclear how Tennessee plans to make things better at the position moving forward.
Outside of seven passes against an FCS patsy, the Vols can't complete simple throws. The big plays are being wasted, too, and quick reads have turned to indecisive sacks and interceptions.
"We have not got great play from that position, in my opinion, in three out of four games. I believe in the guys in the room. We have to play better there, for sure," Pruitt said.
"I feel like we have some playmakers on offense, but for the ball to get to those guys, it has to go through a quarterback."
He later added, "It's a production-based industry. So who competes the best at practice, who plays the best the last game, you just kind of work on it and see."
So about that ringing endorsement last week!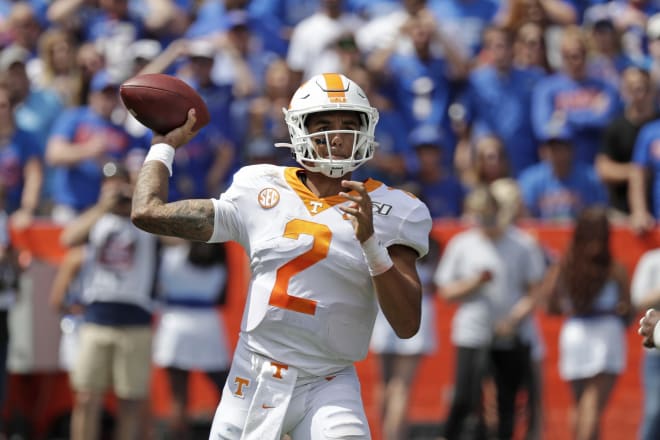 After Guarantano threw a career-high three touchdowns against Chattanooga last weekend, Tennessee decided to come out throwing against UF's banged up secondary Saturday.
And it worked. Initially.
Guarantano started the game well, going 5-of-6 for 40 yards. But when Jauan Jennings let a ball go off his hands for a red zone interception — ironically saving Guarantano from that very result with a tipped touchdown two weeks earlier against BYU — Tennessee's quarterback never recovered mentally.
On the next series, the Vols got a delay of game penalty coming out of the second quarter.
"I mean, how many times have you come out of a quarter or a timeout? He's played a lot of ball to make that mistake, right?" Pruitt said, miffed.
It would only get worse, though.
On the very next play, Jim Chaney dialed up a home run call and Guarantano not only saw Dominick Wood-Anderson late uncovered streaking down the middle of the field but he threw the pass to Jacksonville when an arm punt in the same area code would've resulted in a big play.
Rather remarkably, Guarantano actually responded with one of the best throws his career two snaps later, rifling a 20-yard seed to Jennings while getting blasted from the blindside.
But the good vibes didn't last long. Guarantano threw the ball right to Marco Wilson for another interception when he thought Florida was in 2-man coverage despite Callaway correctly reading Cover-2.
"You know, we've got them confused in empty (set), got a guy running wide open for a touchdown, no pressure, miss a throw. Then we throw a ball into trap coverage and give them the ball on our side of the field. Those mistakes we can't make," Pruitt said.
"We've got some good football players on our team, and I think Jarrett's one of them. I think he can be a really good player, but our best players have got to play good."
One of the many the problems — and hard truths — for Tennessee as it ends a depressing month of September is that Guarantano remains its best option behind center. Sad perhaps, but true.
Brian Maurer is not the heir apparent. He can't save the season.
While the Vols got a brief spark from Maurer in the third quarter, the freshman showed why Guarantano hasn't been pushed for the job all offseason. Maurer has skills, but he's limited. His aggressiveness is admirable but is as worrisome as Guarantano's turnover issues.
"Brian come in and did a couple of things. He had a really good drive right down the field," Pruitt said. "But right there at the end he kind of threw a ball into triple-coverage. If he throws it on the other side, it's probably a walk-in touchdown."
The best — and only? — hope for Tennessee to even think about salvaging this season is for Guarantano to become the very quarterback that made Pruitt emphatically state, "That's my guy" for six months.
Give Maurer a package. Run the ball more. But the bye week must be focused on finding a way to get JG right.
"It's the thing about playing quarterback, right? I think Jarrett's got lots of ability to be a really good player, and I've said that over and over, but there's times you kind of got to take the bull by the horns and say, 'Let's go.' Go make some plays and you've got to have an impact on the people around you," Pruitt said.
"And that's one of the things I've been talking to him about: You've been around those folks, whether it's playing sports or in a room, whatever, somebody's got positive vibes that makes you feel good, gets excited about being where you're at and what you're doing. We need a little bit of that."