{{ timeAgo('2020-05-16 07:33:48 -0500') }}
football
Edit
Jimmy Calloway eyes opportunity as freshman for Vols
Tennessee 2020 signee Jimmy Calloway was one of the first members of the signing class with an April commitment last year, but the four-star was deemed a 'win' for Jeremy Pruitt when the wide receiver held on to sign with the Vols back in December.
Florida was trying to talk Calloway out of signing early and the Morrow, Ga. native was seriously considering Kentucky up until the final days before the December signing period.
"I really felt a connection with the Tennessee coaches early on and started building a relationship with other commits," Calloway told Volquest. "There's a lot of room for improvement but there's a lot of hype coming into it.
"I wanted to be a part of something like that."
The 5-foot-11, 165-pound receiver held around 20 offers when it was all said and done but bought into what Pruitt was preaching during the recruiting process. Calloway admired his soon-to-be coach's experience. Pruitt's plan at the time and how he related to Tee Martin along the way were all key factors.
"He didn't treat me like a recruit. Rather, he treated me like a friend and always had what was best for me in mind," Calloway said of Martin. "It's really a once and a lifetime opportunity to go and learn from a guy who has done it and won at this level."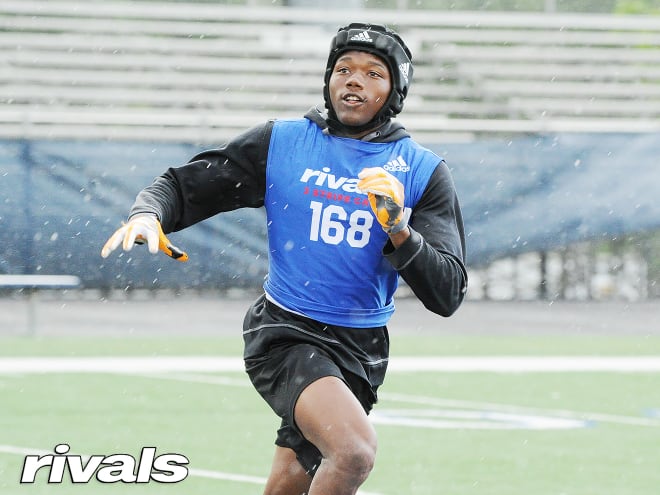 With Jauan Jennings and Marquez Callaway NFL bound, and Tyler Byrd graduated, there is an opportunity for underclassman at wide receiver this upcoming season.
Calloway - along with fellow 2020 signees Dee Beckwith, Malachi Wideman and Jalin Hyatt - will be charged with adding depth to a slim position group come fall.
"I'm trying to come in and take advantage of this opportunity. I'm taking the time now to get in shape and learn the plays, so I won't be behind once I get on campus," Calloway said. "I haven't talked to the other receivers who signed a whole lot, but hopefully we can all come in, get on the same page and make some big things happen.
"I have checked out some of their highlights and stuff they have been putting on social media. They can ball for sure."
Calloway finished as a Rivals Top 250 prospect in the 2020 cycle and the 19th-ranked player out of Georgia. The Vol signee is also encouraged with what the Tennessee coaching staff is doing on the recruiting trail right now as the 2021 commitment class continues to grow.
"Everyone is starting to believe in the process," Calloway said. "Hopefully with what we are building here early, we can finish up inside the top-three when it's all said and done."
With the coronavirus pandemic's fluid situation, Calloway is preparing now for when he's allowed on campus to begin his Volunteer Journey. June 3 was supposed to be his original move-in date for summer classes and workouts. With a vote next Friday that could still be the date but right now a move in date is not set in stone.
The new Vol and the rest of the Tennessee football team will begin taking online classes and train for when the time eventually comes to return.
"I really feel good about it all," Calloway concluded. "I think it's going to be a fun season ahead."
Q & A with Tennessee 2020 Signee Jimmy Calloway
Favorite football memory? "It was my sophomore year and we were down by 26 in the fourth quarter. I ran two touchdowns back on kickoff return to bring us within a point. We ended up losing by a point, unfortunately, but I finished the game with around 300 yards rushing and four touchdowns."
What's on the playlist? "NoCap, YoungBoy, Lil Baby."
Favorite athlete? "Michael Vick"
Favorite pro team? "I don't really follow the NFL that much, but I guess I'd say the Eagles."
Go-to pregame meal? "Starburst and sunflower seeds. I don't really eat a lot before games."