Johnson's success is what fresh starts are all about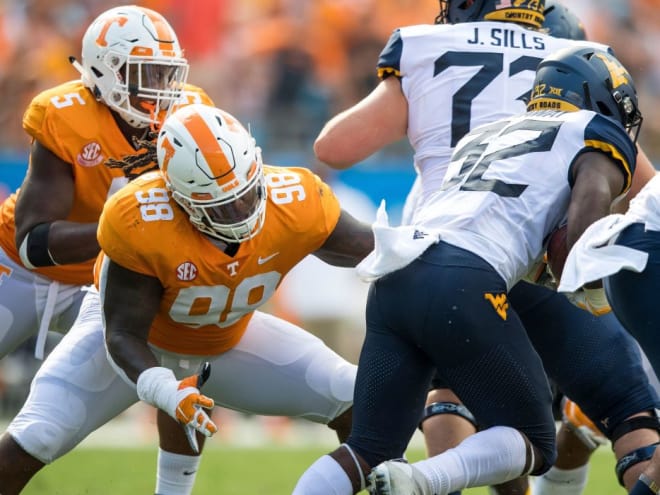 This week, plenty of stories have been written about wide receiver Jauan Jennings and his second chance. It's a classic Phillip Fulmer story.

Tennessee's AD has spent most of his life believing there's good in kids. He's taken plenty of heat throughout his career for giving guys second and third chances. He's also been proven right plenty of times because that player getting the second chance has rewarded Fulmer by helping the Vols and becoming a good citizen.
Jennings' return is a good story, and I will admit seeing video of him finding Fulmer after the Auburn when was a really nice moment.
However, Jennings is not the only feel/good story on this Tennessee team. In fact, Jennings might not be the best story. In my opinion, the story of Alexis Johnson's rise from no-mans land to valuable starter is arguably the best story on this team.
Jennings has talent. His only issues have been himself. There's never been a question regarding Jennings' ability to play.
But Alexis Johnson was an afterthought for everyone heading into the 2018 season. And why not?
Before this season, Johnson had 14 total tackles in 12 games played as a Vol. Five of those came in mop up duty against Vanderbilt last season.
Through six games this season, Johnson has 28 tackles, 3.5 tackles for loss and a sack. The senior spent Saturday harassing Auburn's Jarrett Stidhem, forcing him into an interception and a fumble. Pro Football Focus had Johnson with four pressures, a sack, and a quarterback hurry.
"The light has definitely come on for Alexis," fellow senior Kyle Phillips said. "He has improved so much throughout his career here. He battled a few injuries when he first got here. But I'm glad he's healthy and he's playing his best football now. We are going to need him to continue to do that."
So how does a guy who couldn't get meaningful snaps last year go to being the Vols best defensive lineman?
Simple. A fresh start.
"I feel like I have waited my turn and now I'm just taking advantage of it," Johnson said. "It's always frustrating when you aren't getting your turn. But it's fine, I'm getting it now. I'm good."
Johnson credits defensive line coach Tracy Rocker for the growth in his game and his confidence in himself, calling Rocker a "good mentor" on and off the field.
Johnson's story is not exactly unique and it's why I love sports. You simply never say never. Who doesn't enjoy seeing a forgotten guy come out of nowhere? In a day and age of win now and judge quickly, fresh starts can be just what the doctor ordered. It what it's leading a lot of student athletes to transfer. Johnson's fresh start didn't come from a new zip code, it came from a new scheme, new coaches and a clean slate.
Johnson's story actually reminds me of another feel good in orange story of a fresh start. It makes me think back to 2009 when a guy name Dan Williams found his confidence when a new coaching staff found his game.
Williams had bounced around from defense to offense early in his career and had played a small role for three years. As a senior, Williams had 62 tackles and 3 sacks. His play earned him second-team All-SEC honors, and a first round draft pick. The Memphis native played seven years in the NFL, recording 221 tackles.
Johnson's play the first half of the season has him on the radar of some NFL teams. At 6-3, 314 pound with a quick first step, Johnson will get plenty of looks. The NFL always needs big bodies.
If Tennessee is going to get to six wins and a bowl game, they need Alexis Johnson to finish the year with a Williams like flurry. If he does his stock will continue to rise. A stock that didn't exist before a final year fresh start.