Jones clouds QB picture; Worley unlikely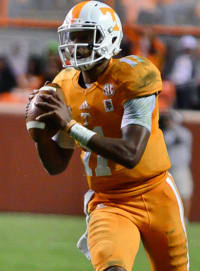 Butch Jones took the podium for his weekly press conference Monday afternoon and immediately started to go through the motion of doing his best to cloud the picture around his quarterback depth chart.
After Josh Dobbs came off the bench to spark the Vols' offense in Saturday's 34-20 loss to Alabama, fans have been loudly clamoring to see more of the sophomore under center.
With Dobbs at the helm for all but the first two series of the game on Saturday the Vols produced 383 yards of total offense, including 181 yards rushing against the No. 1 defense in the SEC. That's the most total yardage Alabama has given up this season and the most yards Tennessee has gained on the ground vs. the Tide since 2010.
Dobbs himself produced 75 yards rushing on 19 carries, the highest individual total for a Tennessee quarterback since Tee Martin in 1998.
All of that looks pretty good on paper, to say the least. But not good enough for Jones to name Dobbs his starter on Monday of South Carolina week. The head coach cloaked the position in mystery by bracketing all three scholarship quarterbacks, Dobbs, Justin Worley and Nate Peterman, as starters on this week's depth chart.
"We're going to try to really up it with Justin this week in practice on Monday and Tuesday to see where he's at. Everything is about competition. Obviously Josh did some very good things running the football, managing the offense. He'll continue to improve but I want competition. Playing quarterback at Tennessee is earned," Jones said in addressing the inevitable questions regarding his refusal to name a starter.
"Again, those three individuals; Nate (Peterman), Justin (Worley) if he's able to go and Joshua ... we'll name a starter when we need to but we're in no rush. Depth charts are a thing of the past, they've gone out about 10 years ago."
As for Worley, Jones said what he needs to see from his senior in determining his status this week is simple.
"Velocity, the velocity in his passes. Is he able to execute all of the throws that we ask him to," Jones said of what Worley has to show.
The head coach added that even if Worley is healthy enough to return this week it 'doesn't assure him that he's going to start.'
Close observers of Jones and his history of handling injuries will take that assessment with a grain of salt. Worley's health remains something of a mystery, and as a senior, if he shows he's recovered he deserves a chance to play. Nonetheless, there's no real expectation that Worley will play this week and it's unlikely Worley can rehab the injured shoulder enough to return this season. It's possible Tennessee could petition the NCAA for a medical hardship redshirt for Worley, who has never had a redshirt-season at Tennessee and also never even took an official visit anywhere during the recruiting process.
[rl]
However, regardless of Worley's status, it's difficult to consider Nate Peterman a viable option any longer after what he's done in limited opportunities fall (10-of-19 for 39 yards, nine carries, 11 yards, one fumble). That's particularly true when contrasted with Dobbs' production against Alabama.
There's almost certainly more than a little gamesmanship involved with Jones' behavior. At least that's going to be the hope of most fans. Many of whom have been loudly agitating to see a mobile quarterback--such as Dobbs--in Jones system, which features a good deal of zone read action.
In the minds of many, naming Dobbs the starter after his 19-for-32 for 192 yards and two touchdown performance seemed like a foregone conclusion.
Not, apparently, in the mind of the head coach though. At least not when it comes to his public comments on the topic.
"Josh will continue to get first team reps, but I also have to guard against crowning individuals. I know everyone's excited and they're looking for positive things and there are a lot of positive things, but that's one game. When you start watching the tape--and Josh would be the first to tell you--there's a number of plays left out there, a number of opportunities left out there," Jones said of the thinking behind his decision making at the quarterback spot.
"So now, how can he transition from game one to game two; the fundamentals, the fine details, the command presence we expect. He's going to continue to need to develop and show growth. He's not by any means a finished product, but I did like some of the things he's done. I thought Nate Peterman had a very good week of preparation too and we'll see what kind of progress Justin makes."
It's also worth noting--and many have--that playing the more mobile Dobbs seems like an added benefit because of the Vols' well-documented troubles along the offensive front.
Tennessee entered the Alabama game having surrendered 30 sacks in seven games. Against the Tide the Vols gave up only two, and the only one recorded against Dobbs came on the next to last offensive snap of the game.
"First of all you have to give your offensive and Mike Bajakian credit, they put together a very good game plan and a very challenging game plan because they had three different plans for three different quarterbacks," Jones said of the rushing numbers Dobbs produced.
"Obviously some of the things we did with Josh alleviated some of the stress and pressure on the offensive line just because of the dual threat, different gap schemes and things. But those have always been in our offense so it's a combination of the scheme, of being able to run the quarterback a little bit. Nate (Peterman) can do the same thing when he's in the game."
OTHER INJURIES
Jones ruled out fourth-year defensive tackle Trevarris Saulsberry, who injured his left knee in the second half against Alabama. Saulsberry has been limited to just five games this season due to injuries; he has five tackles. The Gainesville, Fla., native was first injured Aug. 16 in the Vols' open practice inside Neyland Stadium, and he did not make his season debut until Tennessee's Sept. 27 game at Georgia.
Saulsberry was "in a lot of pain" Saturday night after the injury, which forced trainers to remove the cumbersome brace for more evaluation.
Additionally, sophomore wideout Josh Smith remains out following his leg injury, and Smith may be a candidate for a medical redshirt season, per Jones. The Vols' head coach made clear that a hardship redshirt remained an "option" as Tennessee moves forward.
Jones said he expected guard Marcus Jackson to have a chance to return along the offensive front, and he also said right tackle Coleman Thomas was ahead of schedule --- though Thomas remains unlikely to play this week at South Carolina. Jones said Owen Williams, who recently underwent thumb surgery and was banged up against the Tide, would be available this week.
Devrin Young's return, it was indicated to VolQuest.com, also remains questionable this week. The senior scat-back/return specialists is recovering from broken ribs suffered earlier this month.