Sources: Taylor suspended indefinitely following practice field altercation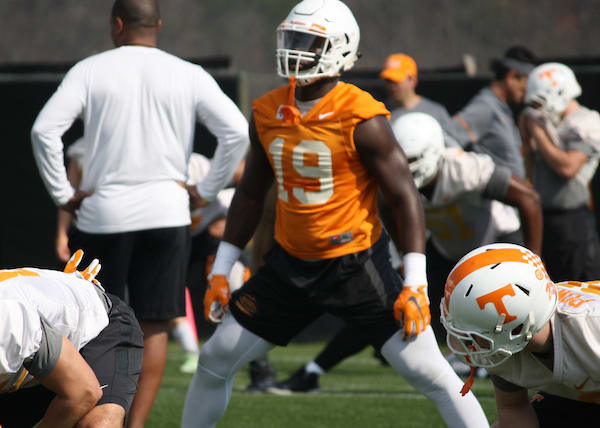 Tennessee head coach Butch Jones has suspended defensive end Darrell Taylor indefinitely following a Thursday morning fight on the practice field, per multiple sources.
Taylor and freshman offensive lineman Trey Smith got into a scuffle at practice last Thursday, with Taylor kicking Smith in the face. The blow required Smith to receive stitches.
After being ejected for fighting in the second half against Georgia on Sept. 30,Taylor was already suspended for the first half of Saturday's game against South Carolina but Jones has extended the suspension indefinitely following is actions Thursday morning on the practice field.
Smith is not expected to miss any gametime.
Fights happen on the practice field, but when one player sends another to the doctor for stitches it beckons the question about team chemistry. Last week, tight end Ethan Wolf said there were no locker room issues.
"We have been in this position before and it's not a fun position to be in, but we have never had any type of conflict in the locker room in the past and we don't now. Everyone is on the same page," Wolf said.
Tennessee returns to the practice field this afternoon to resume preparations for South Carolina. Butch Jones meets the media for is weekly press conference at noon.