Joseph Norwood no longer a Vol, headed for MTSU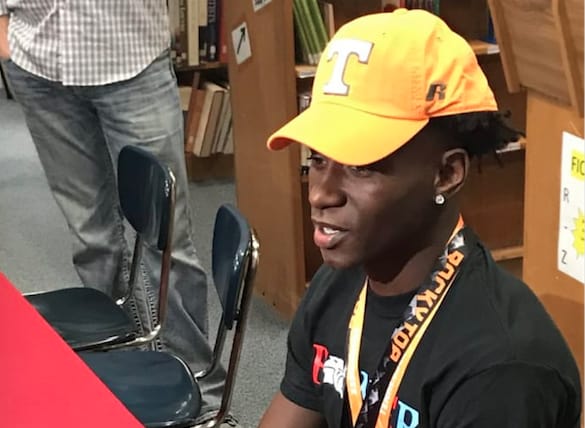 Joseph Norwood committed to Tennessee on National Signing Day, but in the end, the 2018 Chattanooga Brainerd (Tenn.) defensive back won't be a part of Jeremy Pruitt's inaugural class.
According to multiple sources, Norwood was advised to seek other options and will now play college football at Middle Tennessee State University in the fall.
Norwood, whose Twitter account lists 'MTSU football '22 in the bio, was unable to be reached for comment.
The 6-foot-2, 175-pound defensive back was actually set to sign with MTSU on February 7, but received an 11th-hour call from the Vols that he had a spot in the 2018 class. Tennessee liked Norwood's raw athleticism after one season playing defensive back, where he had 107 tackles, 10 TFLs and 5 INTs. He was also a state champion long jumper.
Norwood wouldn't sign a LOI with the Vols, but he would be a blue-shirt for the 2018 class and arrive in the fall. However, Tennessee's plans have since changed, and the Blue Raiders never stopped recruiting Norwood.
MTSU became a natural landing spot for the in-state defensive back who also held offers from UMass, Chattanooga, Costal Carolina and others.
Meanwhile, the Vols have continued to fill out their 2018 class with grad transfers and late additions. Two weeks ago, Trinity Valley Community College corner Kenneth George Jr. committed to the Vols. Tennessee has also added Stanford grad transfer quarterback Keller Chryst and Michigan State grad transfer running back Madre London.
They Vols have also hosted Stanford grad transfer corner Terrance Alexander, who could pick between Tennessee and LSU soon.