JUCO DL Elijah Davis has a productive first trip to Knoxville
South Carolina native and East Mississippi defensive lineman Elijah Davis picked up an offer from Tennessee earlier this spring. Defensive line coach Rodney Garner was by to check on him multiple times last month and Davis returned the favor with a visit to Knoxville over the weekend.
"It was great," Davis said. "I loved the facility. The coaches were great and I had a good time here. It was a fun day."
He and his family were very impressed by Knoxville. He loved everything about it, but one thing did catch his attention more than the rest.
"The people stood out," Davis said. "There was a really good vibe. Everyone was having fun. There was a lot to do and see. Coming from Scooba where I am now, there is not much. Just a really good place here."
Garner, a 30 plus year veteran in the SEC, is as driven and hungry now as he ever was. He likes Davis a lot and believes he can get the most out of his potential.
"He's a really good guy," Davis said. "He's really taught me a lot just over the phone really. I think I could learn a lot more from him and I think he could develop me and get the best out of me.
"He really wants me to be me. He said he really needed me."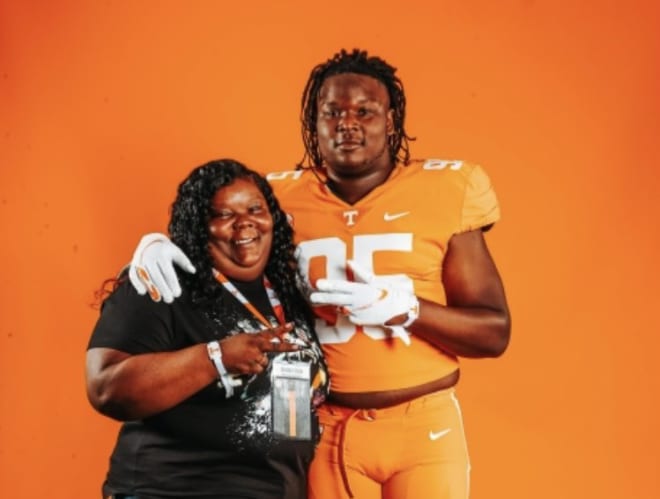 So where does Tennessee stand for the interior defensive lineman?
"They are one of the top teams," Davis said. "Just the coaching staff and coach G really is why. My family came with me and they loved it which is good."
A former standout at Waggner-Salley high in the Palmetto state, Davis has Ole Miss, Alabama, Georgia and others pursuing him. He actually been to Knoxville once before, but this trip was wildly different.
"The last time I came was in high school and I didn't get to see much," Davis said. "I'm seeing it now and it's really great."
A laid back atmosphere had different twists on a recruiting visit with scavenger hunts, golf and a talent show. There was also the traditional photo shoot where Davis knew which combo he was going to put on when he entered the room.
"I went all orange," Davis said. "I just like the orange."
Davis will head to Ole Miss this weekend. He plans on getting to Alabama and others, but he wants to wait before taking an official visit.
"I want to wait until the season to take my officials," Davis said.
Davis said he will visit Tennessee officially later in the year.