Kamara to miss "couple of weeks"; Sutton on track to return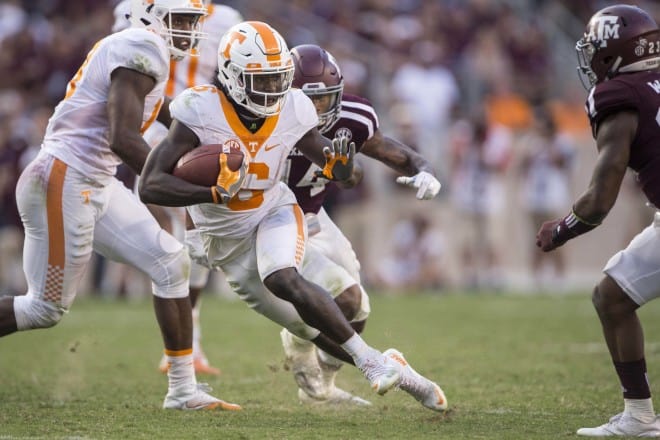 In his weekly press conference, head coach Butch Jones said Monday that running back Alvin Kamara has gotten encouraging news regarding his knee injury.
Jones said Kamara will miss this week for sure and they hope to have the running back return to the field in the "next couple of weeks."
"I'm very, very encouraged with the progression of Alvin," Jones said. "He won't available this week, but everything that has come back right now, we do anticipate him being back in a couple of weeks. That is very, very encouraging. I know he is upbeat and positive. Now how does the body heal, but as of right now he does not need surgery and we are anticipating him being back here in the next week or two."

Kamara was injured on a first quarter punt return against Alabama injuring his LCL in his knee. Kamara had an MRI last week and had it viewed by multiple specialist including Dr. James Andrews.
Jones said that after all the evaluations Kamara doesn't need surgery and this point and that he will be available down the stretch.

Sutton on track to return
After breaking his ankle in the Ohio game and having surgery, cornerback Cam Sutton hoped to be out 6-8 weeks.
Sutton had surgery 6 weeks ago and Jones said Monday that he is encouraged that Sutton will return to the field sometime in November.
"I'm here to tell you everything I'm being told, he will only be out for a couple more weeks," Jones said. "So we are anticipating him being back. So when they see the work ethic of a Cam Sutton everyday living in the training room every day. He is willing himself back to be ready to play and as of right now all roads lead towards that. That's very encouraging."

Kirkland returning; more injury notes
Jones said he anticipates his team to be pretty healthy this weekend. Several players are expected to be in green non-contact jerseys, but Jones said his team is getting their health back.
Tennessee feels that Darin Kirkland, Jr. will play for the first time since the Virginia Tech game. Jones also said Dylan Weisman and Malik Foreman and when asked about the offensive line he said, "Most of those guys," will be back at practice this week.
"All of those individuals will be back at practice today," Jones said. "Some will be in green jersey's but they have worked themselves back into practice. I'm very encouraged that Darin Kirkland is going to play in this game. He has worked hard. He was questionable for the previous week, but wasn't just quite ready to go. I think with that week off and obviously the work week, we are anticipating him being ready to go. Offensive front wise, everyone should be back ready to go. We are going to gain alot of these players back. Malik Foreman will be back and practice today. We will see how much he can do. It's a testament to them, their work ethic and their internal drive to get back on the field for us."

Offensive linemen Brett Kendrick and Chance Hall both missed a majority of the Alabama game.