Kirkland Jr. out for the season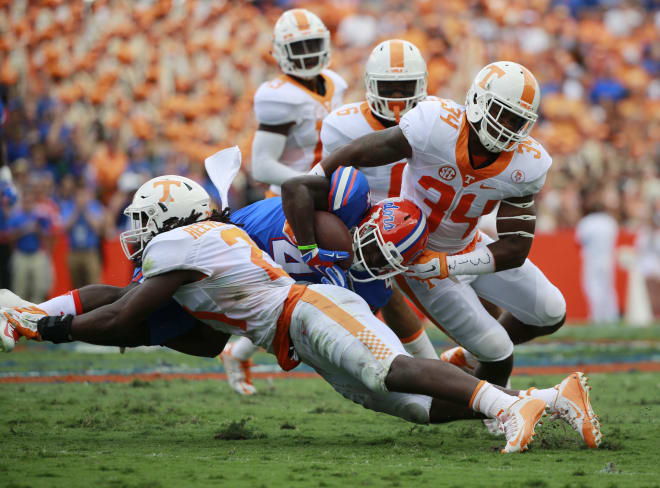 After suffering a non-contact knee injury a week ago today, sources tell VolQuest.com that junior linebacker Darrin Kirkland Jr. will miss the entire 2017 season following the results from Wednesday's surgery.
Doctors repaired a torn meniscus in Kirkland's knee Wednesday. By repairing the menicous instead of removing it, the junior's recovery time is pushed back from several weeks to potentially several months.
"It was one of those bizarre things that happens in football," Vols coach Butch Jones said earlier this week. "It was non-contact."
Kirkland has battled injuries since signing with the Vols before the 2015 season. After arriving as a mid-term enrollee, the Indianapolis native suffered a torn pectoral muscle costing him his first spring on the practice field.
He rebounded to have an All-Freshman campaign in 2015, recording 66 tackles, six TFLs and three sacks in 10 starts. As a sophomore last season, Kirkland missed five games due to a high-ankle sprain suffered against Virginia Tech in Week 2 and finished the year with only 45 tackles.
With Kirkland sidelined indefinitely, Tennessee's middle linebacker duties fall to Colton Jumper with sophomore Daniel Bituli and freshman Will Ignont as the backups.
On Thursday, defensive coordinator Bob Shoop said the loss of Kirkland was tough for his defense, but he was more worried about Kirkland than anything.
"We can't dwell on DK not being there," Shoop said. "I feel worse for him than for anything else. Here's a guy who has worked really hard. He came back for the bowl game and played well. He had a good offseason and put himself in position to take the next step as a player. Injuries are part of it. We have dealt with it before."