Lewis' Project Elevate aimed to help make goals a reality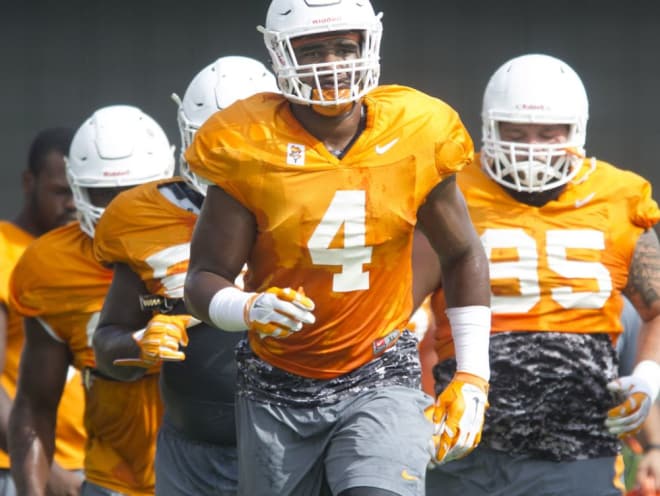 What started out as a one-time stop to read to school children has grown into so such more.
Tennessee defensive end LaTroy Lewis and a number of his teammates spent their bye week Saturday helping put on Hero Day through Project Elevate, a non-profit organization Lewis is in the process of setting up to mentor and educate youth in Knoxville, Tenn.
It is the culmination of three months of work and planning by Lewis, who was impacted by the community around Lonsdale Elementary School, where he first volunteered to read to kids in January.
"This is a spectacular community and I work with these kids in the school every week," Lewis said. "They're really bright and amazing kids. I always tell people I don't know if I'm working with the future mayor of Knoxville, the future President or some congressman or doctor. It's good to pour into these kids and show them a lot of different things and a lot of different sides of life."
Lewis' first day of reading turned into a mentorship role and has evolved into the UT fifth-year senior starting Project Elevate, a non-profit Lewis said is designed to "mentor, culture, cultivate and educate children."
And he hasn't be alone. Linebacker Kenny Bynum has gone numerous times to read at Lonsdale with Lewis and Tennessee student athletes from a number of sports — women's basketball, track, baseball and others — were all on hand to help Lewis put on the event. As always, there was Bynum by his side as well as teammates Thomas Edwards, Todd Kelly Jr. and defensive line coach Steve Stripling to name a few.
"You can say 'One Tennessee' all you want, write it on a piece of paper, but it's things like this where you see it — it's visual," Lewis said. "One of the things I kind of steal from coach (Butch) Jones is, 'I hear what you say, but I trust what you do.' Seeing all of them come together to support me and these kids and this event means a lot. It's like one big family."
The organization teamed up with Knoxville's Sevier Heights Baptist Church — who got Lewis involved at Lonsdale for that faithful first day of reading — for Hero Day, an event in service dedicated to the memory of Zaevion Dobson, a former Knoxville Fulton High School football player who was killed in December after shielding two female friends from a drive-by shooting.
"For this community, he serves as a visual hero," Lewis said. "He went to the furthest extent giving his life to help those in his community. If that isn't a hero I don't know what is. It's a great illustration for us to show the kids that he did that, but we can still do our part to help as well."
The day was also a reminder for Lewis of where he came from. An Akron, Ohio native, Lewis grew up in a similar neighborhood, growing up with kids just like the ones he is now mentoring.
"When I come around here and be around these kids, it reminds me of 7-year-old LaTroy that was at my house. And my mom will tell you, the first day I got a football helmet I ran through a wall," he said. "Just knowing that I had goals and I wanted to be something and I was driven, and I see these kids have goals, too.
"For me and my volunteers and the people that help me out, our goal is to help these kids bring it out, write it down and achieve those goals — let them know that a goal isn't just something you talk about but is something you can really do."
Lewis said he hopes to continue helping the community with clothing drives, and wants to one take Project Elevate back to Akron to help better his hometown.
"This is where I'm from, this is what I went through," Lewis. "I hope it continues to grow and we can continue to have events like this."