Memory Vol-T: Cosey Coleman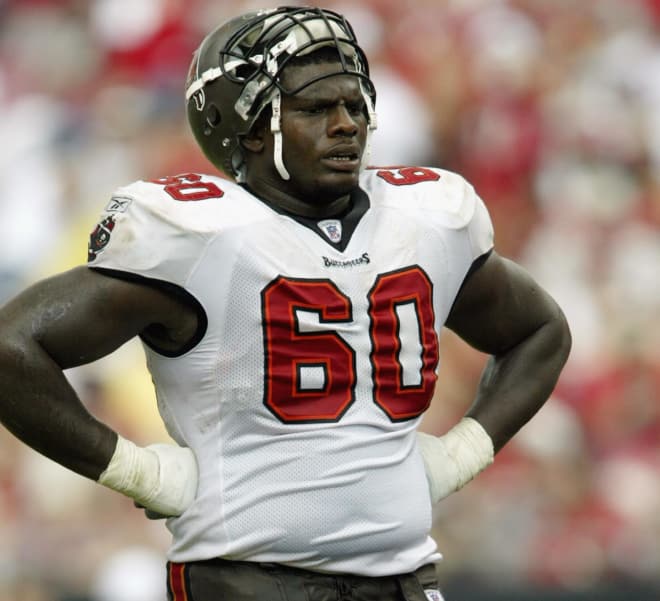 The hymns were sung with passion and love. The message was just what you would expect from a Southern Baptist church deep in the heart of Georgia. It was the night that faith and football intertwined and put Tennessee on the inside track to get offensive lineman Cosey Coleman.
"My mom fell in love with coach (Rodney) Garner first," Coleman said. "I grew up Southern Baptist and that was a big part of our life. He was coming for his visit and it just happened to be church night. That didn't stop him. He said he would see us there and he came and fellowshipped with us and got the visit in all at the same time."
Coleman would visit four other schools besides the Vols, but Tennessee had the last chance to impress and they did just that.
"Peyton had something to do with it and Rodney Garner had something to do with it," Coleman said. "It was my last visit of five visits and the program was upper echelon of the SEC at that time. It was a good fit for my personality. I had some feeling toward Florida, but it wasn't as good of a fit."
Coleman was an instant success on Rocky Top. He played in 35 games during his three year career and started 30 of them. It was Garner, who pushed him early and set the foundation for a marvelous run in the offensive trenches.
"Coach Garner pushed me from the start and pushed me to play," Coleman said. "He wanted the best out of me and he challenged me in a lot of ways. He was very hard on me and we only had that one year together before he went on to Georgia. I kinda hated and loved him at the same time. I was young and he was pushing me in ways I had never been pushed. He brought out the best in me, but at the same time he ruffled my feathers."
Garner would leave Tennessee after Coleman's freshman season and head to Georgia. Some 12 years after getting Coleman to Rocky Top, they were both back in the family church in Georgia. This time for a different and more somber reason, but Garner was still making an impact on the Coleman family.
"My brother passed in 2008 and he came back to his funeral at the same church," Coleman said. "He spoke some words on behalf of my brother and that meant a lot to me."
Tennessee will head for Athens tomorrow and this week was always special to Coleman. He loved to go head to head with his home-state school. And he sure loved to talk. Why wouldn't he? He went 3-0 against the Bulldogs.
"I remember getting almost 200 yards rushing every time we played Georgia," Coleman said. "When I got drafted, their defensive lineman, Marcus Stroud, Richard Seymour all went in the first round. I went in the second round and we had some quality battles, but I justified my stock in the NFL with what we did against Georgia."
And all of those battles could have turned into a dicy situation for Coleman, but all is well that ends well.
"I thought the first time I met Marcus Stroud outside of a football game we were going to fight," Coleman said. "That's how much trash I talked to him. Especially that second year when coach Garner had went there. I knew how coach Garner used to ride me and after every play, I was in his ear telling him, 'Coach G ain't gonna like that' (laughs) and I was a big trash talker. I was non-stop talking and I was all in and bleeding orange."
During his sophomore season, Coleman helped lead Tennessee to the 1998 National Championship. All Vol fans remember the stumble and fumble. And for Coleman, the drive was the essence of execution.
"That was a great drive" Coleman said. "There wasn't a doubt in anyone's mind that we weren't going to score. I remember that drive like it was yesterday. I don't know what took so long, but it finally clicked on that drive. Travis was bouncing off of guys and the crowd was so loud. Neyland had been so quiet when we failed on that 4th down on the drive before. The air was out of the stadium. Then Billy (Ratliff) got on that fumble and the rest was history."
There were many battles for Coleman. Both on the game field and practice field. He loved to compete and relished the chance to go against Billy Ratliff.
"Billy Ratliff was one of the best players I've ever went against," Coleman said. "The thing I respected about him was he was a technician. Having went against both Billy Ratliff and Warren Sapp, Billy had a lot of Warren Sapp's abilities. I put Billy in that same conversation with Sapp, Bryant Young and Leroy Glover. He was that caliber of player and it was unfortunate that his injuries kept him from the next level."
Coleman turned pro following his All-American junior campaign. He was drafted in the 2nd round by the Tampa Bay Buccaneers. Fifteen years later, it's a decision Coleman would change if given a do-over.
"Coach Fulmer's help was tremendous," Coleman said. "I honestly regret not staying in school. Coach Fulmer tried to get me to stay and not in a super persuasive way. He said his peace on it and let me know how he felt. He felt like some of the skill players, as good as they were, were interchangeable and he felt like if Shaun Ellis and I would come back then we were still championship contenders.
"The league was calling my name and I had a lot of things going through my head at that time. I regret not staying and continuing to develop under coach Fulmer. Those three years went by so fast. I remember him telling me I was a waist bender and it took me about three years to figure out what he was talking about. I look back at some of my old film because I wasn't a finished product and I get it now."
Coleman was sitting front and center for the Outback Bowl last January. He also was present at Tennessee's practice during bowl prep. He will head north on I-75 in two weeks and bring his kids for the Alabama game.
"I'll be coming up for the Alabama game in a couple of weeks," Coleman said. "I took my kids to the bowl game and they haven't been to Knoxville in so long, they don't remember. They were so young back then so I want to bring them up and let them check out things."