Pruitt compliments the OL, more notes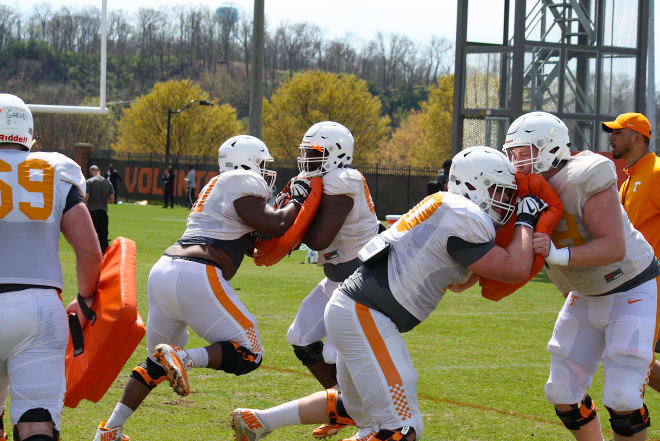 New Tennessee head coach Jeremy Pruitt left Thursday's practice with very little positive to say about what he'd seen from his football team. Two days later, his tone hadn't changed a great deal, though he did offer up a couple of positive observations.

Pruitt has proven to be stingy with his compliments, to put it mildly, when it comes to assessing his personnel. He threw his offensive line a bone today though, singling them out for some notable improvement.
"For the offensive linemen it's a completely new system so there's lots of things we're doing now that they haven't done before," Pruitt said of the challenge facing that group. "It's a learning curve and we've got some new guys out there playing different positions and guys playing multiple positions.
"Guys are working hard at it and today was probably the biggest improvement I saw on the offensive line from practice to practice."
Since the pads went on a week ago Pruitt has pretty consistently mentioned pass protection as being an issue for his group, so it was noteworthy that he had at least some mild praise for the guys up front today.
One thing that didn't have the head coach in a mood to toss around any compliments was what he's seen in terms of ball security from his offense.
That's obviously a two way street, because it means the defense has done a good job of forcing turnovers, but Pruitt left little doubt he'd like to see the offensive side clean some things up in that area.
"It's not been what we wanted. Obviously if we don't turn the ball over we're going to have a chance to win. Sometimes you don't have good ball security but the ball doesn't get out," the head coach said.
"The way you practice the defense has to be a ball-hawking defense, they've got to attack the ball to force the offense to secure it. Probably the two things that most dictate a football game are turnovers and explosive plays. We've got to get the ball on defense, protect it on offense."
HARD TO IMPRESS
If you are looking Pruitt at practice, you don't have to scan the field. You only have to look one place and that's where the secondary is. Pruitt, a defensive backs coach by trade, works daily with the cornerbacks and safeties and it's safe to say the first year head coach is hard to please when it comes to play in the defensive backfield.

"What am I happy with? I'm happy that they show up and come to work everyday," Pruitt said of his DB's. "We have a lot to learn. There's a lot that goes into being good in the secondary. You have to all be on the same page, have to be great communicators, have to have great eyes, have to have awareness, know the down and distance, understand personnel, formations. You have to be a great decision maker.
"The first thing I ask them is if they played baseball. Some did, some didn't, but most of the time if you're swinging at it when it's over your head you're probably not going to be real successful. Gotta get good decision makers."
KEY PIECES OUT
Two key pieces of the Vols' defense this season are likely going to be linebackers Darrin Kirkland Jr. and Daniel Bituli. Kirkland is sidelined for the time being after having arthroscopic surgery while Bituli is doing some work but is limited with contact.

With a new scheme being installed practice time is critical. According to Pruitt's way of thinking, not having that duo available simply creates opportunities for others to take advantage of.
"It's not a setback for us as a team, it is for those guys individually. There are other guys that get opportunities. That's the thing about football, it's a collision sport so there are guys who aren't going to be able to play every week," Pruitt said of not having Bituli and Kirkland.
"We saw it last year where I was at. It happens all over the country, people are going to get banged up. They may miss one game, maybe it's a half, they may miss half a season. So the next guy has to be able to execute and execute at a high level."
The head coach added that he and his staff structure practice in such a way to try and minimize the impact of potential injuries.
"That's one of the reasons that we practice the way we do. It's why we move people around to try and teach multiple positions so if somebody does get hurt we can play the next best football player, not necessarily the back-up."
VFLs, COME ON BACK!
NFL Rookie of the Year Alvin Kamara was back on campus Saturday taking in football practice and spending some time with the Vols' new coaching staff.

Asked for his take on having former players back around the team Pruitt made sure to emphatically hang out the 'Welcome!' sign.
"I think it's good for the program. It's good to get everybody back. Tennessee is a football program that has a lot of pride, that's had a lot of pride for a long, long time. Like I tell the guys, they were playing football here long before we were born and they're going to be playing football here long after we're gone. It's our job to leave it better than we found it and we're going to take a lot of pride in doing that," Pruitt said, obviously warming up to the topic.
"There's been a lot of men over the years that have worked very hard to build this program up. I get it, and I want these guys to come back. I know there's a sense of pride when they come back and I think they like what they see from our guys. Our guys are working hard. We're not perfect but we're working, I can assure you of that.
"I want as many former VFLs back as we can get. It's going to take all of us to get this program back to where it's supposed to be and I think everybody is willing to do that."