Pruitt values scrimmages, spring game to 'find the competitors'
Tennessee hasn't hosted a traditional spring game in years, but that'll change in Jeremy Pruitt's first season at the helm as the Volunteers' head coach.
In the transition to new schemes and different voices, Tennessee's players are being challenged daily and now they'll have three opportunities this spring — two scrimmages and the Orange & White Game — to show their head coach they could be a factor come the fall.
"I want to create a game-like situation for the team to see who the competitors are," Pruitt said Tuesday after UT's fourth spring practice.
"That's one of the things we talked about going into spring practice: Finding the guys who love to compete when the game is on the line. The only way to figure that out is to put them in a game like situation, pick sides and let's go."
What a concept.
Last year, Tennessee was unable to simulate a faux spring game due to a rash of injuries, but even in the years prior, former coach Butch Jones opted to host a convoluted scoring system event rather than just play football.
No more.
Pruitt openly admits he's still learning his team — from the personalities to potential contributors — but he strongly believes the best way to find out who will help the Vols this fall is by turning on the lights, setting the scoreboard to 0-0 and playing 'ball.
Who will prove it on the field? Who will take advantage of the fresh start?
"It's kind of like a test," he said. "You go to class for a certain period of time, you get the information and then they test you on it to see what kind of knowledge you've retained. That's what a scrimmage is.
"To me, when you have the Orange and White game, you add the element when you create a game-like atmosphere. There's a little more excitement, a little more anxiety, a little more pressure, butterflies. Some guys perform better in those situations, some guys perform worse.
"We need to find out who those guys are."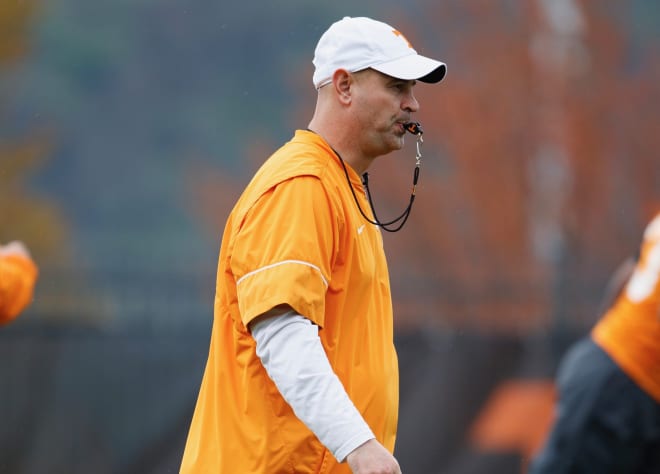 While Tennessee redefines its identity, Pruitt hasn't made players available this spring. Instead, he's doing all the talking while he discovers who he can count on moving forward. Through the first week of camp, Pruitt has gone out of his way not to single out individual players— both by design and reality.
He doesn't know his team yet, but he strongly believes he'll have a much clearer picture following multiple scrimmages. Some guys are gamers. Others may shrink at the opportunity.
"We don't have any starters right now," he said. "We don't have any second or third team guys. We have a rep chart. Everything is being evaluated. There is only so much pressure a coaching staff can put on guys to see how they respond in adverse situations.
"When you go to a scrimmage, I have seen guys that practice really well, then go to a scrimmage situation so it's new and they have anxiety so they don't perform well at the stadium. You have guys that perform fine in all of the practice situations and then go to the stadium and there is 102,000 people in the stadium and they have anxiety there and they don't respond in the right way. Sometimes you find guys who rise to the occasion."
In the last week, Pruitt has made several subtle hints toward UT fans, hoping to fill Neyland Stadium on April 21 for the Orange & White Game.
It's a test for the Big Orange Nation faithful, too.
To best find out what he has at Tennessee, Pruitt plans to simulate a game day atmosphere as close as possible. The Vols will likely stay in a team hotel on Friday night and then do the Vol Walk pregame.

"We want to put guys in adverse situations," he said.
"My goal is to treat it just like it's a game for us. We want to prepare and get used to our expectations because everything is new. Everything is new to what these guys have been accustomed to. I don't want our first time to be when we are heading to Charlotte. We want to get it the way it's going to be the night before a game. That's what we are going to do."