Pruitt has harsh words for those whose effort he found lacking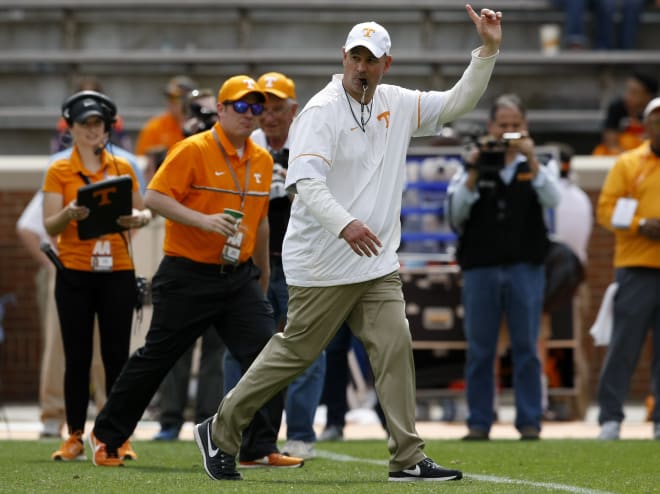 Jeremy Pruitt's first spring practice in Knoxville concluded on Saturday with Tennessee's Orange & White Game and the first-time head coach minced no words in conveying his disappointment in what he saw from some members of his football team.
Given his track record, which includes being a part of five different national title winning teams as an assistant coach, Pruitt knows what he's looking for when it comes to competitive spirit.
After Saturday's action, he wasn't shy about noting he saw some players who's will to compete fell well short of what his standards are.
Everyone paying attention understands that the Vols have some work to do to stock the roster with high-level SEC talent. That may take some time. But effort and a desire to compete aren't dependent on talent, and Pruitt made it clear his team has some work to do in those areas.
"The big thing out there today is you see some guys competing pretty hard. They may not be doing things perfect, but they're headed in the right direction. That's something you can build off of.
"And then I saw a couple of guys out there today just flat out quit.," Pruitt said.
"You can call it what you want to: I'm going to say they quit, because that's what I saw. Obviously, you look at the stat sheets and one team rushes for 134 yards and one team rushes for 14 yards. Is one team that much better than the other one? I don't think so. I've watched them practice for 14 days. Is one team that much worse than the other one? No. There were some guys that went out there and competed and tried to do the best to their abilities, and we had some guys that that's not what they did."
Pruitt is in the process of instituting some wholesale changes in a program that's coming off its worst season in school history — a season that included a humiliating 0-8 run through the SEC.
When we think about changes, we generally think in terms of X's & O's, things like switching to a 3-4, moving to a more pro-style offense with quarterbacks under center much of the time and, gasp, even a fullback at times.
For Pruitt though, the changes he's trying to implement to the culture, the mindset and the makeup of this team are just as important. And not anywhere near where he thinks they need to be.
"After 15 days, to me, for some of the guys that's disappointing, very disappointing, but it probably tells you who they are. It probably is a good indication of who they are," Pruitt said of the individuals he saw giving less than full effort today.
"So, you're going to put 14 days into it, and some guys are not going to compete. That doesn't say much for them. Some guys kind of rose to the occasion today, so that's a good thing. We have to figure out where we're at with some of these guys.
"The good thing is that in a couple of weeks, we'll have a bunch of guys that aren't on the injury report anymore. We'll have 14 new guys here and maybe more. So some of these guys that don't want to do it and don't want to do it right all the time, they'll just be watching."
That's a stern message, but one that's consistent with the tough-minded approach Pruitt has taken with his team as he settles into his first head coaching job.
It's also a message that fans can be certain will be relayed to the offending players in very straightforward fashion.
Based on Pruitt's comments today, film study of today's game isn't going to be a very pleasant experience for some of the Vols.
"(To) confront them," Pruitt said of his plan for dealing with the players he felt came up short today.
"There's nothing any better than peer pressure. It's easy to stand out there with your chest stuck out and pretend that you're somebody that you're not. That's easy to do, but the film doesn't lie. When the ball is turned over, and a guy turns it down - we all know what turning it down is; you go hit somebody then you squat your feet, you duck your head, you don't run through them - that's turning it down.
"Guys that do that… the film doesn't lie. Guys that don't compete and don't hustle… the film doesn't lie. We'll see that.
"Eventually around here, when we have things the way we want it, I won't have to police them anymore. They'll police themselves because they'll be so invested in the program. They've paid the price; they're not going to let any of their teammates, roommates, or whoever let them down. They'll confront them. But until then, I'll be the one that does all the confronting."
That role is one that this head coach looks comfortable in.